Port of Hamburg takes delivery of three new container gantry cranes
Nov 6, 2019: Yesterday Hamburger Hafen und Logistik AG (HHLA) took delivery of three container gantry cranes for its Container Terminal Burchardkai (CTB). Burchardkai is both the oldest and the largest container handling facility at the Port of Hamburg. The new gantry cranes, according to HHLA, will provide it with additional capacities for handling ultra […]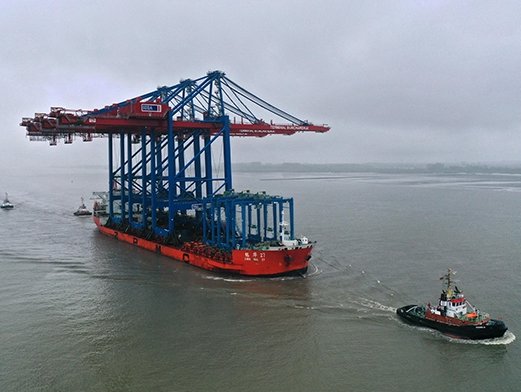 Nov 6, 2019: Yesterday Hamburger Hafen und Logistik AG (HHLA) took delivery of three container gantry cranes for its Container Terminal Burchardkai (CTB).
Burchardkai is both the oldest and the largest container handling facility at the Port of Hamburg.
The new gantry cranes, according to HHLA, will provide it with additional capacities for handling ultra large container vessels with a cargo volume of 23,000 standard containers (TEU) and more.
HHLA's temporary berth at Athabaskakai received the container gantry cranes on board the special ship "Zhen Hua 27" after a journey of almost eight weeks.
Preparations for the complex unloading process will take place there before the "Zhen Hua 27" shifts to the final location at berth 6 in the Waltershofer Hafen.
Part of an expansion programme at CTB, the new gantry cranes manufactured by ZPMC will replace three smaller units at CTB, which have already been dismantled.
The HHLA is expecting delivery of another two large container gantry cranes of the same type in the first quarter of 2020.
After the new handling equipment has gradually commenced operating, HHLA will have an additional mega-ship berth at Burchardkai.
After the five new container gantry cranes have commenced operating, the number of mega-ship berths at CTB will increase from two to three. HHLA also has another mega-ship berth in the Port of Hamburg at Container Terminal Tollerort.
Last year, the number of calls at the Port of Hamburg by container mega-ships with a capacity of 18,000 TEU to 22,000 TEU increased by 47 percent to 150 calls. And this trend is continuing: in the first half of 2019, the number grew once again by almost 40 percent.