PLA 2018 focusses on collaborative means to improve Africa's perishable exports
Nov 22, 2018: After the successful, Flower Logistics Africa 2018, the second edition of Perishable Logistics Africa happened at the Radisson Blu Hotel in Nairobi, bringing together key stakeholders in the perishables supply chain. The theme was "Collaboration: The Road Ahead to Improve Logistics for Africa's Perishable Produce", where the day-long discussions amplified the call […]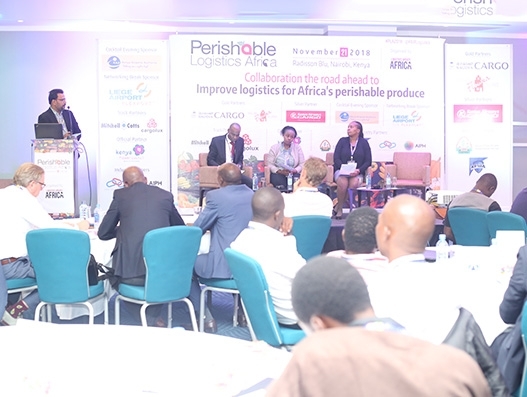 Nov 22, 2018: After the successful, Flower Logistics Africa 2018, the second edition of Perishable Logistics Africa happened at the Radisson Blu Hotel in Nairobi, bringing together key stakeholders in the perishables supply chain.
The theme was "Collaboration: The Road Ahead to Improve Logistics for Africa's Perishable Produce", where the day-long discussions amplified the call to create industry collaborations to improve Africa's perishable exports through better logistics network and cold chain infrastructure.
The theme on collaboration was timely as earlier in the year, African leaders signed the African Continental Free Trade Area (AfCFTA), a single market for goods and services in Africa. With this FTA, the market size is expected to include 1.7 billion people with over $ 6.7 trillion of cumulative consumer and business spending by 2030.
Integration between small scale holder farmers was identified as key to achieving value preposition throughout all conversations. Speaking on the topic,Dr. Isaac Macharia, the General Manager for phytosanitary services in Kenya Plant Health Inspectorate Service (KEPHIS) mentioned that "We train and advise small scale and aspiring farmers on how to access and prepare for the market by providing them with market dynamics. We also link them with associations of help in the supply chain." Wouter Boekee, the Global Industry manager for Agriculture and Fresh, Lufthansa Cargo added to the conversation by saying, "All partners in the supply food chain need to more open with their processes. This will give us better insights on the farmers & seasons to prepare adequately."
PLA also discussed on how regional and global trade agreements can improve Africa's prospects to become a leader in perishables export.
"We support the delegations that bring about the existing trade agreements that help remove tarriffs & taxes," said Alice Wanjiru Mathenge, the managing director of Spring Fresh Growers & Exporters.
"They are our core reason for trading with great margins & profits."
Inspired by the Agenda 2063 of the African Union (AU), Single African Air Transport Market (SAATM), which was launched to liberalise and unify the African skies, PLA held vibrant discussions on shipper's expectations versus air cargo value proposition in perishable transport by air.Jane Ngige, the National Coordinator for Kenya Horticultural Council was keen to note that better information and communication is needed to keep upto date with the dynamics of logistics.
Liege Airport's Cargo Sales Manager, Eric Gysen mentioned that "We have found other ways to attract commodities & carriers. We have implemented central facilities that are profitable for the business & still very affordable for small growers/shippers."
The event which was organised by Logistics Update Africa, was sponsored by, Kenya Airways Cargo, Holland Flower Alliance, Saudia Cargo and many more. The conference was also supported by industry associations such as Kenya Flower Council (KFC), Cool Chain Association (CCA), Kenya Plant Health Inspectorate Service (KEPHIS), Kenya International Freight and Warehousing Association (KIFWA), and The International Association of Horticultural Producers (AIPH).