Pittsburgh International Airport's new facility to significantly increase cargo capacity
Scheduled to open in 2024, Cargo 4 will allow PIT to accept freight from abroad and distribute it throughout the eastern United States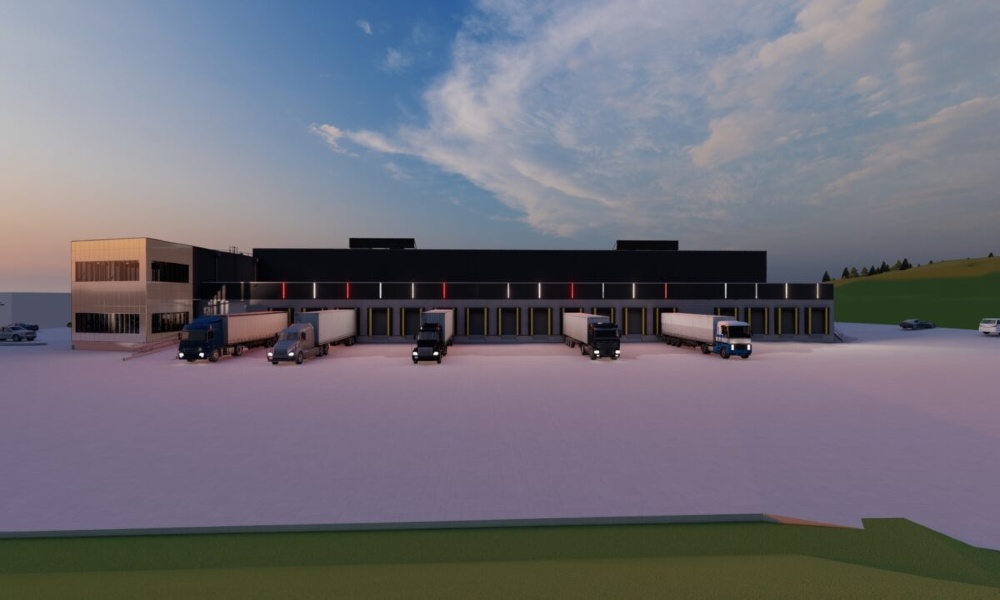 Pittsburgh International Airport's capacity to handle cargo from around the world is about to get a whole lot bigger. Just-completed renderings of PIT's new Cargo 4 facility show a nearly 80,000 square-foot facility with warehouse, office space, 17 loading docks and an ability to handle freight from any aircraft operating today, significantly increasing PIT's cargo capacity.
Scheduled to open in 2024, Cargo 4 will allow PIT to accept freight from abroad and distribute it throughout the eastern United States, making the Western Pennsylvania region more competitive in a growing industry and positioning the airport as a gateway for international logistics.
"The whole premise of Cargo 4 is that it is going to allow Pittsburgh International Airport to grow based upon what the logistics industry needs," said Jeff Bezek, director of engineering. "That way, we will now have the added flexibility to expand our cargo footprint."
The new cargo facility is being funded in part through the U.S Department of Transportation's BUILD (Better Utilizing Investments to Leverage Development) program, which supports investments in transportation infrastructure. In November 2019, the agency awarded an $18.69 million grant to PIT to support the construction of Cargo 4 on the northwest side of the airfield.
New features, greater efficiencies
Airport officials said current freight capacity at the airport's three existing cargo facilities – Cargo 1, 2, 3 and Cargo A – is expected to top out in the near future. In addition to providing much-needed space for future expansion, Cargo 4 will also bring new technology and handling capabilities to PIT.
The facility includes 75,000 square feet of warehouse space and 7,300 square feet of office space across two floors. The building will feature 17 loading docks for trucks; most will come with dock levelers while others will be used specifically for Unit Loading Devices (ULDs). Flatbed trucks will be able to access the interior of the warehouse, which is advantageous in poor weather.
Dedicated areas in the facility will be able to segregate goods deemed valuable, vulnerable or hazardous. It will also have the expansion capabilities to hold more equipment for special cargo and accommodate temperature controlled goods, products that are time or temperature-sensitive and require expedited transportation to their final destination.
The building's design includes additional space for security screening; international cargo must undergo an extensive screening process and be cleared before it can be loaded onto trucks.
Cargo 4 will utilize a truck management system that will cut down on times in between truck deliveries. Cargo 4 will also make use with the latest industry technology, including a truck management system that will schedule tractor trailers arriving to pick up or drop off goods. The new system is expected to cut down on times in between truck deliveries.
"The whole design of Cargo 4 is with the future in mind. It is developed in a way that will accommodate different kinds of automation technologies," said Bezek. "This facility is being built around some of the best practices used by the industry today for cargo."
Cargo 4's expanded apron will handle freighters of all sizes. The facility will be able to serve two Boeing 747-8 Freighters side by side, or up to four Boeing 757-200s at once.
More carriers, more cargo
The addition of Cargo 4 comes as the airport continues to see growth in cargo operations. In May, cargo at PIT rose by 13 percent, bringing the airport's total freight up 17.9 percent year-to-date. Mail increased by 5.9 percent for the month and is up 12.7 percent year-to-date.
Earlier this month, Qatar Airways resumed cargo service at PIT on behalf of freight forwarder Unique Logistics. The carrier will operate twice-weekly cargo service on converted Boeing 777-300ER passenger aircraft from Singapore to Pittsburgh through the end of this year.
This is the second time Qatar has operated flights into PIT for Unique—it previously flew a weekly flight between December and early June.
In May, Amazon Air launched daily flights from Pittsburgh as the company continues to expand its fleet and network. The carrier is utilizing a 50,000-square foot facility through a partner lease agreement, adding up to 70 jobs at the site, and officials are hopeful further expansion by Amazon will bring more jobs.
That same month, PIT welcomed an Antonov 124 Ruslan, a massive Russian cargo plane capable of carrying heavy, outsized cargo over long distances. The Antonov 124 carried nearly 70,000 oxygen compressors from China to be delivered to Drive DeVilbiss Healthcare in Somerset, Pa.
PIT also welcomed international cargo carrier Finnair this past spring, which operated short-term nonstop cargo flights from Helsinki-Vantaa Airport in Finland. Finnair used its Airbus A350-900 aircraft to transport automotive parts from Asia to North America.
Unlike major gateways such as New York and Chicago, where freight forwarders may have to waits several days to transport their cargo, PIT can reduce that time to a matter of hours. As a result, cargo carriers have consistently cited quicker delivery times as a major selling point to use PIT.