Pilotless planes and UAVs – the new normal
Just as defying the gravity with aircraft once seemed unimaginable but is a reality today, in the coming decade we could be equally at ease with flying on unmanned aerial vehicles. Apprehensions loom large, but the idea is not far-fetched — drones prove the technology is already here.
Shreya Bhattacharya
In the past few years, the aviation industry has smoothly glided into the times where drones and pilotless planes aren't anymore a hypothetical concept but an inevitable and approaching reality. While air passengers still seem nervous about the idea of travelling in a remote controlled Unmanned Aerial Vehicle (UAV), the air freight sector could certainly be its initial beneficiary. Seeing the future in the unmanned aircraft, even traditional commercial aircraft manufacturers, such as Airbus and Boeing are joining the race with new projects and partnerships with the unmanned industry. The idea is to develop artificial intelligence that will one day enable computers to fly planes without human beings at the controls.
Celine Hourcade, IATA's head of cargo transformation says, "Cargo companies are in the frontline of testing new and innovative solutions for last-mile delivery such as drones, self-driving vehicles, robots and lockers. Their objectives are to reduce their costs, optimise their operation, and address the ever growing and changing customers' expectations."
While small drones are being considered as promising solutions for specialised delivery, for instance, transport of emergency supplies in remote areas, first response to humanitarian crisis and solutions for healthcare logistics, larger unmanned cargo aircraft could also be interesting alternatives to traditional vehicles, notes Hourcade. "Large cargo drones are being designed to be cheaper to own and operate, serve thin routes, reach places with limited infrastructure, be greener, etc. A lot is happening in China with projects led by the e-commerce giants Alibaba and JD.com; with innovative drones' manufacturers like Dronamics, Natilus, Romaeris, Singular Aircraft, etc."
Pilotless planes and the cost benefits
A recent report from the Swiss bank UBS suggests that reducing the intervention of human pilots on aircraft could bring material economic benefits and improve safety. The report estimates a saving of approximately $35 billion a year by moving to pilotless planes and also expects remotely controlled planes carrying passengers and cargo to appear by 2025.
Amidst the various ongoing projects, Airbus, is exploring a single-pilot operation as a potential option. The aircraft manufacturer is reportedly looking to develop autonomous aircraft and technologies that will allow a single pilot to operate commercial jetliners, helping cut costs for carriers. However, concerns have always been raised about the practicality especially in an industry where the presence of at least two pilots in the cockpit has been the standard practice for decades.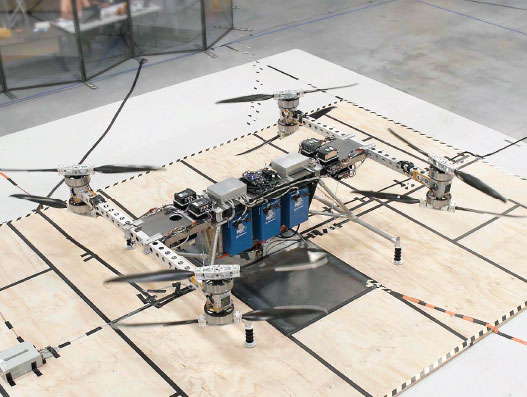 Boeing's CAV prototype in the lab
Meanwhile, Boeing, on the other hand, has acquired Aurora Flight Sciences, a maker of automated drones and aviation parts, in a bid to bring increased automation to airliners, military drones and even personal air taxis. The aerospace giant has been testing prototypes of sophisticated flying taxis that could one day be capable of ferrying humans to and from places.
Commenting on the possibility of a full-fledged commercial use of pilotless planes and drones, Steve Nordlund, vice president of Boeing HorizonX said, "Real prototype air vehicles are being built and tested right now, so the technology is ripe for introduction within the next decade. Boeing is studying the basic building blocks that will lead to new autonomous technology for airplanes. There are several focus areas including ground and in-flight operations."
Nordlund further says, "We're currently developing electric vertical-takeoff-and-landing (eVTOL) vehicles that complement one another but address different market demands: passenger and cargo air vehicles that will provide on-demand travel and transport. Introducing these new, emerging technologies and solutions is complex. Boeing is leading the responsible introduction and navigating the regulatory complexities in a way that prioritises safety."
Apart from the aircraft manufacturers, many startups are also racing to develop drones that can potentially benefit the freight industry in different ways. The national postal service of Switzerland Swiss Post is currently testing a flight path for drones to transport laboratory samples across Lake Zurich, in co-operation with drone manufacturer Matternet. The test is being carried out on behalf of ZLZ Zentrallabor Zürich, a laboratory for hospitals and private customers equipped in accordance with the latest standards. The drone is around five times faster than conventional transport, saving valuable time for medical staff and patients. The same concept is also being experimented in Switzerland's Lugano and Berne to facilitate doctors and patients.
Boeing has recently announced its investment in this California-based drone manufacturing company. "Matternet's technology and proven track record make the development of a safe, global autonomous air mobility system a near-term reality," says Brian Schettler, managing director of Boeing HorizonX Ventures that led the $16 million, Series A investment. "Our investment will allow Matternet to scale its operations while strengthening Boeing's position as a leader in next-generation transportation solutions."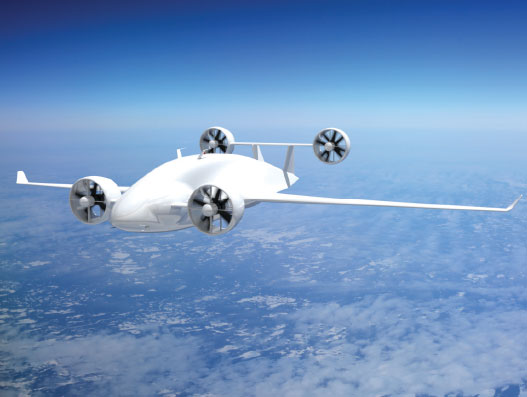 Sabrewing Aircraft Company's Draco-2
Meanwhile, another California-based company Sabrewing Aircraft Company is working on three exciting projects, reveals Ed De Reyes, chief executive officer. "The Rhaegal VTOL UAV is completely autonomous and can carry almost 1/2 tonne of cargo and its wings can fold so it can easily fit into a cargo aircraft for transport. This air vehicle is designed for the military and can fly at over 200 miles per hour and fly up to 20,000 feet. The Draco-2 VTOL will be competing in the Pacific Drone Challenge. This air vehicle is capable of lifting over one tonne (2200 lbs) of payload and flying over 25 hours at high altitude for over 5000 miles. It is designed for the highest altitude, distance and endurance of any non-military drone. The Wyvern VTOL is capable of lifting two tonnes of cargo (4400 lbs) and can fly at altitudes of up to 22,000 feet at 180 knots. This aircraft is an unmanned regional cargo aircraft designed to fly up to 800 miles from its base, discharge cargo and fly all the way back without needing to refuel."
Speaking about the potential of the VTOL UAVs and the kind of impact it can have in near future, De Reyes says, "Unmanned air vehicles are already shaping the future of how we live our lives. Regional air cargo has been a 'way of life' for Alaskans (where only 17 percent of communities have any roads at all) in that they receive all their food, fuel, medicine and dry goods by air…and have been for almost 100 years. In many of those locations, they've carved out a dirt strip to allow aircraft to land and take off, weather and conditions permitting. There are other locations such as Western Canada, Africa, Asia and parts of South America where this holds true as well. VTOL, unmanned regional air cargo aircraft have the capability of revolutionising air cargo once again by being able to fly in conditions unfit for humans, yet land and take off without the need for a runway. Unmanned air cargo will change how remote locations receive their life-giving (and saving) goods."
While, smaller drones can provide effective solutions for transporting special consignments over the last mile, drone manufacturers are also mindful of the huge benefits the large size drones can offer. Natilus is experimenting with such large size drones. "I think we are very unique in that we have a vision to build large UAVs because we believe that's where the market demand actually lies, not in the smaller last mile delivery UAVs.  A lot of drone companies would shy away from large vehicles because it's difficult and capital intensive, but for us that's what makes it so interesting," says Aleksey Matyushev, one of the founders of Natilus.
He further adds, "Natilus has a variety of products that range from a 2-tonne express freighter to 130-tonne trans-pacific long haul freighters.  While we are currently testing our 1100 kg /10 m prototype, the team is also quickly moving along the 2-tonne freighter design."
Safety and regulations
No matter how exciting these innovations may sound, there is always a growing concern about the safety issues involved. The co-existence of piloted flights and UAVs in the same airspace is a challenging environment and the risk involving them needs to be mitigated.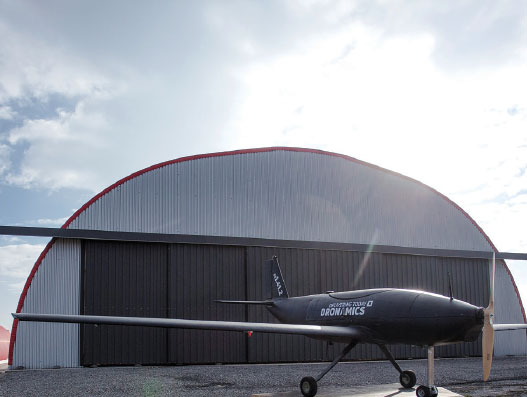 DRONAMICS' Black Swan
"When everything goes according to plan, there is no risk, as long as the plan is a good one, of course. So risk arises from bad planning or from things not going as planned, and this means that both planning in general, and planning for the unplanned are of critical importance. And obviously this is as challenging as it sounds and is the reason we are working with regulators around the world to establish the best possible protocols for each type of situation that we and they can foresee," says Svilen Rangelov, co-founder and CEO of Dronamics that has placed its bet on the Black Swan, a cargo UAV with a design specifically optimised for high-frequency domestic and short-haul international flights and with a high-volume capacity for low-density cargo like e-commerce.
The company is the first one to collaborate with IATA as its strategic partner in the Unmanned Aircraft Systems (UAS) sector. Under this partnership, Dronamics is likely to contribute the knowledge and expertise it has accumulated while at the same time leverage IATA's network and resources to accelerate the adoption of unmanned cargo aircraft worldwide.
Nevertheless, there are, at present, enormous hurdles that would need to be overcome before the commercialisation of unmanned aircraft carrying passengers or cargo. 
"The key assumption for UAS to integrate seamlessly into the airspace, is that they must, as nearly as practicable, comply with the operational procedures that exist for manned aircraft. UAS operations must not present an undue hazard or burden to persons, property, or other aircraft. Furthermore, UAS operations must not degrade the current level of aviation safety or impair manned aviation safety or efficiency. (ICAO RPAS CONOPS March 2017)," says Ruby Sayyed, IATA's head of Air Traffic Management Advocacy.
She further adds, "The ICAO General Assembly in 2016 expanded the scope of its Small Unmanned Aircraft System Advisory Group (SUAS-AG) to include baseline standards and definitions to ensure global harmonisation of regulations for the safe use of UAS. To help countries define and implement regulations, IATA, other key air transport industry stakeholders, and civil aviation authorities worked with ICAO to develop a toolkit to guide UAV safe operation and governance. In addition, ICAO issued a state letter on 20 March 2017 emphasising state responsibilities to protect civil aircraft from 'pilotless' aircraft." 
Another concern is the risk of hacking and malicious use of drone technology. With advances in artificial intelligence, the risks of hackers using such technologies to launch malicious attacks are high.
IATA has recently developed an IATA Information Bulletin on key considerations for protecting manned aviation from drones. Anti-Unmanned Aircraft System (Anti-UAS) measures are a set of technological and operational tools that were developed, and are being used, to monitor, detect, identify and record inappropriate or dangerous UAS activities. These activities include the infringement of restrictive or sensitive airspace, or UAS operating dangerously close to manned aviation. These measures may include some countermeasures aimed to neutralise, or limit, potential risks posed by uncooperative UASs, and they can be both beneficial and harmful to aircraft and ATM (Air Traffic Management) operations. Therefore, anti-UAS measures should only be implemented following an appropriate safety assessment taking into account potential impacts to all aviation stakeholders.
As far as the current regulations on drones and pilotless planes are concerned, several countries have already published or are in the process of developing regulations for the use/operation of unmanned aircraft. Sayyed informs that from a global perspective, ICAO remains the reference for standards and safety requirements with measures like The ICAO RPAS CONOPS March 2017; ICAO/SUA-AG toolkit to guide UAV safe operation and governance; and ICAO's State letter issued in March last year.
Although adhering to the regulations could be quite a bit challenging, industry players do have a positive mindset in this regard. "While most think that regulations are the challenge with large scale UAV's, I think the regulatory environment is in-fact very straightforward. I think the challenging portion in our efforts is understanding the different customer needs that exist between say an integrator and an air freight airline. The customers we are talking with have varying demands and trying to find commonality as far as vehicle requirements, has definitely been an exciting challenge," shares Matyushev.
Therefore, there is no denying the fact that in the fast-changing world and a competitive market like cargo, commercialised cargo and passenger drones are inevitable. The lack of pilots and the growth of e-commerce are driving the need for unmanned vehicles. Therefore, having the right technology can make the difference between making money and losing money, between success and irrelevance, note industry experts. They say, thankfully a lot of companies from the industry share these views.