Pharma Gateway Amsterdam recognised for its contribution to the CEIV Pharma Programme
<p style="text-align: justify;">Mar 27, 2017: IATA has recognised the Cargo Community at Amsterdam Airport Schiphol for their contribution, support, and endorsement of its CEIV Pharma Programme.</p> <p style="text-align: justify;">"The European freight market is one of the largest in the world, accounting for close to a quarter of total global trade," said Glyn Hughes, IATA's Global […]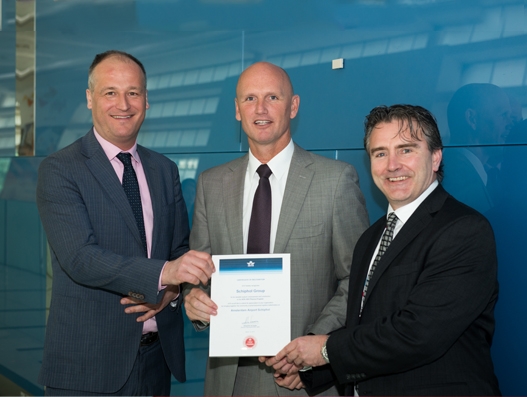 Mar 27, 2017: IATA has recognised the Cargo Community at Amsterdam Airport Schiphol for their contribution, support, and endorsement of its CEIV Pharma Programme.
"The European freight market is one of the largest in the world, accounting for close to a quarter of total global trade," said Glyn Hughes, IATA's Global head of Cargo.
"Having Amsterdam Airport Schiphol, Europe's third largest freight airport, and Air Cargo Netherlands, one of the region's largest operators, support the CEIV Pharma Programme is a significant boost for meeting shippers' expectations in terms of standardisation and transparency across the supply chain in the region."
Pharma Gateway Amsterdam (PGA) was formed a year ago with the aim of providing a transparent and qualified pharma air cargo supply chain.
On becoming a PGA member, organisations are required to become CEIV certified and are provided with support and guidance throughout the process.
All 13 members of PGA are now working to develop an "early warning system" as a solution for pharma shippers who are asking for clarity in the pharma supply chain.
"It is through group effort and community initiative that the air cargo industry improves," said Jonas van Stekelenburg, Cargo director at Amsterdam Airport Schiphol.
"It makes perfect sense that all PGA members become IATA CEIV Certified. IATA understands exactly what to look at when assessing the quality of the pharma supply chain, and receiving the accreditation assures our customers that at Schiphol, they are receiving the highest quality service."
PGA members benefit from cooperative and competitive knowledge sharing, with regular events hosted by members of the Schiphol Community.
The 13 members of PGA are Cyberfreight, GEFCO, VCK Logistics, Yusen Logistics, Swissport, Dnata, Worldwide Flight Services (WFS), Air France-KLM, De Jong Special Services, Jan de Rijk Logistics, Nouwens Breda, DJ Middelkoop, and SGS.
Photo: L-R: Jonas van Stekelenburg, Cargo Director, Amsterdam Airport Schiphol; Sebastiaan Scholte, CEO, Jan de Rijk Logistics; Nick Careen, SVP, Airport, Passenger, Cargo and Security, IATA.