FROM MAGAZINE: PANYNJ ports set new records in cargo volume
Cargo volumes handled at PANYNJ ports (sea and air) in the first six months of 2017 have registered the strongest first half performance. While the sea cargo volume was 4.4 percent higher than the previous record set in the same period in 2015; air cargo volumes expanded by 7 percent – the strongest since 2010. […]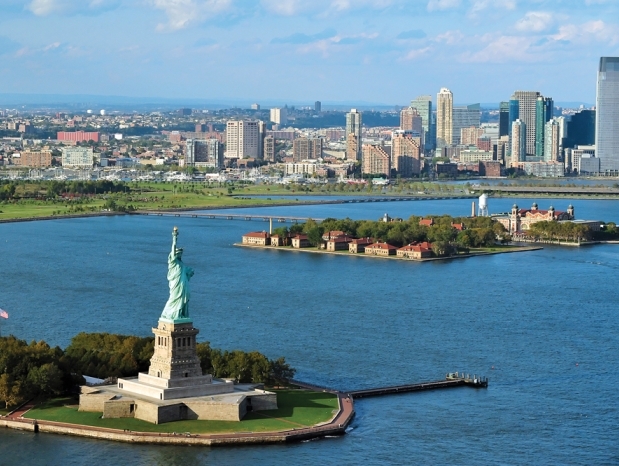 Cargo volumes handled at PANYNJ ports (sea and air) in the first six months of 2017 have registered the strongest first half performance. While the sea cargo volume was 4.4 percent higher than the previous record set in the same period in 2015; air cargo volumes expanded by 7 percent – the strongest since 2010.
The Port Authority of New York and New Jersey's (PANYNJ) airports – the world's busiest aviation network – are on pace to record traffic figures both for cargo and passenger. Air cargo volumes at airports managed by PANYNJ were strong during the first half of 2017, expanding by 7 percent – the strongest since 2010 as the rebound from the great recession of 2008-2009 got underway. On the passenger side it was the fifth consecutive annual record, jumping 2.4 percent with nearly 63.6 million travelers in the first half of 2017 compared to the same period last year.
Interestingly, the 8.5 percent leap in freight traffic recorded for the month of June 2017 represented the second-highest growth rate in the last 12 months after 12.1 percent growth recorded for May 2017.
The 8.5 percent jump in air freight recorded for the month of June 2017 represented 11 successive months of solid expansion. Cargo traffic recorded an average growth rate of 5.9 percent from August 2016 to June 2017.
Expected improvements in US and global economic growth indicate that cargo activity at our airports will likely exceed our predicted 1.1 percent growth rate for 2017.
For the first half of 2017, Stewart's cargo was up 15.7 percent, while Newark Liberty and JFK posted 7.3-percent and 6.7-percent gains respectively. At JFK, international air cargo – which represents more than three-quarters of the airport's total – jumped 8 percent in the year's first six months, compared with the same period a year earlier, while domestic freight increased about 1 percent.
International cargo, which accounts for approximately 64 percent of the region's total cargo, led with an 8 percent surge. Domestic cargo traffic improved 5.2 percent.
"Reimagining the region's airports into best-in-class 21st century gateways for New York and New Jersey, while not only maintaining operations but also setting records and creating thousands of jobs, is a critically important goal for the agency,'' said Rick Cotton, Director, PANYNJ. "We are committed to making our airports once again models for the nation and the world," Cotton added.
The PANYNJ's $32.2 billion 2017-2026 capital plan sets aside $11.6 billion – or 36 percent of the total plan – for modernising and upgrading the agency's airports. Funding is included for new terminals, enhancing airport roadway access, vastly improved rail links to and from the airports, as well as vital state-of-good-repair work on runways, taxiways and related lighting and electrical systems. The agency also is leveraging billions of dollars more in private investment at its airports through the airlines, air cargo companies and other firms.
"The Port Authority long has encouraged increased competition at all its airports and the recent sharp price declines at Newark Liberty shows how making more airlines and destination options available serves our customers best,'' said Huntley Lawrence, Director for Aviation at PANYNJ.
The sea cargo volumes in the Port of New York and New Jersey are on record pace for 2017. The first six months of this year were 4.4 percent higher than the same period in 2015, when the previous record of 3,093,789 TEUs (twenty-foot equivalent units) was established.
Between January and June this year, the port handled 3,229,675 TEUs, compared to 3,041,287 TEUs handled in 2016. The record volumes have allowed the port to maintain its position as the busiest on the East Coast. In June alone, the port handled 584,606 TEUs, the best June on record and the second highest monthly volume ever recorded in the Port of New York and New Jersey.
Cargo handled by ExpressRail, PANYNJ's ship-to-rail system serving New York and New Jersey marine terminals, also continued to increase. During the first six months of 2017, ExpressRail handled 273,991 lifts, up 2.8 percent from the previous record in 2016, when 266,624 lifts were handled. In June alone, ExpressRail handled 50,693 lifts, the first time the rail system handled more than 50,000 lifts in a month.
The agency's investment of more than $600 million in ExpressRail – including the completion of ExpressRail Port Jersey which is now under construction – was made possible by the Cargo Facility Charge and has been critical in addressing the need for on-dock rail to improve port efficiency, competitiveness and reduce emissions. Once ExpressRail Port Jersey opens early next year, it will give the port the capacity to handle 1.5 million container lifts a year – and eliminate 2,250,000 annual truck trips from local highways – far greater capacity than any other East Coast port.
"Moving forward, we will continue to work with all our stakeholders to further enhance our ability to handle these record levels of cargo to maintain our designation as the East Coast's premier port," said Port Department Director Molly Campbell.