Pandemic proofing the world the UPS way, one shipment at a time
Paving the way forward for more tech-enabled healthcare solutions to deliver critical healthcare shipments in the future, UPS, the 114-year-old American shipping and supply chain management giant, has been at the forefront of delivering vaccines to combat the deadly Coronavirus through its global healthcare and life sciences arm UPS Healthcare. Known as one of the world's largest package delivery companies, UPS clocked $84.6 billion dollars in revenue recorded for the year 2020 alone.
After being involved in early testing, sourcing PPE kits and other medical gears to ensuring that vaccines reach in a timely and safe manner to Americans last year, today the company is busy shipping Covid-19 vaccines out of the US into more than 100 countries around the world.
With the acquisition of Marken, a clinical supply chain specialist company, in 2016, UPS underscored its commitment to the healthcare and pharma industries. Five years later, right at the beginning of 2020, just a few weeks before the Covid-19 pandemic was officially declared a pandemic, UPS officially launched the UPS Healthcare division.
In an exclusive interview with The STAT Trade Times, Wes Wheeler, President of UPS Healthcare, unpacks how the pandemic catapulted the company right into the centre of the pandemic and the early lessons he learned from being involved in the many stages of delivering critical shipments like vaccines in America and to other countries. 
Paving the way for vaccine rollout in the USA
Armed with over 40 years of experience in clinical trials, pharmaceutical, biotech and medical device industries, Wheeler came on board UPS last January to spearhead UPS's strategic healthcare growth and technology initiatives.
Incidentally, Wheeler represented UPS in the former US President Donald Trump's task force for testing and the council for reopening the country, including Project Air Bridge, with several flights per day bringing personal protective equipment from Asia into the United States in the early part of 2020. 
"That was our first challenge given to us by the US government under Project Air Bridge. We were to work with FEMA (Federal Emergency Management Agency), our emergency management administration to bring PPE and ventilators, masks, gloves and kits to the US as fast as possible from places like China. We ended up bringing 24 million pounds of PPE on 220 charter aircraft, most of those were B747 freighters, via different gateway airports of the USA. One of the national stockpile locations for the PPE was our own location in Kentucky. I think we had close to 36 million pieces of inventory at one point," he recalls. 
From bringing in medical gear to the testing phase, Wheeler outlines the journey. "At the same time we started to pivot towards Covid-19 testing; so whether it was the different kinds of testing that came out, the number of companies involved and the number of test sites that were being set up in the US became another challenge. We had Mayors of cities and Governors of states asking us for help for setting up test kit sites and getting test results back to patients around the country. From there we pivoted to vaccines. So we had a three step approach to helping the world get back to normal."
Vaccine Rollout in USA
Peak 2020 was one of the more challenging, yet most successful peak holidays shipping seasons ever as UPS focused on maintaining a reliable delivery network all its customers can depend on. As expected, average daily volume increased 8.9 percent year over year to a total of 25.2 million packages per day.
Speaking about some of his biggest challenge along the way, he said, "Carving out enough capacity in the network at a time when the company had its most active network volume was a challenge. Being in touch with the US Federal Government, we had an idea that maybe 1 October would be our first launch. That allowed us to mobilise all of the technology and put in place our command centre in Kentucky. Getting our pilots and routes ready to make sure we knew where the origins of vaccinations might be and then understanding how much dry ice we could carry on cargo jets were the challenges. Having a plan ready by October 1, 2020, including building our own dry ice factory and our freezer farms at minus 70 degrees Celsius added to our list of challenges. And then the understanding that we are not only heading into our peak season for Christmas, Thanksgiving and New Year's but also the time and the year when we have the worst weather and so getting ready for that was by far our biggest challenge."
Talking about the planning and preparation that went behind the vaccine rollouts in the US from March to December 2020, he adds, "By speaking to the government and the companies developing the vaccine, we came up with a simulation that would estimate where and in what quantity these vaccines maybe manufactured and for what markets. So as we got closer and closer to December, knowing that Pfizer-BioNTech might be first and Moderna might be second, we started to zero in on exactly what those lanes would be and focussed on having enough truck capacity, aircraft and dry ice capacity and technology to track those lanes when the launch happens."
Wheeler underlines the war footing the company worked on with its competitors, the US government and other stakeholder in order to meet the deadline to rollout the Covid-19 vaccines. He adds, "We became a team and worked alongside our competitors and worked alongside Pfizer, Moderna, Janssen and the Federal government to make all that happen. Right now, we are shipping far more vaccines out of the US into 95 countries including clinical trial countries around the world. So we are now a big part of the solution." UPS is probably moving 25 percent of the world's Covid vaccine movements at the moment and it hopes to do more.
"The pandemic in a very ironic way gave us a big leap head-start into our strategy to build a cold chain that worked around the world that could serve the pharmaceutical industry in the complex upstream portion of the supply chain."
Wes Wheeler, UPS Healthcare
Technology saves the day
Ahead of the vaccine roll out in the US, UPS also introduced a tech innovation named UPS Premier, which is a sensor and tracking technology that ensures a priority lane in UPS network with highly specialised handling with enhanced visibility and control along the way.
Speaking about how the innovation that came in handy for the delivery of this critical shipment, Wheeler added, "Since we have the capacity and people, we began developing a technology we call UPS Premiere, which is a very small piece of tape, about 3 inches long. It has four radios embedded in it, which allows us to see those shipments in real time. On top of that the Pfizer Vaccines had their own track and trace technology attached and all those data strains would flow into our command centre which allowed us to see all the shipments in real time."
UPS today ships more volume outside of the US. As per the latest numbers from UPS, the company has delivered over half a billion Covid vaccines to more than 100 countries and territories with a 99.9 percent on-time delivery. "We are able to do that because we have people and technology that helps us to track those shipments. And if they get distressed, then we have a process that allows us to go find them, put them on the next available aircraft and put them onto their destination," Wheeler added.
Wheeler, who leads the UPS Healthcare tem that boasts of having 128 healthcare facilities in 32 countries with a global team of 5,500, credits his engineering training and a project management background for pushing the envelope when it comes to developing solutions to problems and especially the deft preparations he led between March and October last year in time for the vaccine rollout dates in the US.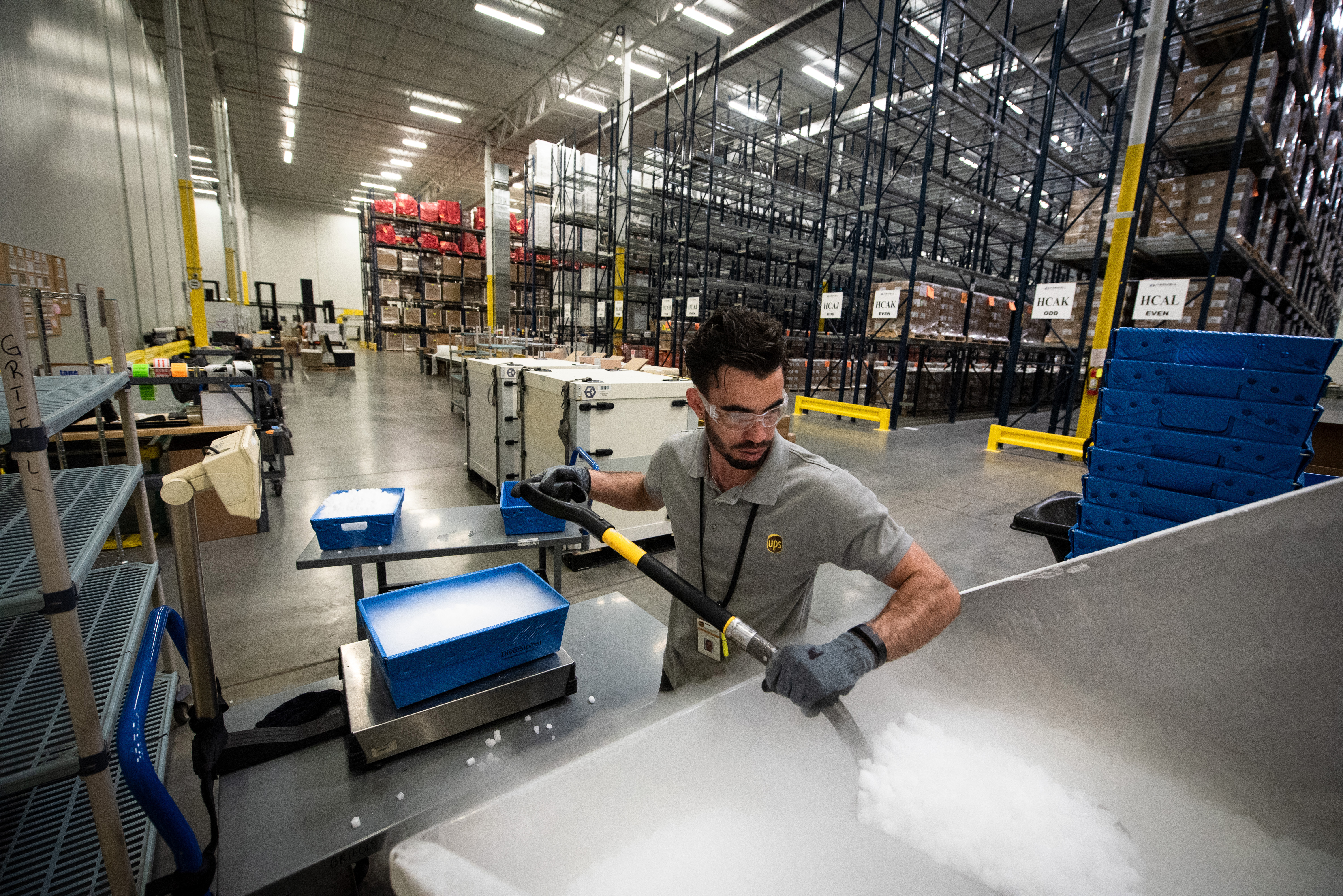 UPS set up its own dry ice production to produce 540 kilos of dry ice an hour near its Worldport air hub in Louisville, Kentucky
It was only in January 2020 that Wheeler was asked to pivot from running Marken for UPS to running the first vertical business unit within UPS called Healthcare. "My strategy was to build a network that conserves the complex pharmaceutical products upstream of the wholesaler all the way back to the active ingredient and the starting materials that make manufacturing possible for pharmaceuticals, complex medical devices and laboratory testing. These are the kinds of things that require temperature control; the kinds of products and services that would be needed for what is the explosion of biologics in the pharmaceutical industry. So not only do we have complex medical devices coming through the pipeline but 50 percent of all drugs in development today are either for cancer or forms of cancer or some surrounding, orbiting products serving the cancer community. Many of those drugs are sterile in nature, temperature controlled and time sensitive and very fragile. We now have cell and gene type of therapies that are reliant on your own organic material whether it be your cells, genes or your proteins being made for personalised medicines. These kinds of things coming through our pipeline are so important to the future and logistics will play a huge role. And so my plan was to get into that part of the business as soon as possible and then the pandemic happened and the Covid-19 vaccine is the most fragile, biologically derived, sterile product you can ever possibly imagine. The pandemic in a very ironic way gave us a big leap head-start into our strategy to build a cold chain that worked around the world that could serve the pharmaceutical industry in the complex upstream portion of the supply chain. So it was almost coincidental, call it luck, and of course it is a terrible thing for the world, but it actually gave us focus and it allowed UPS Healthcare to accelerate its own strategy." 
Chronic and life-threatening diseases are the fastest growing disease categories in the world, creating a rapid acceleration in the development of biologically derived, temperature-controlled drugs and therapies.
Investments
Speaking on investment plans by UPS Healthcare for building healthcare and cold chain logistics network for the future to safely deliver temperature controlled drugs and therapies, he said, "In healthcare, UPS itself has not in the past made investments in countries where many of today's pharmaceutical drugs are being manufactured. So we have, in the last year and a half, put more investment into cold chain in locations where we believe pharmaceutical products will be manufactured and distributed. And in countries like Switzerland, Germany, Ireland, Singapore, South Korea, Puerto Rico, parts of Latin America where we know the drugs are being manufactured. We are focussing a lot of our new capacity and our new capital investments in these countries where we believe drugs and medical devices will be manufactured. You will see a lot more of our investments in the future. Last year we invested in creating two million sq ft of facilities and this year we are planning on doing about the same again with a lot of that being cold chain."