Panalpina's Frankfurt healthcare logistics center receives GDP certification
Aug 15, 2019: On August 6, Panalpina has received Good Distribution Practice (GDP) certification for its newly opened Healthcare Logistics Center in Weiterstadt, close to Frankfurt/Main international airport. Hence, the center is now ready to assist healthcare customers with the handling, transport and storage of their temperature-sensitive medicinal products. Frankfurt is Panalpina's third logistics facility […]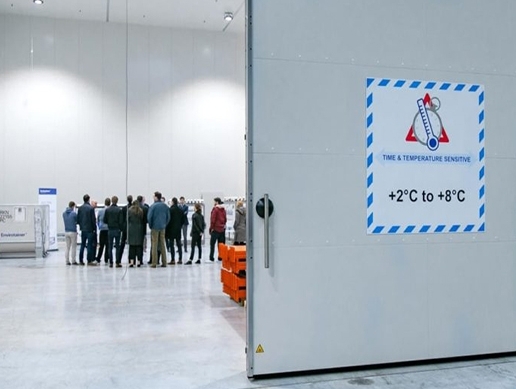 Aug 15, 2019: On August 6, Panalpina has received Good Distribution Practice (GDP) certification for its newly opened Healthcare Logistics Center in Weiterstadt, close to Frankfurt/Main international airport.
Hence, the center is now ready to assist healthcare customers with the handling, transport and storage of their temperature-sensitive medicinal products.
Frankfurt is Panalpina's third logistics facility in Germany's Rhein-Main region, alongside Moerfelden and Neu-Isenburg.
The new facility is also very well-connected to major highways and Germany's federal road infrastructure. This allows customers to shorten lead times for intra-European and global shipments coming through this region. Typical healthcare shipments could go from Frankfurt to Sydney by air freight, or from Frankfurt via Antwerp to the USA by ocean freight.
The facility has passed an audit by the world's leading inspection, verification, testing and certification company SGS, and is now certified according to EU Good Distribution Practice (GDP).
It is equipped for hub services for multimodal transport, including last-mile delivery, and linked to Panalpina's global network that offers temperature-controlled Air and Ocean Freight solutions.
In Ocean Freight, Panalpina uses reefer containers for both Less than Container Load (LCL) and Full Container Load (FCL). Several healthcare customers have confirmed that they wish to use the Frankfurt/Main facility for diverse activities including passive packaging preparation, cargo consolidation and long-term storage.
Some 4,500 m² of temperature-controlled warehouse space of the Frankfurt/Main facility are dedicated to healthcare customers; another 4,600 m² are for multi-purpose use, while an additional 620 m² are office space. Of the healthcare-dedicated part, 3,500 m² cover temperatures from 15°C to 25°C, with three dedicated truck docks, and 1,000 m² cover temperatures from 2°C to 8°C, with two dedicated truck docks. The warehouse has more than 6,000 pallet locations, an X-ray machine in the temperature-controlled area, and is able to handle dangerous goods.
Volker Werner, Panalpina's district manager, Central Germany, explains: "The facility is not only set up for multimodal transport; we have fully equipped it to meet all possible requirements of our pharma customers. Besides thermos-cover handling, re-icing and gel-pack handling, we can also take care of the temperature-controlled last-mile delivery, with 24-hour monitoring of the cargo."
This certification brings the logistics provider's global network of GDP-certified locations to 38.