Panalpina officially opens new base in Dubai
<p style="text-align: justify;">Mar 16, 2017: Panalpina has officially opened new logistics manufacturing centre in Dubai South.</p> <p style="text-align: justify;">The 40,000 m2 facility, adjacent to <a title="Al Maktoum International Airport" href="http://www.dubaiairports.ae/corporate" target="_blank" rel="noopener noreferrer">Al Maktoum International Airport</a>, will support circular supply chains and enable <a title="Panalpina" href="http://www.panalpina.com/www/global/en/home.html" target="_blank" rel="noopener noreferrer">Panalpina</a> to expand its logistics and freight […]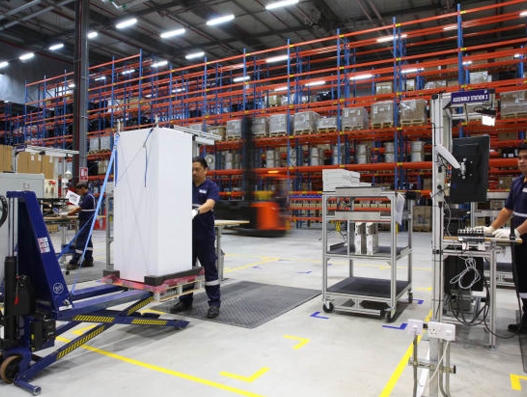 Mar 16, 2017: Panalpina has officially opened new logistics manufacturing centre in Dubai South.
The 40,000 m2 facility, adjacent to Al Maktoum International Airport, will support circular supply chains and enable Panalpina to expand its logistics and freight forwarding business in the Middle East, Africa and CIS (MEAC) region.
"Dubai, strategically located between East and West, and with excellent airport, port and road connections, is ideal for operating a regional supply chain hub for the Middle East, Africa and CIS," said Stefan Karlen, CEO, Panalpina.
"We first set foot in the United Arab Emirates 25 years ago and today's official inauguration of our new logistics manufacturing centre, which was built exactly to our business needs and those of our customers, opens a new exciting chapter for our logistics and freight forwarding activities in the region. It is the biggest facility of this type that we currently operate."
Sheikh Ahmed bin Saeed Al Maktoum, commented, "The new logistics centre will further strengthen the relationship between Panalpina and Dubai South and help attract additional industries to the region such as high fashion, automotive, and aerospace as well as research organisations and think tanks."
Currently, Panalpina mainly serves customers from the technology, oil and gas as well as consumer and retail sectors in Dubai. Important telecom and consumer electronics customers were smoothly moved right across the street from the previous 13,000 m2 building to the new 40,800 m2 facility when it was completed in October of 2016.
The site is located in Dubai Logistics City and forms part of the bonded logistics corridor that links the adjacent Al Maktoum International Airport and nearby Jebel Ali Port. Most of the operational space of 37,800 m2 is used for inbound to manufacturing (I2M) and vendor managed inventory (VMI) services in support of Logistics Manufacturing Services (LMS) and also for outbound distribution services. There are separate areas for the break-down or build-up of air freight, for the safe intermediary storage of valuable goods, and for other special activities.
More and more companies want to configure and customise their products closer to market and then deliver them to the end customer as quickly and efficiently as possible. As part of a circular economy, Panalpina is also seeing increased demand for reverse logistics including diagnostics and ultimately repairs for their customers' products.
"Our hub here in Dubai is designed to take advantage of the changing dynamics of supply chains. With the trend of distributed manufacturing close to point of consumption, the emphasis on sustainability, the Internet of Things and the makerspace movement, as well as technological advances such as additive manufacturing, we will see more logistics facilities like this one in the future, where we can add value to our customers' supply chains," said Mike Wilson, global head of Logistics and Manufacturing at Panalpina.