Panalpina delivers outsized cargo for Sydney Metro project
October 16, 2017: Panalpina was recently contracted by Salini Impregilo (ISJ V), a leading global construction firm, to transport the two main towers of a new rail bridge for Sydney Metro, Australia's biggest public transport project. Transport for NSW, the authority that manages the transport services in the state of New South Wales, Australia and owns […]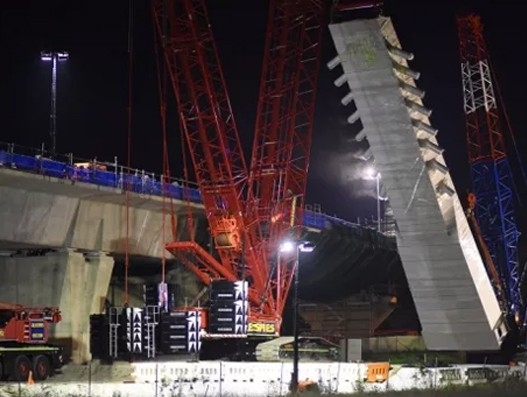 October 16, 2017: Panalpina was recently contracted by Salini Impregilo (ISJ V), a leading global construction firm, to transport the two main towers of a new rail bridge for Sydney Metro, Australia's biggest public transport project. Transport for NSW, the authority that manages the transport services in the state of New South Wales, Australia and owns the project, tasked ISJV to build the bridge along with a four kilometre skytrain section between the Sydney suburbs of Bella Vista and Rouse Hill.
Each of the towers is 29 meters tall and weighs 210 tonnes. Because of their size, they had to be mounted on a special 18-axle, 55-meter long rig for a 17 kilometer trip under police escort from the manufacturing site in Glendenning to the project site at Rouse Hill. Upon arrival, the pillars were lifted by two cranes and secured to the deck using bolts in a precision night-time operation.
The bridge is similar in design to the iconic Anzac Bridge over Johnstons Bay in Sydney. The new landmark structure is Australia's first cable-stayed railway bridge built on a curve and will be 45meters above road level once completed. Currently, the final stage of stressing is being performed.
"This is the dawn of a new era for the booming North West. A new metro train will be running on this bridge every four minutes in each direction. This is not only a new landmark but also a critical piece of railway infrastructure that allows us to deliver metro services to all of Sydney," Transport and Infrastructure Minister Andrew Constance said.
The Sydney Metro Northwest section is the first stage of Sydney Metro, a priority infrastructure investment for the New South Wales Government worth AUD $8.3 billion. Sydney Metro services start in 2019.
Photo: Sydney Metro skytrain bridge tower installation at night. Source: Sydney Metro.