P2F Market is Booming and How
While airports were shut for passenger flights, demand was increasing for freighters due to increasing demand for PPE, medicines and vaccines. Every new variant of Covid-19 is adding stress to the airline industry. The delta variant of the coronavirus continues to infect and kill across the globe with no end in sight.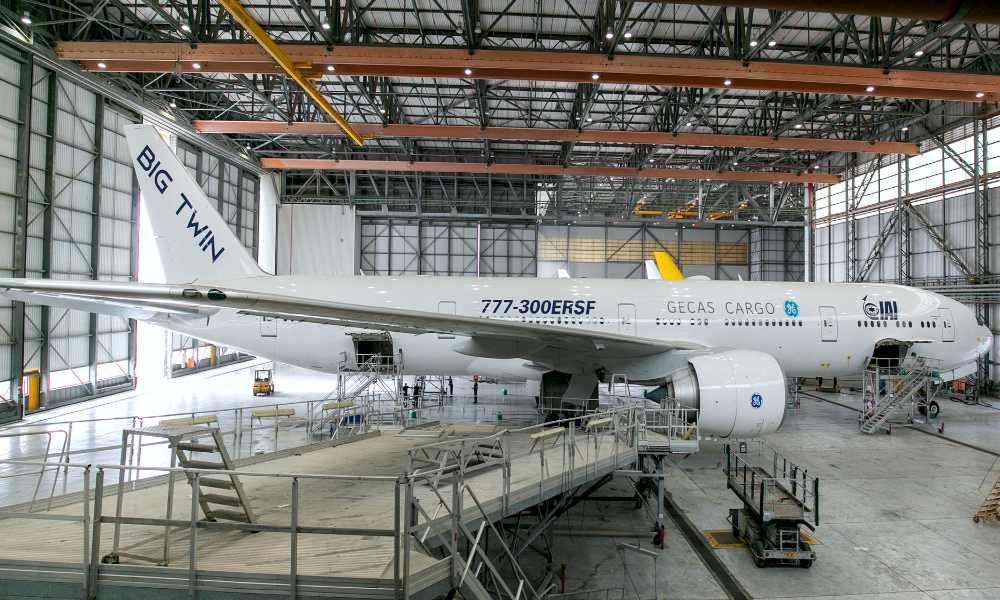 Airbus, one of the world's largest airplane manufacturers, has firmed up plans for the freighter version of its successful passenger jet A350 with interest from the likes of global cargo giants DHL and UPS. And Boeing, which has a near monopoly in the production freighter market, has a plan for a freighter version of it's yet to be operational passenger jet B777X.
While the Covid-19 pandemic has taken its toll on the aviation sector, cargo operations are offsetting operators' losses, as it continues to play a critical role in facilitating international trade. As a result, industry forecasts show an increase in demand for wide-body freighter aircraft with long-haul capacity.
As original equipment manufacturers like Airbus and Boeing expand their production freighter options, the conversion of passenger-to-freighter (P2F) business has also boomed ever since the Covid-19 pandemic gripped the world.
In a latest development, Mammoth Freighters, a Florida-based company founded in December 2020, is promising to offer a P2F conversion programme for both Boeing 777-200LR and 777-300ER. Mammoth plans a flexible business model to market which provides dynamic options for global air cargo operators. It offers conversions for customer-owned 777s and ready-to-fly converted freighters from its existing fleet of 10 ex-Delta 777-200LRs.
A P2F conversion work-in-progress at PEMCO
"We will provide express, e-commerce, and general freight operators with highly affordable, flexible, and purpose-built 777 freighters that burn less fuel and emit less carbon than the current freighter fleets," said Bill Tarpley, Co-CEO of Mammoth.
Mammoth claims to possess a Boeing data license to execute 777 P2F conversions. Design and engineering for the 777-200LRMF programme is well underway with tooling and parts already in fabrication. The conformity 777-200LR recently completed a comprehensive series of pre-modification flight tests and will commence modification in the second quarter of 2022. Upon certification of the 777-200LRMF, Mammoth expects approval of the 777-300ERMF STC to follow shortly afterwards.
A supplemental type certificate (STC) is a type certificate (TC) issued when an applicant has received Federal Aviation Administration (FAA) approval to modify an aeronautical product from its original design. The STC, which incorporates by reference the related TC, approves not only the modification but also how that modification affects the original design.
The P2F conversion includes changing the structure, which involves installing a new cargo door, replacing and strengthening the aircraft floor, installing reinforcements near the cargo opening, and modifying electrical systems to enable safe and convenient operation.
While airports were shut for passenger flights, cargo flights were increasing with ever increasing demand for personal protection equipment (PPE), medicines, vaccines and many other time-critical products. And every new variant of Covid-19 is only adding stress to the airline industry.
The delta variant of the coronavirus continues to infect and kill across the globe with no end in sight. There are close to 700,000 confirmed new infections and 10,000 fatalities each day, Bloomberg reported.
With continued lockdowns and uncertainties over reopening of the global economies, the airline industry continues to face new challenges. And cargo is turning out to be a saviour for the industry. Airline chief financial officers and cargo chiefs are positive on cargo demand for the rest of the current financial year and the next year, according to an International Air Transport Association (IATA) survey done last month.
The survey found 72 percent respondents expecting cargo demand to increase for the coming 12 months, an improvement compared with the previous survey (56 percent).
Challenges in P2F
Elbe Flugzeugwerke (EFW), the joint-venture of Airbus with ST Aerospace,has converted more than 200 freighter aircraft for 40 customers, and the portfolio includes A330P2F, A321P2F and A320P2F.
"The key challenges in the P2F conversion itself are the limited number of conversion lines around the world," says Erik Goedhart, senior vice president, global head of aerospace, Kuehne+Nagel.
Erik Goedhart, senior vice president, global head of aerospace, Kuehne+Nagel
"One can see the key players ramping up and announcing new conversion lines all over the world. However a conversion comes with large structure parts needs like floor beams and doors and also the capacity to produce those are not unlimited."
To meet the rising demand for converted freighters Israel Aerospace Industries (IAI) recently broadened its modification capabilities with a new freighter conversion line with Ethiopian Airlines to establish a conversion site for Boeing 767-300 passenger aircraft. The new P2F conversion centre, which will operate from the Ethiopian's maintenance centre in Addis Ababa, will provide solutions for the rising demand for cargo aircraft of these models. The conversion line in Ethiopia will join existing conversion sites IAI operates at its campus in Tel Aviv and at the Mexicana MRO Services facility in Mexico.
"IAI is witnessing a sharp rise in the demand for cargo aircraft as a result of the rise in e-commerce, which has peaked to record levels during the Covid-19 pandemic,'' said Yossi Melamed, executive VP and General Manager of Aviation Group, IAI.
IAI also signed a strategic partnership with Etihad Engineering to provide P2F conversions on B777-300ERs. In 2019, IAI and GE Capital Aviation Services (GECAS) announced the launch of the Boeing 777-300ERSF, a programme which established a P2F conversion dubbed 'The Big Twin' denoting its status as the largest ever twin-engine freighter.
"We are gearing up for the challenges ahead, we have a clear strategic direction to what this project entails for Etihad Engineering and IAI," Maria Sebastian, Head of Transformation, Business Development and Strategy, Etihad Engineering, told The STAT Trade Times. "We will strive to deliver our stakeholders' expectations. From a regulatory standpoint, all the requirements will be met as we get closer to the date of the programme implementations, with little challenges forecast."
Earlier this year IAI signed a Memorandum of Agreement (MoA) with the Incheon International Airport and MRO firm Sharp Technics to establish a conversion line at the airport, which will convert six B777-300ER and B777-200LR per year, starting in 2024.
IAI has begun the structural modification phase in the conversion of the first Boeing 777-300ERSF. The beginning of the conversion marks the end of the development process and the start of the structural and systems modification phase.
Kalitta Air will become the first airline to operate Boeing 777-300ERSF converted freighters. The US cargo airline has signed a deal for five Big Twins. The aircraft is scheduled to enter into service in 2022 and Kalitta expects to get the first aircraft in 2023.
"There are many challenges in a new P2F conversion programme," said Mike Andrews, Director of Cargo Programs, Pemco Conversions, a subsidiary of Air Transport Services Group (ATSG).
Mike Andrews, Director of Cargo Programs, Pemco Conversions
"Every new STC program must adhere to the latest regulatory requirements. New stress loads introduced into the structure of the aircraft have to be analysed to make sure that the safety levels are within the requirements. Our current level of talented and experienced engineers gives us the capability to meet the demand of new STCs in the conversion market."
A converted aircraft is a full cargo aircraft and the skills on board and on ground are present and it is daily business, says Goedhart. "For what we call the 'preighters' (passenger aircraft not converted to cargo but using the passenger deck for cargo), there are special skills needed and that is very labour intensive (double of normal cargo loading). Also these preighters need to have licenses by authorities which originally were given until the end of 2021 but this might be extended or is extended already."
Some major non-OEMs in the P2F space include Aeronavali (MD-11, DC-10 for Boeing), IAI (BDSF-747-400, 767-200/-300, 737- 300/-400), Pemco (737-300/-400, 757-200), Precision (PCP-757), ST Aero (DC- 10, MD-11, 757, 767, for Boeing), TAECO (747-400 for Boeing, 737-300/-400 for Pemco), and PACAVI (A320/A321).
"Airlines and leasing companies have upped their inquiries into freighter aircraft, but they are taking a measured approach to make acquisition decisions as they know that aircraft purchases are a long-term asset play decision," Sebastin said. "Based on the air freight market analysis, the Asia-Pacific region accounted for the highest revenue contributor in 2019 and is expected to see lucrative business opportunities exhibiting the highest CAGR of 6.3% during 2020-2027."
The demand is currently driven in part due to Covid, Andrews of Pemco added. "International travel is still diminished and manufactured goods moving by ship has become increasingly more difficult due to Covid effects. We have also seen the cost gap between air cargo and intermodal transportation become more competitive. All of these help the demand for freighter capacity in the short-term. The driver for long-term growth will be consumer changes in delivery expectations, and how they order daily use and premium purchase items. The e-commerce movement in consumer behaviour will continue to drive demand for more efficient deliveries that will rely heavily on air cargo. As a Narrow-Body conversion provider, the volume for e-commerce fits the airframes we currently convert."
Future projects
A crystal ball question, according to Goedhart. "The e-commerce market will grow sustainably and world travel will come back at some point in time. So will the market relax? In the short term, for sure not, but in the long run, possibly. Please be aware there will also be changes in type of aircraft in the future. The Airbus 321 LR and for sure the 321XLR will fly what is called ''long haul narrow body''. Passengers will not notice a difference; the belly-3 container positions are taken by auxiliary fuel tanks. And that means less cargo."
Aeronautical Engineers, Inc (AEI) recently announced a follow-on contract to provide Aviation Holdings III Investments, LLC (Aviation Holdings), with three additional B737-800SF freighter conversions. Earlier in March, AEI had announced Aviation Holdings would be adding three AEI B737-800SF freighter conversions. Upon completion of this order, Aviation Holdings will own11 AEI B737-800SF freighters.
In another deal, Malaysia's newest freight carrier Kargo Xpress will take two 737-800 Boeing Converted Freighters (BCFs) on lease from GECAS.
Air Canada Cargo will be launching services of its first converted 767 freighters service in October, they will fly primarily out of Toronto Pearson International Airport, and will operate on routes linking Toronto to Miami, Quito, Lima, Mexico City and Guadalajara, the first time Air Canada Cargo will serve this destination.
This is what Jasson Berry, vice president, cargo at Air Canada, had to say about the launch in our video series #CargoMasterMinds:
Boeing expects the freighter fleet to grow with 2,400+ aircraft in the next 20 years. "Of these freighters, there will be 1,500+ conversions. Currently, the freighter capacity is app 30% up in relation to 2019 and freighters make an overage 1 one more hour per day of operations in relation to pre-Covid. The 'passenger aircraft belly cargo' is still app 50% down against 2019. Overall the freighters (excluding integrators) are in capacity double the passenger belly cargo capacity.
(Credit: Kuehne+Nagel)
"Industry specialists' long-term forecast is that cargo traffic will have a 4% average annual growth rate through to 2039, which will lead to more than doubling current cargo traffic levels, both on pax bellies and freighters. That will result in more than 60% growth in the freighter fleet, from roughly 2,000 in-service freighters at year-end 2019 to 3,260 in-service aircraft by 2039." Sebastian of Etihad Engineering added.
Air cargo represents less than 1% of global trade volume (airlines transport more than 52 million metric tonnes annually) and more than 35% of the global trade value (air cargo value is over $6.8 trillion annually), IATA data show. So, the potential is huge.
"The P2F penetration varies by region but we definitely see increased demand due to the delivery schedule of new freighters and the retirement schedule of passenger aircraft leading to economically priced feedstock. It will continue to be supported by the global demand for capacity driven by the pandemic and consumer behaviour. The demand will vary by market due to regulatory requirements on age but much of the increased freighter volume for the next five years will be dependent upon the P2F conversions. Both PEMCO and ATSG are providing customers access by expanding available conversion capacity to the A321, which is a narrowbody conversion that will provide more efficient operational costs to current Boeing 757 operators and will compete with the Boeing 737-800 by providing that additional access to volume to assist during peak," Andrews added.
And the demand for P2F is pushing order cycles and delaying deliveries. With the world in the grip of the pandemic, delivery models across businesses have changed and some forever. Cargo is having its best time under the sun…and P2F conversions are the final stamp of approval for that move.