FROM MAGAZINE: Oman Air boosts cargo with robust initiatives
From opening a new two-floor cargo building at Salalah airport and an air cargo terminal at Duqm airport, to launching a rebranding initiative, Oman Aviation Group is set to showcase Oman as the destination where change and investments start. Oman's aviation scene is experiencing a wide-ranging overhaul that is delivering formidable results. Oman Aviation Group, […]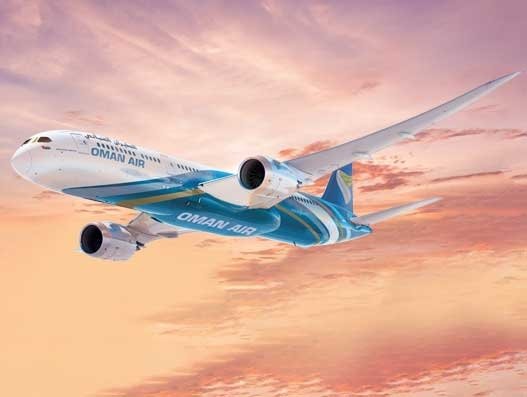 From opening a new two-floor cargo building at Salalah airport and an air cargo terminal at Duqm airport, to launching a rebranding initiative, Oman Aviation Group is set to showcase Oman as the destination where change and investments start.

Oman's aviation scene is experiencing a wide-ranging overhaul that is delivering formidable results. Oman Aviation Group, established in February 2018, is steering its companies – Oman Air, Oman Airports and Oman Aviation Services – to become drivers of economic growth while not limiting themselves to just being an aviation organisation.
Oman Aviation Group lists tourism, aviation and global logistics among the focus areas to drive the Sultanate's growth. The Group is building a national aviation system to promote Oman as a hub for tourism and trade – in essence, a destination.
2019 has been a busy one for Oman Aviation Group and its companies. In September, Oman Air CEO Abdulaziz al Raisi unveiled a transformation plan that engages the dedicated efforts of its employees for the improved performance of Oman's national carrier. The carrier has set goals and will focus on three areas: fleet harmonisation, organisational restructuring and increased digital transformation. The thoughtful and practical plans have set foundation for the nation's economic development.
Cargo for development
Oman Air carries belly-hold cargo types ranging from general cargo, valuables, courier cargo, hazardous goods, live animals and temperature-controlled goods such as pharmaceuticals and perishables.
Oman Air Cargo has seen consistent business growth, posting 38 per cent year-on-year revenue growth in 2017 followed by 17 per cent year-on-year growth in 2018. During the first quarter of 2019, the year-on-year revenue growth is 16 per cent in spite of challenging markets.
There were 2 aircraft deliveries in 2019: one 787-9 on 21 March, and one A330-300 on September 1. The A330-300 is a temporary addition, a one-year dry-lease to compensate for the grounding of 737 MAX fleet.
Initiatives for boosting cargo
In July 2018, Oman Air upgraded its cargo hub facility at the Muscat International Air Cargo Terminal, building capacity to handle 350,000 tonnes of cargo per annum – which is substantially larger than the previous facility. Oman Aviation Group has also invested more than $6 billion into the country's airport infrastructure. The majority, more than $4.5 billion, was invested to upgrade Muscat International Airport. The entire facility is supported by 24-hour services for import and export cargo, an automated cargo system for documentation and warehousing, export cargo acceptance and import cargo delivery.
The 2019 cargo throughput between January and September for Muscat International Airport including Oman Air and other operating airlines has been:
213,072 tonnes, end of September 2018
237,181 tonnes, end of September 2019
In September 2018, Salalah airport opened a new two-floor cargo building, which is equipped with an automated cargo handling system, special storage for perishable cargo, a live animal centre and special rooms for high value goods.
The 2019 cargo throughput during the period January to September for Salalah Airport including Oman Air and other operating airlines has been:
1123 tonnes, end of September 2018
1427 tonnes, end of September 2019
In January 2019, the Duqm airport also opened its air cargo terminal, with an area of 9958 sq. metres and a capacity of 25,000 tonnes per year, to support the Duqm Port & Free Zone.
The total cargo throughput for Muscat, Salalah, Sohar and Duqm airports from January 1, 2019 to August 31, 2019 is 179,012 tonnes.
Oman Aviation Services, while part of the Oman Aviation Group, is an independent company that is separate from Oman Air. It provides services including ground-handling, catering, duty-free sales, cargo-handling and hospitality.
To reflect its upgraded strategic planning, Oman Aviation Group's rebranding initiative included creation of a new, bright blue logo and a mission statement – It Starts Here. The idea is to showcase Oman as the destination where change and investments start.
Digital push
One key part Oman Aviation Group's strategy is a robust digital effort, which started with the launch of its SmartKargo app, a platform for all its customers including shippers and freight forwarders. The app was launched in collaboration with QuantumID Technologies, Oman Air's system solution provider.
Through the app, shippers and clients have self-service and mobile capabilities, with 24/7 access from any device and location, to real-time interfacing with Oman Air Cargo for services to include receiving quotes, monitoring flight schedules, capacity queries, real-time bookings and tracking notifications. The control of cargo at the click of a few buttons streamlines the processes and has placed Oman Air Cargo in direct, healthy competition with other major Middle Eastern airlines: Qatar Airways, Emirates and Etihad.
The SmartKargo app was followed by the launch of the SAHAB programme, which has brought in expertise of employees to re-imagine the future of aviation in Oman and set new standards of excellence in the guest experience. Lasting for 60 days from October 6, the SAHAB programme has also brought together selected representatives to participate in brainstorming sessions and workshops with international experts to dynamically develop ideas to push boundaries of operational and commercial excellence.
SAHAB's running theme of innovative technology has included initiatives such as 'hack the future' week to create fresh digital experiences that can set Oman apart as a destination for commerce and tourism.
Further expanding its use of computer-driven sales opportunities, Oman Air will soon receive its IATA NDC (New Distribution Capability) Level 4 certification. The new NDC platform opens up a number of new fare products and dynamic offers for travel agents to sell and agents will also have more opportunities to engage directly with the airline. Oman Air, which has already conducted a considerable number platform-training workshops for agents, recently completed its first stage of IATA CEIV training programme, which it expects to complete by March 2020.
Looking ahead with a focus on larger-scale growth, the Group intends to develop airport cities around its three major airports – Muscat, Sohar and Salalah, with an entire ecosystem to drive its focus point of building world-class infrastructure and liveable cities. From commerce, hospitality, logistics, free-trade zones and aviation capabilities, Oman Aviation Group will strive to create urban development that is self-sufficient and drives growth for its industries.
A sustainability twist
These digital initiatives are effective techniques to push Oman aviation on the path of growth, but what about sustainability?
Oman's Vision 2040 spells out its economic goals: creating wealth through economic diversification and private sector partnership, ensuring balanced governorates development, preserving environment sustainability and building world-class infrastructure and liveable cities.
For economic sustainability, Oman hopes to maximise the aviation sector by associating it with allied sectors like logistics, tourism, fisheries and agriculture. To this end, Oman Aviation Group is mobilising internal resources to identify sector gaps and capture its many opportunities.
For environmental sustainability, Oman Aviation Group will work to protect natural resources and promote their use in a safe and sound manner to generate economic opportunities. Protecting human beings and effectively managing the environment to help society flourish is part of this initiative.
Oman Aviation Group is well on its way to becoming the starting point for Oman Air to realise its vision statement: to become the best.
This feature was originally published in STAT Trade Times' December 2019 issue.