Ogiermann joins Aliscargo; Italian cargo airline set for July launch with preighters
The new Italian cargo carrier Aliscargo Airlines begins operation in July with two Boeing 777-200ER preighters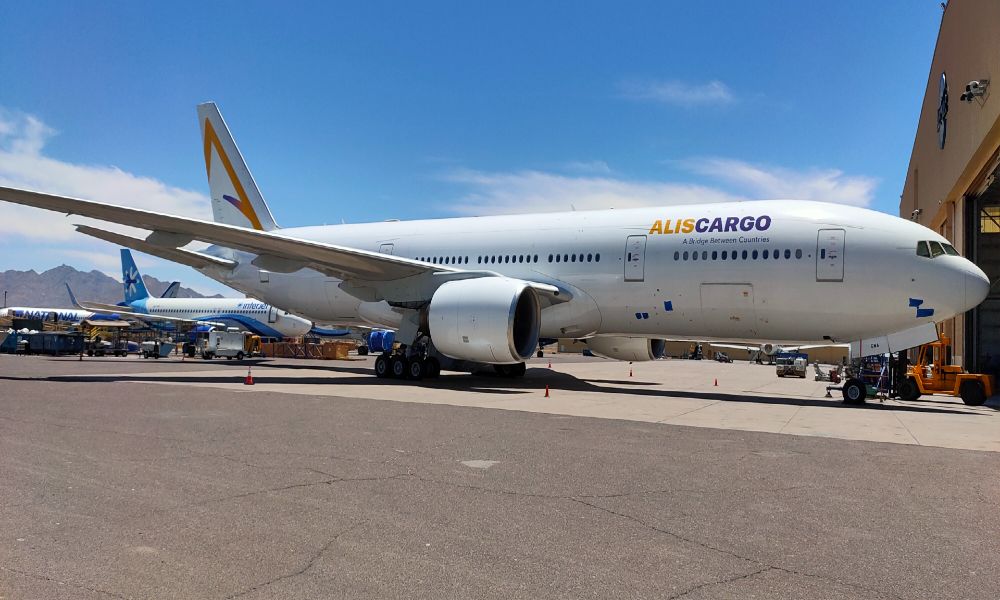 The Covid pandemic has opened up huge opportunities for all-cargo airlines. The extra ordinary demand for air freight on account of the limited belly capacity in long-haul wide-body passenger flights is giving rise to the launch of quite a few new cargo airlines.
The latest one is the soon-to-be launched Aliscargo Airlines, an Italian cargo airline to be based out of Milan Malpensa Airport in Italy.
The airline has already leased two B777-200ER aircraft from Boeing Capital Corporation. The first of the two aircraft – a passenger to freighter or cargo only passenger planes with passenger cabins devoid of seats – has arrived in Milan. The Aliscargo management expects to get the air operator's certificate (AOC) as quickly as possible. The second aircraft is expected to arrive shortly.

Ulrich Ogiermann, chief commercial officer, Aliscargo Airlines
Aliscargo has appointed well-known air cargo professional Ulrich Ogiermann as the chief commercial officer. Ogiermann, who led the launch of CargoLogic Germany for the Volga Dnepr Group, had left his chief executive job in January 2020 and was looking for his next thrill in his air cargo career. He then teamed with former chief executive of Silk Way Italia and Cargolux Italia Francesco Rebaudo to plan a cargo airline that would be funded by Italian private investors led by the Leali Group. Rebaudo is the chief executive of the new cargo carrier.
"The cargo airline was supposed to be launched with freighters but the unprecedented Covid crisis made it impossible for us to get access to freighter aircraft. There was none in the market. It was completely crazy. So we went for the passenger to freighter aircraft or "preighters" to launch the service," Ogiermann told The STAT Trade Times.
Ogiermann knows very well the commercial and economic viability of running a cargo airline. He clearly foresees the inherent risks involved in beginning cargo operations with cargo only passenger aircraft or preighters that have their seats removed from the passenger cabins to accommodate more cargo.
"We are trying but we don't know how sustainable this is, going forward. Obviously, the economics of P2F (passenger to freighter) can only operate for a certain rate level. When rates come down, P2F will disappear. We are very well aware of that. Nevertheless, we want to give it a try. The dynamics of the markets will also change and then freighters will be available," he said.
Ogiermann said that it remains to be seen how international travel is going to look like in the long term. "I do not think passengers are going to come back in a hurry. You need the return of business class passengers on long haul to make flights economical. At the moment they are not quite economical. Therefore, it will be all about flexibility and how we react to changing market conditions smartly."
However, the demand for converted freighters is at an all-time high as shippers are looking for dedicated cargo capacity amidst the pandemic. The order book with conversion companies is full and there is a long wait at the conversion lines for slots. This makes it extremely challenging for new cargo airlines, like Aliscargo, to have access to freighters any time soon.
Does Aliscargo need to wait at least for two years to get its first freighter? "Very difficult to say. It is real speculation what is going to happen. We know about the scarceness of slots for conversion. But I am pretty sure that there will be movements in the market. When the corona thing comes to an end we might come to a new equilibrium in the market and that might free up opportunities. We just don't know. But honestly, we are taking a little bit of risk here at the moment," Ogiermann admitted.
Ogiermann and his team at Aliscargo is looking at every available option to get hold of aircraft; be they preighters or converted wide-body freighters. These include the Boeing 777-300ERSF or "The Big Twin" programme by GECAS and Israel Aerospace Industries (IAI) that has Kalitta Air as the launch customer with three aircraft on order. These are scheduled to be delivered in 2023.
"We are looking at anything that can fly and that gives us a freighter. Whatever it is and whatever we can finance," said Ogiermann.
The B777-200ER or the B777-200ER cargo only passenger flights or preighters are capable of carrying good volume in the passenger cabins that have seats removed. Today with higher rates and better yields preighters, with cabin load option, can still be profitable on certain routes like the US-Asia and Europe-Asia. Carriers who can manage the volume and dense cargo equation well on specific trade lanes will be able to optimise the preighters like the B777-200ER. Outbound cargo from the US and Europe into Asia is generally high dense cargo types like automotive parts, machinery and heavy engineering equipment. The outbound cargo from Asia is predominantly of the ecommerce type and much more volumetric. These box shipments are perfect for cabin load in cargo only passenger aircraft.
Aliscargo is very hopeful of getting the AOC within a week of the arrival of the first aircraft. To get the AOC, the carrier has to have the aircraft physically present at the Milan Malpensa Airport for the regulators to examine the aircraft and issue the certificate. AlisCargo expects to start charter operations as early as July connecting Italy, a country that has huge exports, with North East Asia and North America.
The B777-200ER Aliscargo aircraft are modified at Shannon in Ireland and features an Aliscargo livery with "a bridge between countries" tagline.
"Today, the need to offer customised cargo services, depending on the product and the destination, is increasingly being verified. We are ready to create a new bridge to the world to support the expansion of 'Made in Italy'," said Fulvio Gismondi Chairman of Aliscargo.
Gismondi is a professor of Financial Mathematics and pro rector with responsibility for research at the Guglielmo Marconi University in Rome and president of Parametrica.
When asked about the launch routes Ogiermann said that it is difficult to talk about them as the carrier has not formally applied for the traffic rights. "North East Asia would be where we probably start and Central Europe will be the counterpart on the other end," he indicated.
The cargo airline is owned by Leali Group, a well-known Italian family business group that founded Air Dolomiti, a low cost Italian carrier that is now part of the Lufthansa Group. The group also owned and operated now defunct Cargoitalia, an Italian cargo airline that began operating in 2006 with four freighters. It ceased flying in 2008 due to financial problems but it was revived in 2009 and began cargo operation with a single MD-11 freighter. But that too came to an end in 2011.
Aliscargo has a team of 40 core people currently working with several third party vendors to make the inaugural flight happen as early as next month. Ogiermann said that Aliscargo is here for a long term.