Now is the time to build resilience for any future downturn: Richard Forson
Richard Forson, president & CEO, Cargolux Airlines International, talks about doing business through the pandemic, investing in new generation freighters and building resilience for any future downturn.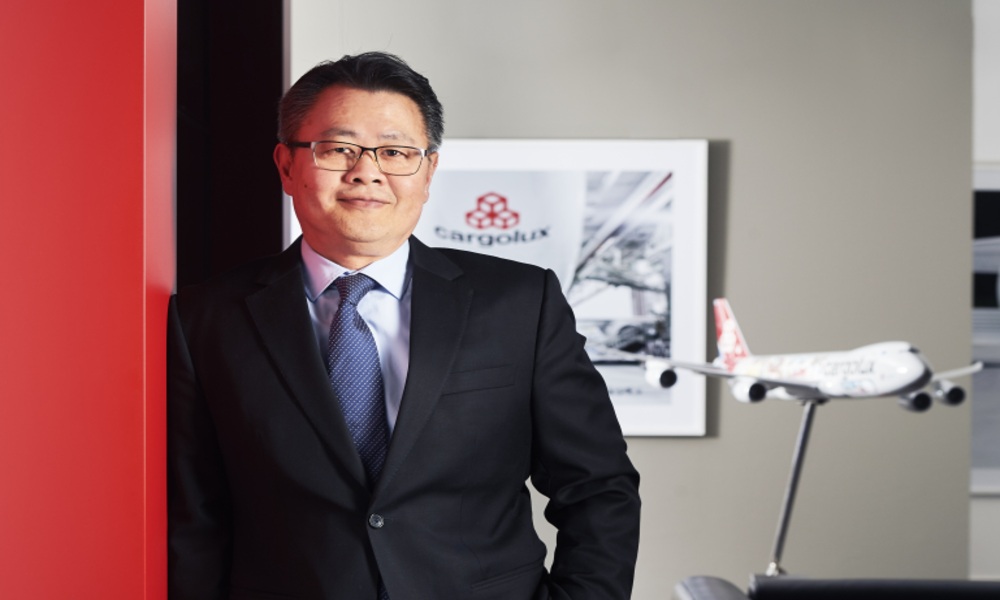 Europe's leading all-cargo airline Cargolux completed 50 years in 2020 right in the midst of a global pandemic that continues to choke global economy. However, with a modern and efficient fleet of 30 Boeing 747 freighters, the Luxembourg-based carrier in its jubilee year earned a net profit of $768.7 million on total annual revenue of $3.17 billion. As the demand for air freight continues to remain strong, the all cargo carrier is looking at fleet expansion that includes new generation production freighters from both Boeing and Airbus and also some of the current passenger to freighter conversion programmes. Richard Forson, president & CEO, Cargolux Airlines International, speaks to Reji John about doing business through the pandemic, investing in new generation freighters and building resilience for any future downturn. Edited excerpts.
How would you like to look back at 2020 and what are your reflections about some of the key highlights of the pandemic year?
Well, 2020 was obviously a very challenging year for Cargolux in terms of being able to keep the airline running and utilizing aircraft to the maximum. The one positive side was cargo crews were allowed certain exemptions because we were bringing in much needed medical supplies. But from an operational perspective, it was extremely challenging. But countries also introduced strict quarantine measures for crews. We stopped laying crews in China. So that obviously made quite a challenge to us operating through China. We also stopped the crew layover in Hong Kong. So we had to do double crew on board. As soon as the pandemic broke out we instituted what we call a business continuity meeting, which was held every single base for all of 2020 and still continues into 2021. This was meant to constantly monitoring what changes were taking place internationally and how we would react to them.
What do you think are the key reasons for the extra ordinary financial performance for most cargo carrier including Cargolux in 2020?
Any airline that operated a cargo unit that did not make profit last year then there must be something seriously wrong with that airline. For combination carriers, the revenue generated just managed to reduces their losses. The other important thing is that those carriers that only operated passenger aircraft, or the combination carriers, realized what value they have with belly space being available for carrying cargo. I think that is really something that combination carriers and passenger carriers started to realize, especially those that fly long-haul, and that might have an influence on how they see the importance of cargo going forward into the future.
The other aspect is from the forwarder side. I think a lot of them got caught in 2017, with the unexpected increase in rates that began in the fourth quarter of 2016. And in 2020 a lot of them also got exposed to the extremely high rates because of the lack of capacity.
So I've seen more and more forwarders now committing to wet leasing their own aircraft for one or two years, or entering into year-round charters at rates that they've locked in, at an early stage probably to protect themselves, especially in the peak season. There is also quite a bit of consolidation amongst the forwarders themselves with major forwarders buying others and growing in size. And it might very well be that in the future, the industry is going to deal with four to five major, what I call, super forwarders because of the geographical coverage and the amount of volume that they process.
Are freight forwarders looking for long term committed capacity in the current market environment and do you see this as a long term trend?
We have been approached and I am sure that other airlines also get approached to give year-round charters at rates that are probably going to be lower than what you could achieve. The big issue for carrier like Cargolux is obviously that we have a scheduled network so I need to keep certain capacity to fly the scheduled network. I have block space agreements with my various forwarders, which I need to honor. And I must also mention that in 2020 we honored all of our block space agreements that were signed in 2019 and at the beginning of 2020. And as you know, during that period, the cargo industry was pretty gloomy before the pandemic. We honored all of those block space agreements at the rates that were agreed at that point in time.
The biggest challenge last year, and continuous to this day, is the capacity that is limited. I have 30 Boeing 747 freighters which I'm flying at around, on average, 15 hours a day, which is significant. And that produces a certain amount of capacity. But it's not infinite. There's a finite amount of capacity that I can put into the market. I am getting more and more requests for year-round charters. But at the same time, I need to be able to maintain my schedule and my network. And then also do charters as and when they come up.
And as I said, with the charter business, if I do year-round charters, I'm blocking off capacity for other clients of mine. So we try our best to give capacity in terms of schedule to our customers, and treat them all fairly and equally. And when it comes to charters, it is going to be a business decision. Do we want to commit now? Or do we want to keep certain capacity in reserve for the peak season this year? 2022, I think, is likely to be another year, that is going to have capacity constraints. But there are more and more airlines that are buying freighters and more importantly, converting passenger aircraft to freighters to take advantage of the situation. So there is more and more supply coming onto the market but obviously it is not completely offsetting what has been lost.
With passenger traffic not expected to return to pre pandemic level anytime in the next two years, do you expect the freight rates to remain high and volatile?
Rates are moving constantly. But I think for the rest of 2021 they will remain high. In 2022, a lot will depend on the rate of the vaccination programmes that are currently in progress, especially in the US, in Europe and in Asia. The travel corridor for passengers between the EU and the USA is likely to get up and going quite quickly based on vaccination certificates. And in Asia, certain countries are particularly sensitive to any resurgence of a the virus and some of them, like Singapore, have draconic laws like crew in group confinements and not being allowed to leave hotel rooms at all. Therefore, return of the passenger traffic will depend on these factors and the pace at which vaccination programmes are rolled out across the world. As long as passenger traffic does not come back strong, freight capacity is going to remain constrained and that will have an impact on freight rate as well.
What is the status of the partnership with Emirates SkyCargo where Emirates had access to capacity in Cargolux's fleet of 747s and Cargolux get Emirates' global wide-body belly capacity?
Unfortunately, because of Covid, a lot of what was done before had come to a standstill. Emirates have their own issues at the end of the day. They are obviously using a lot of passenger aircraft for flying cargo around. They are in a hub. But the development of the cooperation between the two has been limited during the Covid period.
What is the status of the proposed launch of a Cargolux China cargo airline with HNCA (Henan Civil Aviation Development and Investment Company) as partner? Is this being pursued even now or has this been shelved?
The status, at this stage, is that there is no joint venture airline. And the intention is that it is probably going to remain that way because HNCA has also purchased its own airline, a Chinese airline that operates domestically. I think they are also operating into Brussels airport. But from a compliance perspective, we don't discuss anything at all between them and ourselves because we are competitors in the market.
You have a uniform fleet of 30 Boeing 747Fs and at a time like this it enables you to respond to market conditions with agility. With Boeing discontinuing the 747 production by 2022, what are your considerations in terms of fleet augmentation in the mid to long term?
I've been thinking of that and about bringing in aircraft. I see a lot of airlines are buying additional aircraft or leasing them. But for me, if I invest in an aircraft, it's going to be for the next 20 years. It's not based on what's happening today or tomorrow or even two to three years from now. It's a significant investment. Having a homogeneous fleet is obviously a big advantage in terms of flexibility, crewing, and provisioning for spares. Unfortunately, the 747 has reached the end of its line. And from a Cargolux perspective, we have meaningful discussions with both Boeing and Airbus as to what their future intentions are in terms of a new generation freighter. Environmental impact and co2 reduction are important considerations as we look to add new freighters into our fleet. The new generation freighters are going to be twin-engine aircraft in order for them to meet sustainable goals. So, going forward, there will be a time when Cargolux will operate two different types of aircraft in its fleet. The biggest thing, though, is what the manufacturers can offer Cargolux. The other option that we also look at is the B777-300ER passenger to freighter (P2F) conversion programme currently underway between GECAS and IAI.
Are you open to add P2Fs into your fleet or are you looking at only production freighters?
I look at all the options and then I run it and see what makes the best business sense. The issue with the airline industry is that it's a capital intensive industry. Assets that I am buying now are going to last for 20 to 25 years. And the market is very volatile now. And so what I'm doing is using this period now to improve the strength of my balance sheet because I don't know what's waiting for me, let's say two to three years from now.
What are your thoughts on the proposed freighter version of 777x, the latest series of the long-range, wide-body, twin-engine Boeing 777 family from Boeing Commercial Airplanes? And what is on offer from Airbus in production freighters that you are keen to acquire?
Well, obviously in Boeing what I am interested in is what they have been talking to us about the freighter version of 777X, the passenger version, which is yet to fly. Obviously, the passenger version has not sold that many because of the pandemic. And with Airbus, the only platform that really serves as a freighter is A350. My view is that any freighter programme normally follows a successful passenger aircraft programme. Obviously, Boeing is the expert in long-haul freighters. So I'm sure they've got their plans for the 777FX as a freighter. And if I do invest in a new fleet, I want to invest in a fleet that is going to help me cut co2 emissions.