Now fly direct to Nice from Doha with Qatar Airways
July 06, 2017: Qatar Airways commenced its direct service between Doha and Nice, the airline's second destination in France. Qatar Airways flight QR 53 operated by a Boeing B787 Dreamliner departed Hamad International Airport (HIA) on June 4 at 7:45 (Doha Time) and arrived at Nice Côte d'Azur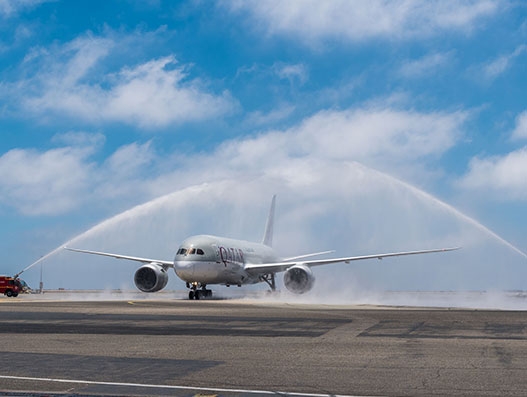 July 06, 2017: Qatar Airways commenced its direct service between Doha and Nice, the airline's second destination in France. Qatar Airways flight QR 53 operated by a Boeing B787 Dreamliner departed Hamad International Airport (HIA) on June 4 at 7:45 (Doha Time) and arrived at Nice Côte d'Azur International Airport at 13:15 (Nice Time).
The Qatar Airways delegation travelling on the inaugural flight, headed by senior vice president Qatar Airways Europe, Jonathan Harding, was welcomed by chief executive officer of Nice Côte d'Azur International Airport, Dominique Thillaud; chief operating officer of Nice Côte d'Azur International Airport, Didier Monges; president of the Tourism Commission of PACA Region, Jennifer Salles Barbosa and City of Nice representative, Rudy Salles.
Qatar Airways Group Chief Executive His Excellency Akbar Al Baker said, "We are truly delighted to launch direct service between Doha and Nice. The new route is a sign of our continuous commitment to improving the travelling experience for our passengers, both in France and around the world. With five weekly flights operating between the two cities, passengers from the South of France can now connect to more than 150 destinations world-wide through Doha's Hamad International Airport."
Nice Côte d'Azur International Airport chief executive officer Dominique Thillaud said, "The Qatar Airways flight out of Nice enhances our long haul offering - one of the most complete amongst French city airports - and improves the connectivity out of the region, via the Doha hub. This is therefore excellent news for tourism professionals on the Côte d'Azur and companies in the area who will benefit from a new route for air cargo exports."
Qatar Airways Cargo currently operates twice-weekly B777 freighters to Paris via Stansted, United Kingdom, in addition to transporting belly cargo on the airline's three-time daily passenger flights to the capital city of France. The introduction of direct flights to Nice will offer 60 tonnes of weekly belly-hold capacity and take the total cargo capacity out of France to over 560 tonnes. Major exports from Nice include perfumes, flowers, vaccines and general cargo. Qatar Airways Cargo offers its global customers specialist solutions to transport all type of cargo via its state-of-the-art Doha hub.
Qatar Airways recently announced its partnership with the French Riviera's premium helicopter operator Monacair, providing passengers arriving in Nice on board the newly-launched direct service the opportunity to seamlessly connect onto a Monacair helicopter flight to Monte Carlo. Likewise, passengers travelling from Monaco to Nice by helicopter will be able to connect at Nice Côte d'Azur International Airport to a choice of more than 150 destinations on Qatar Airways' global network.
The five weekly flights between HIA and Nice Côte d'Azur International Airport will be served by the Boeing B787 Dreamliner. The Qatar Airways B787 Dreamliner offers a two class configuration with 22 seats in Business Class that can be turned into fully-flat beds and configured in a 1–2–1 set-up, and 232 Economy seats in a 3–3–3 layout. The aircraft is also equipped with Oryx One in Flight entertainment system, offering more than 3,000 entertainment options including the latest blockbuster movies, TV box sets, music, games, and much more.
Qatar Airways currently operates 21 weekly flights between Doha and Paris on board the airline's ultra-modern fleet of Airbus A380 and A350. The airline also recently opened its luxurious, state-of-the-art Premium Lounge at Charles de Gaulle Airport in Paris.