Now fly direct between Beijing and Lisbon with Capital Airlines
<p style="text-align: justify;">July 14, 2017: HNA Group's aviation arm <a title="Capital Airlines" href="https://intl.jdair.net/" target="_blank">Capital Airlines</a> has launched a direct air link between China and Portugal. The agreement to launch a direct flight from Beijing to Lisbon was signed during Prime Minister Antonio Costa's visit to Beijing in October 2016 and the new route was unveiled […]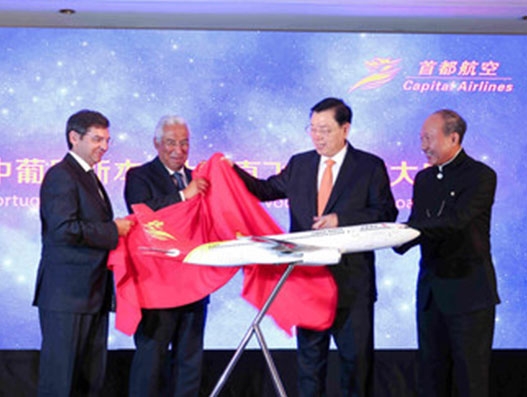 July 14, 2017: HNA Group's aviation arm Capital Airlines has launched a direct air link between China and Portugal. The agreement to launch a direct flight from Beijing to Lisbon was signed during Prime Minister Antonio Costa's visit to Beijing in October 2016 and the new route was unveiled at the inauguration ceremony that was held on July 11 in Lisbon, Portugal. The debut flight is scheduled to take place on July 25, 2017.
The Hangzhou-Beijing-Lisbon route is the airline's first international route between two countries, as well as an important step in the airline's effort to contribute to "the Belt and Road Initiatives" and the goal of re-imagining and recreating a modern version of the ancient trade routes that connected China to Europe. With Beijing as the key hub, Capital Airlines plans to establish more international routes, further extending the connection between China and other countries.
Chen Feng, Chairman of HNA Group, said, "Capital Airlines' direct flight service between China and Portugal will be an important contribution to strengthening cooperation between these two countries by promoting tourism and improving trade and economic relations. This effort is part of HNA's strategy to build the new Silk Road of the 21st Century and bring people and countries closer together."
Capital Airlines plans to integrate all available resources and ensure the success of the new route with quality services and security technologies. With the Airbus wide-body, twin-engine A330 as the aircraft and flights three times a week, the route offers 180 degree fully flat seat in business class and a selection of Lisbon-style delicacies on the food menu. In addition, the tourism resources and a selection of products from Spain and Portugal will further enrich the travel experience for passengers.