Norwegian Air checks in for Shannon Airport's maiden transatlantic flight
<p style="text-align: justify;">July 03, 2017: Shannon Airport's first transatlantic flight took off when Norwegian Air International commenced its operations for Stewart International in Orange County and Providence, Rhode Island.</p> <p style="text-align: justify;">Giving Shannon its largest number of transatlantic destinations for 17 years, the new services are a huge boost for tourism across the airport's wide […]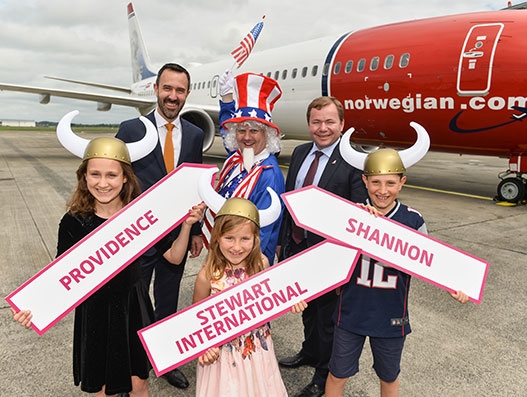 July 03, 2017: Shannon Airport's first transatlantic flight took off when Norwegian Air International commenced its operations for Stewart International in Orange County and Providence, Rhode Island.
Giving Shannon its largest number of transatlantic destinations for 17 years, the new services are a huge boost for tourism across the airport's wide catchment, from the North West down to Cork, delivering additional services from the largest yielding market in terms of visitor spend in Ireland.
The airport will add two weekly flights to Stewart International Airport, Orange County – just 90 minutes from New York – and Providence Green Airport, Rhode Island. The new services create an unprecedented line-up to the USA from Shannon Airport, with five airlines, seven destinations and eight services.
The new services will provide additional transatlantic capacity this year of 40,000 seats, with 80,000 across 2018 when the flights operate year round for the first time. This will bring transatlantic capacity at Shannon next year to over 550,000 seats.
Commenting on the importance of the two new US/Shannon services, Mary Considine, deputy CEO of Shannon Group, which owns and operates Shannon Airport, said, "Shannon Airport is proud to welcome Norwegian Air International to Shannon. The launch of these two new US destinations is another major milestone for our passengers. The new services open up exciting opportunities for Irish people to explore amazing parts of the States and for US visitors to explore our Wild Atlantic Way. We look forward to working closely with Norwegian to ensure the success of the services, which we are confident will pave the way for many more great things to come."
Norwegian CEO Bjorn Kjos said, "The launch of these new transatlantic flights is significant milestone for Norwegian, Shannon Airport and most of all passengers who now have more choice and lower fares for travel to the USA. We are grateful for the huge support from across Ireland over the last three years and we are delighted to see everyone's hard work pay-off as our first transatlantic flights take to the skies this weekend."
Andrew Murphy, managing director, Shannon Airport said, "We are delighted to have eight services to seven airports on the US east coast. This illustrates the huge market there is for the unique Irish tourism product on this side of the island. To have a new operator select Shannon for two destinations as it begins operations in Ireland speaks volumes, too, about Shannon's significance in the transatlantic market."
"Stewart International Airport and Providence Green Airport give us access to two very interesting and exciting locations so these services offer opportunity beyond inbound. Stewart is the access airport for Orange County, which is just 90 minutes from New York. It is in the hugely popular Hudson Valley and has year round activities from water sports to skiing. Rhode Island, on the other hand, is approximately the same distance from Boston, and is also a very popular tourism destination in its own right, with fantastic ocean drives, historical sites, museums and wineries. We would urge the public and tourism interests to support them and explore what are exciting new opportunities."