North America air cargo heads south post boom
After a healthy air cargo growth in 2018, global volumes have plateaued. North America is optimistic about the remainder of the year with unprecedented demand for cross-border e-commerce, the newly signed NAFTA, technological speeding up of processes, and business facilitation through uncongested airports in mid-west US proximate to state's market.
Nahida Jafferi
North America's air cargo industry has never been brighter, according to Brandon Fried, executive director, team builder and air cargo expert, The Airforwarders Association (AFA).
The global uncertainty has not only created challenges in North America but opportunities as well. "The volumes from China to the US increased before the imposition of the most recent round of tariffs as shippers augmented inventories to avoid the new taxes," he said.
However, Fried foresees that as the political situation continues to unfold, US-China trade will primarily be affected for a while and forwarders will be called upon by customers for assistance in avoiding bottlenecks, providing duty drawback services, Incoterms management, project logistics, transportation mode management, and other trade assistance strategies.
That could probably call for the readiness on the part of forwarders to deal with the situation.
On the other hand, at the US Mexico border, long truck waiting times have increased airfreight shipments as companies strive to prevent ground-related delays at the checkpoints.
Fried commented, "Recent unfulfilled threats of tariffs on imports from Mexico created a bit of uncertainty, which fortunately was tempered thanks to the recent immigration agreement between the two countries."
The US had to drop the tariffs on steel and aluminium imports from Mexico and Canada. This resulted in Mexico ratifying the United States Mexico Canada Agreement (USMCA), formerly known as the North American Free Trade Agreement (NAFTA).
US exports to Mexico and Canada have grown more over the past decade than sales to any other country. The agreement will open the Canadian dairy market to U.S farmers. Having the USMCA approved is considered as a big win for North American trade and, the US in particular.
"Moreover,  goods travelling between Canada and the US will soon be pre-cleared electronically in both truck and air modes, hopefully expediting trade flows by streamlining the customs clearance process," shared Fried.
Canada's largest trading partner is the United States and is fairly balanced in both directions. Mexico and Central America are also important to Canada. Air Canada Cargo operates 100 widebody flights between Canada and the US and reaches the main cities in the US through trucking if not flights.
Tim Strauss, vice president, Air Canada Cargo, said, "We're seeing growth in some of our specialised solutions, including valuables, pharmaceuticals and dangerous goods. We are also opening up new markets by partnering with Drone Delivery Canada to initially serve remote communities, as well as healthcare and depot goods in the urban regions."
"In Q3 2018, we launched an operational excellence programme at our global hub in Toronto, the aim of which is to review every single process related to the flow of goods through the facility and move toward a Lean management approach. We've seen a 29 percent increase in kilos handled in Toronto over the past five years, and have hired about 300 new employees since 2017," detailed Strauss.
Airlines are finding 2019 to be a difficult year compared to 2018, yet are enhancing flight services and capabilities.
Chris Isaac, managing director- revenue management, American Airlines Cargo (AAC), said, "2018 was a record-breaking year for us at American both in terms of operational performance (FAB), volume and revenue. We reported $1 billion for the first time and moved 2 billion pounds of freight."
"This spring, the market for all cargo shippers has softened but our resilience lies in our network strength and exceptional customer service. We recently announced our summer seasonal services across the network both domestically and internationally, which all contribute to our current capabilities," noted Isaac.
With these additional international routes, AAC's North American shippers are provided access to markets that may not have been available previously.
Issac pointed out that although AAC's 80 percent cargo business is generated from an international network, its daily domestic flight operations are more compared to international.  "The majority of our widebody capacity is deployed to our international network. Our narrow-body aircraft that make up the majority of our domestic network is ideally suited for small parcels, which are a primary component of the e-commerce industry. As e-commerce continues to grow, we already have the network in place to support the increasing volumes," said Isaac.
North America is an upbeat market for airlines due to the strength of the US economy and increased consumer spending.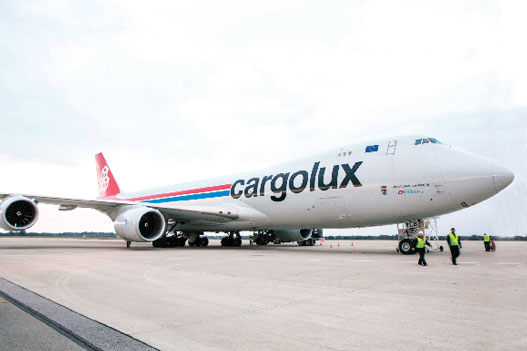 Shawn Cole, vice president, Delta Cargo, said, "We are seeing strong demand from the US Postal Service with increased volumes, alongside high demand for the transportation of Pharmaceuticals.  Plus a strong demand for the movement of e-commerce, which is the fastest growing segment in the United States as well as globally. Pharmaceutical and medical supplies remain in high demand, with the shipment of organs and cord blood through our DASH Critical service."
"After 21 continuous months of revenue growth, Delta Cargo now faces headwinds of weaker global demand, in-line with the global cargo industry. Delta plans to target smart growth by continuing our focus on innovative product offerings, bolstering joint venture partnerships and strengthening customer relationships. We're optimising the use of capacity and growing strategic, high-yielding revenue streams that leverage our vast network," emphasised Cole.
In the region, security and screening is of utmost priority. The AFA advocated for the newly implemented TSA Third Party Privatized Canine Program that provides another tool in screening cargo flown on passenger flights.
"Another exciting development is the full implementation of the CBP Air Cargo Advanced Screening (ACAS) preloading advance data submission requirement on shipments coming to the US The programme has been in a voluntary compliance phase over the last year with mandatory submissions almost begun," said Freid.
Airlines are witnessing some headwinds in the North America export to Europe and Asia sector due to the strong US dollar, as well as political global uncertainty. Cross-border e-commerce is the real game changer for the industry.
Sebastian Tschackert, president, Americas, Tigers Limited, said, "We have witnessed an approximate 20 percent growth compared to last year. Cross border e-commerce, particularly on the routes out of the US and into Europe and APAC, has been strong growth drivers, and we expect this trend to continue." Tigers Limited is a global logistics and supply chain business.
Routing through Midwest US
America needs to expand its road and airport infrastructure to accommodate future demand and AFA will be advocating the US Congress to provide the necessary funding for it.
Shippers are moving from congested gateway airports to Midwest to avoid wait times. Midwest's big advantage over traditional gateways is also their ability to connect to the rest of the US in two days. Amazon Air is building its $1.5 billion hub at Cincinnati in Kentucky to house its 100 cargo jets.
Interestingly, the up and coming cargo dedicated Rickenbacker Airport in Columbus, Ohio, is becoming the airport of choice in the Midwest US, where it is seeing double digital growth. ME carriers are enhancing their footprint in the region.
The Federal Aviation Administration has approved a grant of $15 million to Rickenbacker International Airport, for runway upgrades so that it can continue serving the largest aircraft in the world. "Related to our strategy, cargo activity is forecasted to grow by more than 900 percent by 2036 and we're creating long-term development plans to serve that growth. The development will be demand driven and take place on existing airport property. We will collaborate with public, private and government stakeholders to fund development as demand warrants, "said Bryan Schreiber, manager of air cargo business development, Rickenbacker International Airport(LCK).
"We continue to focus on commodity diversification. For example, in 2018 we renovated and expanded our animal transport facility. The secured facility provides convenient access from public roads and direct access to the airfield," said Schreiber.
The Columbus Airport Authority that oversees Rickenbacker's development said that the airport contributes $2.5 billion in annual economic impact in Ohio.
"Cargo is up 7.5 percent year-to-date through May at Rickenbacker International Airport. AirBridge Cargo started scheduled service at Rickenbacker in the spring of 2018. We have also been seeing a lot of charter activity, and are becoming known as a charter and project cargo airport of choice in the Midwest US," Schreiber added.
Digitisation - a key focus
The new DeltaCargo.com website has seen a 20 percentage points increase in global online bookings compared to 2017.
Cole also informed that Delta's 90 percent container fleet and 65 percent pallet fleet is equipped with Bluetooth tracking devices.  In addition, Delta has provided 120 off airport customer warehouses with free Bluetooth readers in the US.
On the other hand, AAC will launch iCargo in Q4 of this year to offer end-to-end shipment visibility with proactive notifications and mobile access, real-time access to booking information and shipment data, and self-serve rate and tariff information available to customers at any time.
North American airlines are taking proactive steps towards digitisation. It is important for the industry to realise that automation of processes with investment in technology is critical to assist in facilitating the oncoming volumes by doing things efficiently.
This story was originally published in STAT Trade Times' July 2019 issue.