Nittsu Logistics Myanmar opens new warehouse in Thilawa SEZ
May 24, 2017: Nittsu Logistics Myanmar has completed its construction of a multifunctional logistics warehouse the Thilawa Logistics Center, in the Thilawa Special Economic Zone (SEZ). The new warehouse will start its operations from June 1, 2017. Nittsu Logistics Myanmar is a subsidiary of Nippon Express.The Thilawa SEZ in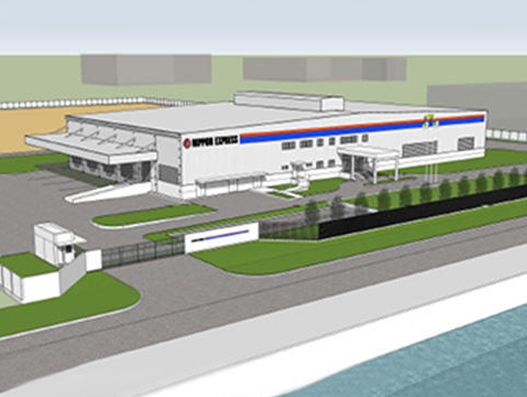 May 24, 2017: Nittsu Logistics Myanmar has completed its construction of a multifunctional logistics warehouse the Thilawa Logistics Center, in the Thilawa Special Economic Zone (SEZ). The new warehouse will start its operations from June 1, 2017. Nittsu Logistics Myanmar is a subsidiary of Nippon Express.
The Thilawa SEZ in which the Thilawa Logistics Center is located is an industrial park jointly developed by Japan and Myanmar as a public-private enterprise and situated about 20-kilo meters south-east of downtown Yangon. As of the end of March 2017, about 80 companies from 16 countries, including Japan, Thailand and Singapore, had decided to set up operations there. These companies are mainly from the construction material, food and beverage, apparel, and automotive-related industries.
There are plans to expand the cargo terminal at the adjacent Thilawa Port and to widen the roadways connecting the outskirts of Yangon, where this SEZ is located, and the border with Thailand. This SEZ itself is scheduled to undergo expansion, raising the possibility that it will become a major production/logistics hub.
The facility will offer bonded storage services utilising the bonded cargo functions available nowhere else in Myanmar but the Thilawa SEZ.
The facility will also provide a temperature-controlled and dehumidified warehouse for the storage of apparel and chemical products requiring a temperature-controlled and anti-fungal environment.
Foreign companies are prohibited from importing finished products to sell in Myanmar, but the companies operating in this SEZ repackage, label or otherwise process these imported products in Myanmar and are thus exceptionally allowed to sell these within the country; distribution processing can also be performed at this warehouse.
Nittsu Logistics Myanmar provides comprehensive logistics services, including air/ocean cargo forwarding, customs clearance, domestic distribution (including bonded transport), cross-border truck transport, warehousing, and heavy haulage. With Myanmar expected to see further development, the company will continue enhancing its logistics functions in Myanmar to meet the full range of customer needs and further expand its global logistics business.