Nippon Cargo Airlines plans Taipei service in 2020
December 18, 2019: By 2020, Japanese carrier Nippon Cargo Airlines (NCA) aims to add Taipei, Taiwan to its network. Shawn McWhorter, president of NCA Americas, said, "We're getting a lot of enquiries from Taipei." NCA's traffic out of China has declined markedly, he added. This has taken a heavy toll on the airline's eastbound loads […]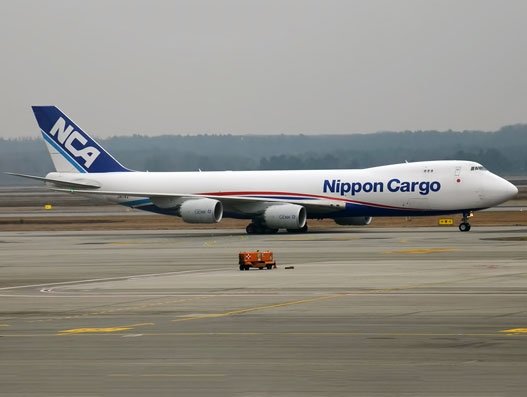 December 18, 2019: By 2020, Japanese carrier Nippon Cargo Airlines (NCA) aims to add Taipei, Taiwan to its network.
Shawn McWhorter, president of NCA Americas, said, "We're getting a lot of enquiries from Taipei."
NCA's traffic out of China has declined markedly, he added. This has taken a heavy toll on the airline's eastbound loads moving across the Pacific.
"Transpacific demand from Asia is way down," McWhorter said. "This peak season has not been a great one for us. Inbound, it has been a struggle, because there's not enough out of China."
In October, the airline launched a weekly freighter run from Tokyo via Shanghai to Chicago, using fifth freedom rights. This routing cuts 12 hours off the transit time from its previous route of Shanghai via Narita to Chicago.
At the launch, NCA management had expressed hopes that the frequency could be stepped up before long. However, demand has been disappointing, prompting the airline to drop a couple of the flights.
The airline's eight 747-8Fs have been back in service since the start of the summer schedule, following their forced hiatus after Japanese officials had discovered maintenance record discrepancies.
Across the Pacific, NCA uses the type chiefly on its routes to Chicago and Los Angeles. The 747-400Fs are deployed on routes serving San Francisco, New York and Dallas/Fort Worth (DFW).
All five of NCA's 747-400Fs have been transferred to Atlas Air, which operates them (or corresponding aircraft) for the Asian carrier. The last one was shifted over in September.
McWhorter said that US export traffic across the Pacific had been relatively steady for NCA, and he is looking to tap into perishables flows from Latin America to Asia.
Another market McWhorter is looking to cultivate in 2020 is Canadian exports out of Edmonton. NCA has routed some of its westbound flights from the US through the Canadian airport to pick up meat and other perishables as well as oil & gas traffic headed to Asia.
"We probably fly there twice a month. We'll see next year if we can make it a steadier operation," he said.
One airport disappearing from NCA's schedule this year is Frankfurt Hahn, which has been a stop on the carrier's round-the-world operation from Tokyo over Anchorage to Chicago, returning to Asia via the German airport and Milan. In the New Year, the freighter will turn around in Chicago and head back to Asia across the Pacific.
This step simplifies the network and ups reliability, he explained. The long route requires a large number of flight crews. Moreover, the eastbound transatlantic leg was driven largely by automotive traffic, which has slowed down. NCA continues to serve the German market on the direct route from Tokyo to Europe, flying via Amsterdam.
To achieve better control over cargo on the ground, NCA is doing its own handling at Chicago and Los Angeles. In January, the airline is going to roll out a new warehouse management system at these stations, and among its features is a dock management module and functionality that allows truckers to do self check in.