Nippon Cargo Airlines joins booking platform cargo.one
Nov 5, 2019: Japanese all-cargo airline Nippon Cargo Airlines (NCA) has joined the booking platform cargo.one, in a bid to strengthen its market position in Europe. The partnership will give NCA access to cargo.one's user base of more than 300 freight forwarding companies, as well as to drastically reduce manual distribution efforts. The partnership will […]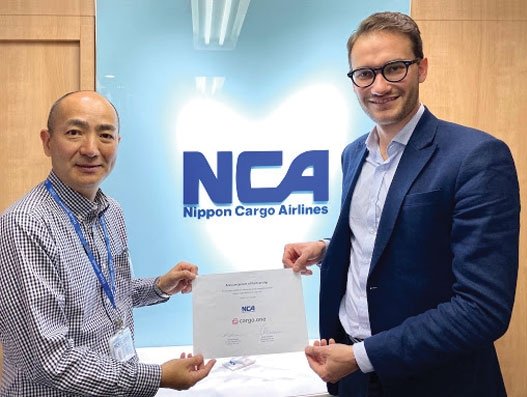 Nov 5, 2019: Japanese all-cargo airline Nippon Cargo Airlines (NCA) has joined the booking platform cargo.one, in a bid to strengthen its market position in Europe. The partnership will give NCA access to cargo.one's user base of more than 300 freight forwarding companies, as well as to drastically reduce manual distribution efforts.
The partnership will allow freight forwarders to book NCA's main deck capacities on the platform with instant confirmation around the clock. Work to integrate NCA's core cargo system iCargo with cargo.one will begin this year. The launch of NCA capacities on cargo.one can be expected by late Q1 2020.
Hiroyuki Homma, director, head of sales, marketing, business strategy of NCA said, "We are very happy to announce our partnership with state-of-the-art e-booking platform cargo.one and are looking forward to enabling our customers to book capacities with us in a new and seamless manner."
cargo.one will be utilise the newly developed one.connect for the first time, further simplifying its integration processes with airlines. one.connect is the result of continuous learnings and technological requirements from past airline integrations aggregated into a single standardised technology layer, that will enable connections to a large number of airline legacy systems in a simplified manner.
"Joining cargo.one is a logical step for us in executing our digital strategy. It will enhance our customers' experience and help us reach new customer segments. cargo.one has proven to be a reliable, innovative and fast-moving partner to a growing number of airlines and we are happy to take the lead as the first Asian carrier to join the platform," said Satoshi Shimura, VP & GM and head of business digitalization of NCA.
Moritz Claussen, managing director of cargo.one said, "As cargo.one's footprint continues to expand globally, we are very happy to welcome our first Asian partner on board. NCA's main deck capacities will further add to cargo.one's attractiveness for freight forwarders, allowing us to increase demand on the platform which will, in turn, lead to more capacity distribution overall for those airlines partnering with cargo.one."