New Swissport Air Cargo Warehouse to be completed by Q3 2020
Nov 28, 2019: The foundation stone laying ceremony for Swissport's new air freight facility at Frankfurt Airport (FRA) was held recently at CargoCity South. Once completed, the new building will expand Swissport's handling capacities by almost 50 per cent. The building is scheduled to be completed and handed over to Swissport in the third quarter […]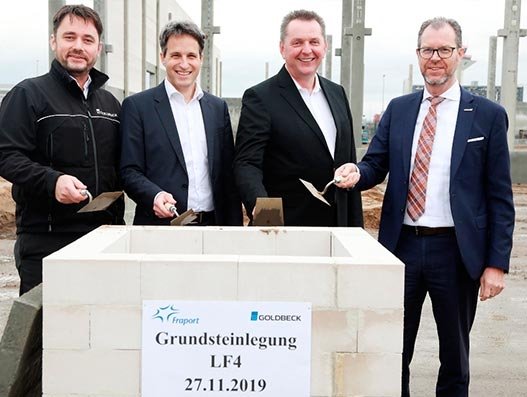 Nov 28, 2019: The foundation stone laying ceremony for Swissport's new air freight facility at Frankfurt Airport (FRA) was held recently at CargoCity South. Once completed, the new building will expand Swissport's handling capacities by almost 50 per cent. The building is scheduled to be completed and handed over to Swissport in the third quarter of 2020.
The warehouse concept includes a material handling system that allows containers and pallets to be automatically stored in and removed from the warehouse. Swissport will expand its range of special temperature storage and the new cargo centre will be fitted out in accordance with the strict IATA criteria. Once operational, it will be CEIV Pharma-certified.
The roof of the freight hall will also be home to the first large-scale photovoltaic system at Frankfurt Airport. It will generate 1,550,000 kilowatt hours of electricity yearly – an amount that would power more than 450 four-person households for an entire year. With this move, Fraport is increasing its focus on the use of independently generated renewable energy to cover the electricity requirements of its home-base airport in Frankfurt.
Felix Kreutel, senior vice president of real estate and properties at Fraport AG, explained, "Fraport operates Europe's largest cargo hub at Frankfurt Airport. We intend to write another chapter in this success story together with our long-standing customer Swissport. To achieve this, we are continuously optimising our service and product range and offering intelligent infrastructure solutions for our customers."
The new building at Frankfurt Airport will be Swissport's fourth-largest cargo centre worldwide. Up to 200,000 metric tons of airfreight for airline and shipping customers are expected to be handled here per year.
Willy Ruf, senior vice president central & eastern Europe at Swissport, said during the foundation stone ceremony, "We are looking forward to offering our customers individual air cargo services at one of Europe's most modern and sustainable airfreight facilities starting in the fall of 2020. Frankfurt Airport thus remains one of the most important airfreight locations in our global Swissport network."
The airfreight facility has been designed by M&P Architekten, with building company Goldbeck acting as general contractor.