New head of cargo for UK's Doncaster Sheffield Airport
April 15, 2019: Virgin Atlantic executive Ray Wood has joined Doncaster Sheffield Airport (DSA) as head of cargo. He brings with him over 20 years' experience in the airline air freight sector. Prior to this new role, he was regional sales manager for cargo at Virgin Atlantic. He has also worked with IAG Cargo and […]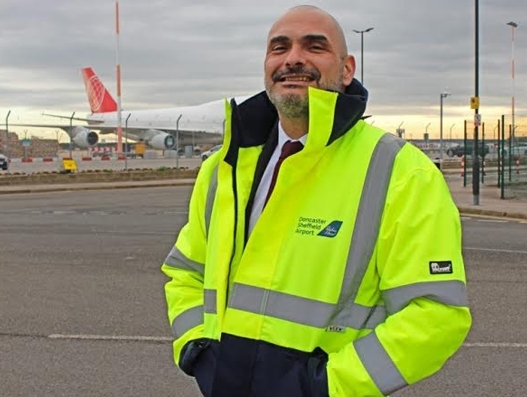 April 15, 2019: Virgin Atlantic executive Ray Wood has joined Doncaster Sheffield Airport (DSA) as head of cargo. He brings with him over 20 years' experience in the airline air freight sector.
Prior to this new role, he was regional sales manager for cargo at Virgin Atlantic. He has also worked with IAG Cargo and Lufthansa Cargo.
He joins the team at a key time for the airport as it reports a record year with 42 percent growth in tonnage and a number of new contract-wins since taking the cargo operation in-house in April 2018.
UK's freighter-friendly airport has also seen new infrastructure and facilities delivered including a 50,000 sq ft transit shed facility, a fourfold increase in its capacity.
Chris Harcombe, Aviation Development Director at Doncaster Sheffield Airport informs: "He is responsible for the commercial and operational development of our cargo business and will build upon the excellent progress we have made in recent years.
"The airport has a diverse client base and continues to invest in people, processes and facilities increasing capacity and capability, which is a key step in the delivery of our Masterplan, published last year. This investment makes DSA a credible alternative to congested airports in the UK and the continent, which has led to us attracting new operators to the airport"
Ray said: "The opportunity of being able to build upon a fresh cargo operation, with some early successes under its belt was very attractive to me.
He continues: "DSA is well located to support the cargo needs of the UK, centrally located and connected to the motorway network with regional strengths in logistics. With 24/7 availability we have no slot constraints and offer full long-haul capability. There is significant potential to establish DSA as a major logistics hub within the Global Innovation Corridor, with 3M square feet of development space for multi-modal logistics facilities, making us a very attractive proposition."
The airport is reporting record full-year cargo throughput levels for 2018-19 at 18,000 tonnes, increasing by 42 percent from 12,600 tonnes in 2017-18. The airport's Masterplan targets doubling throughput to 40,000 tonnes per annum by 2022-23, through increasing scheduled freighter traffic, developing existing relationships and growing the client base. The long-term strategy predicts throughput increasing to 200,000 tonnes per annum.
Throughput has continued to grow at DSA since 2012 and it established its first scheduled freight services in 2017, with an initial handling of three 747 aircraft per week transporting perishable goods for the UK supermarket network, now increasing to six for the summer season.