FROM MAGAZINE: New era of digital freight forwarding
Freight forwarders are indispensable to the supply chain but the business is fraught with inefficiencies, and digitalisation is the answer to it. As new business models gain traction, embracing digitalisation and collaborating with digital platforms will open up multitude of opportunities for freight forwarders. Nahida Jafferi More than five years after the e-forwarding concept took […]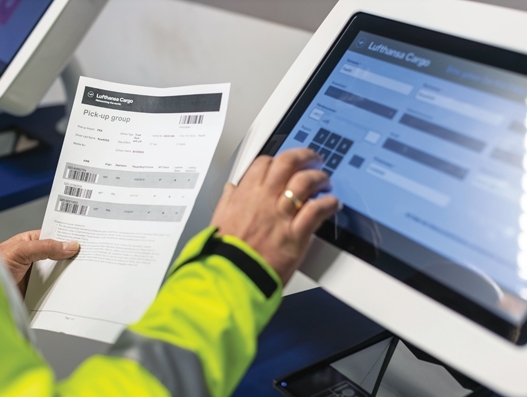 Freight forwarders are indispensable to the supply chain but the business is fraught with inefficiencies, and digitalisation is the answer to it. As new business models gain traction, embracing digitalisation and collaborating with digital platforms will open up multitude of opportunities for freight forwarders.

Nahida Jafferi

More than five years after the e-forwarding concept took shape and began to be taken seriously, the $2 trillion global freight forwarding sector, as well as the even larger $7 trillion global logistics industry, is slowly undergoing a digital transformation.
Digitalisation may have changed the dynamics of the marketplace but this section of the industry is still fraught with challenges. Even today customers wait for days in anticipation for confirmation on a rate and/or booking through phone or email. According to a recent study by Freightos, a freight marketplace, a shipper who asks a forwarder for a quote can wait as long as 100 hours, and that 5 out of the top 20 forwarders send automated confirmation emails and even fewer provide instant quotations. This has provided an opportunity to digital forwarders that offer shipping quotes in seconds, and book space at the click of a button.
A Boston Consulting Group study states, "Digital forwarders that lack their own operations will either build them organically or partner with forwarders that already have them. Flexport does both." Recently, SoftBank announced an investment of a billion dollar in Flexport, a software-focused freight forwarding and customs brokerage company that was founded in 2013.
As per Steve Walker, founder, SWG Global and a former board of director at DSV, despite the billions of dollars invested in digital freight forwarders, they will not be able to take over the market. In a report published in Lloyd List, Walker pointed out that digital disruptors face the same problems as traditional freight forwarders, and digital-only solutions are ineffective when space tightens and deals are required to secure capacity.
Mark Gatenby, chief information officer, Tigers Limited, reasoned, "A lot of companies have tried to disrupt forwarding from the outside in the same way that Uber and Airbnb disrupted taxis and hotels. However, they have met with little success so far as they have misunderstood the complexity of the business. Tigers will attempt this disruption from the inside. We have a deep understanding of the business, we have developed the tools, and most importantly, the digital flexibility needed to navigate and react to issues and changes within the industry."
On the other hand, Olivier Boccara, global sales and marketing director, Bolloré Logistics said that Bolloré has extended its door-to-door service to customers, and this is more challenging for digital disruptors. Bolloré Logistics is working on new digital services to allow for a customer-centric experience with online requests for pricing and booking with real-time response.
Meanwhile, FreightHub, a European digital forwarder, combines the functions of comparison portals with the services of a full-service forwarding company.
Digital adoption
Freight forwarding is much more than just rates and bookings. Freight forwarders already offer much of the services of the digital forwarders with online quoting and booking, track and trace, and supply chain analytics.
Gatenby said, "The freight-forwarding business is made up of multiple disconnected parties, all of whom use different and often antiquated systems and methods to exchange information. Clearly, a small number of advanced platforms to manage the information will be of great benefit to the global industry. I anticipate that these platforms will drive further transparency, and ultimately, impact yields across all sectors."
Blockchain in the supply chain is an attempt to align non-related parties to negate issues of trust and providence. Gatenby observed that the two major issues with blockchain are first that it contravenes new data laws, like GDPR, and the right to be forgotten. Secondly, it has to be adopted by everyone in the chain.
"It is clear that multiple digital methods will be created, and there will be competition between these methods until some become the winners in the adoption rate. Looking back at historical attempts and seeing how they failed would tell us that all previous methods have been mandated by a powerful supply chain entity," he predicted. "There will be an emergence of multiple digital methods like a variety of Blockchain, IoT, or quote engines designed to connect supply chain parties, and either enhance or disrupt forwarders. Some examples include Maersk/IBM blockchain offering, the recently announced Blockchain In Transport Alliance (BiTA), and Tigers' Doozee quote engine," Gatenby added.
Tigers recently joined the BiTA, which is a forum for the development of distributed ledger/blockchain standards and education for the freight and logistics industry.
Tigers have created SmartHub: Connect, which is a system that provides customers with global visibility from the point of origin and factory gate to the end consumer. In addition, Tigers has partnered with Doozee, a US based software provider, whose technology facilitates instant freight quotes globally. Tigers is a great believer in collaboration. "Our customers have consistently shown a desire to deal with multiple providers. Consequently, our SmartHub: Connect system was designed with a 4PL option which provides customers with complete visibility, but the option of using not just Tigers as a provider," said Gatenby.
Source: BCG analysis

On the other hand, Bolloré Logistics is working with the different actors of the airfreight community and its clients on API/EDI connections (for rate/bookings/track & trace), 4PL management with monitoring tools and optimization modules, real-time and e-commerce options. "Moreover, other parties of the chain are expecting digitisation implementations such as customs authorities making it mandatory for all actors to upgrade their systems (for example ACAS for the USA)," informed Boccara.
Bolloré is also investing in digital platforms and digital connections with its partners. Boccara added, "We have developed new solutions with the Customer Digital Platform (CDP) that makes instant quotes possible, and the Decision Management Platform (DMP) allows customer service to benchmark all rates and operational teams to book using the system. The DMP is connected to airlines and third parties for automatic rate integration via API/EDI, and in other parts, to an intermediary for e-bookings (champ)."
Airlines' digital channels
Airlines are also building and improving their digital channels to serve some smaller customers directly. Boris Hueske, head of digital transformation, Lufthansa Cargo, stated that currently, they see no migration of shippers from forwarders directly to airlines, while their customer is still the forwarder.
Gatenby commented, "Airlines have been forward in their use of digitisation, but they have been more ruthless in their desire to stick to their core business. Ocean lines are the opposite, and have been very backward in their digitisation, but have been more willing to branch out to forwarding and non-ocean transport. So, yes, airlines will be happy to use digitisation to bypass forwarders, but that does not stop the issues upstream and downstream, which I don't see airlines being interested in."
A McKinsey study states, "Faster growth in belly capacities and modernized freighter fleets will subject general cargo to price pressures of up to three percent a year. In other words, revenues may be almost flat despite higher transport volumes."
Digitisation is touted as key to dealing with price pressure. Hueske said, "Digitisation as well as predictive analytics enable faster responses, create quicker and a more complete picture based on data and help to forecast. This helps us a lot in terms of flexibility and price pressure."
Moreover, airlines want to extend the principle of yield management they implement for passengers to air cargo. "For this reason, Air France, for example, offers its International Freight Forwarder (IFF) customers dedicated access to a platform called myCargo that sells the space available with dynamic pricing for a few days before the aircraft's departure," said Boccara.
Digitisation has also allowed shippers to bypass freight forwarders to do their own cargo bookings.
"However, most of the freight transported for large shippers is done through multi-year contracts knowing that the needs of the shippers go well beyond freight price, but one encompasses a sophisticated need for services," added Boccara.
Given the technology adoption rate, the question remains whether one stakeholder alone can optimise value derived from technology without penetrating through the supply chain. Hueske commented, "One person cannot do it alone, but it usually starts with one person. One example might be our so-called pre-check. The advantages of a prior data check, in order to identify errors at an early stage and the resulting increased efficiency, might inspire other stakeholders to optimize their previous processes as well."
Lufthansa Cargo has collaborated with Freightos, a freight marketplace that gives instant freight quotes and enables customers to book capacity online immediately at a given rate. "Freightos allows Lufthansa Cargo to respond to customer demand for faster and easier bookings and offer greater rate of transparency while including an additional electronic sales channel to its existing offering," said Hueske.
The digital disruptors are recording growth in business mainly because of small shippers.
Interestingly, total intercontinental B2C air-freight demand will increase by more than $10 billion by 2025, as per McKinsey report. It cites intercontinental B2C cross-border shipments as a new opportunity for freight forwarders with a variety of options, such as airport-to-airport and door-to-door services. To play a major role in the freight forwarding game, they need to embrace digital technology in customer-facing and back-end processes and place strategic bets on building or buying marketplaces or partnering with emerging digital platforms, as per a McKinsey report.