Network Airline Management, Liege Airport extend partnership for another 3 years
Oct 11, 2019: Network Airline Management (NAM) and Liege Airport have extended their partnership for another three years. Since Network moved their freighter operation to Liege in 2014, cargo levels have strongly increased with unprecedented growth across all sectors. This is mainly down to the introduction of various new freighter routes and destinations served from […]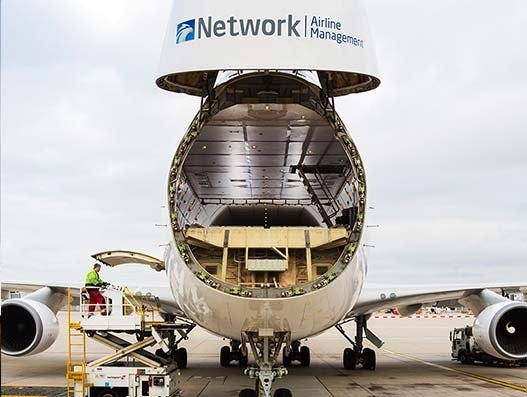 Oct 11, 2019: Network Airline Management (NAM) and Liege Airport have extended their partnership for another three years. Since Network moved their freighter operation to Liege in 2014, cargo levels have strongly increased with unprecedented growth across all sectors.
This is mainly down to the introduction of various new freighter routes and destinations served from Liege. Liege airport is one of the most cargo friendly airports in Europe, with global connectivity by air and European connectivity by road, making it the perfect gateway for cargo operations.
NAM continues to expand its business and network out of the Liege hub, with its widebody freighters operating a minimum of 12 weekly flights into leading African destinations as well as operating charter flights globally. Liege welcomes this new extension as it confirms its leading position as the front running airfreight hub for the African market, committing to continuous support of this core market.
Liege airport offers 24/7 slots for widebody freighters and has dedicated infrastructure as well as processes for freighter operators, with airfreight, requiring more than just bellyhold capacity. The airport workforce, local cargo community and service suppliers, gives the operators the required combination of flexibility, speed and cost efficiency.
"We have been able to grow our business over the last 5 years with the support of Liege Airport with their dedicated cargo infrastructure, we fully expect to continue developing and growing the business even further. Liege is ideally located as NAM's European hub and offers the advantage of ease of access with a large road feeder service, as well as good widebody freighter connectivity into Asia and North America. This allows NAM to focus on the African content utilising more than 30 years expertise, and still being able to cater for the ever increasing global opportunities," says Malcolm Higginson, operations director of Network Airline Management.
"It is our pleasure to continue and expand our contract with Network Airline Management and all their partners and customers," said Steven Verhasselt, VP-Commercial, Liege Airport. "NAM brings a very specific expertise that fits perfectly with the #FreightersFirst strategy of Liege Airport. Africa is very important for Liege and the local cargo community. We see a lot of opportunities to continue growing the business with perishables inbound, as well as oil and mining equipment and general cargo outbound. We believe that Liege will grow into the ecommerce hub linking the global market to Africa, and Network Airline Management will be a crucial part of that fast developing, exciting, prospect for the airfreight industry not only in Liege, but worldwide."