Neste partners with KLM for sustainable aviation fuel
Dec 16, 2019: Neste, the world's leading producer of renewable fuels from wastes and residues, has partnered with Dutch airline KLM to provide the carrier with sustainable aviation fuel (SAF) for flights out of Amsterdam Airport Schiphol (AMS). This marks the first time this eco-conscious fuel will be supplied at AMS using the existing infrastructure. […]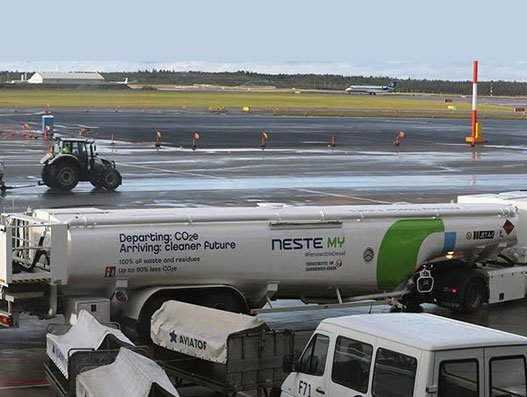 Dec 16, 2019: Neste, the world's leading producer of renewable fuels from wastes and residues, has partnered with Dutch airline KLM to provide the carrier with sustainable aviation fuel (SAF) for flights out of Amsterdam Airport Schiphol (AMS). This marks the first time this eco-conscious fuel will be supplied at AMS using the existing infrastructure.
Additionally, Neste has signed on to participate in KLM's Corporate BioFuel Programme, along with partners such as Air Traffic Control the Netherlands (LVNL) and Microsoft, which guarantees companies looking to lighten their carbon footprint full or partial SAF powered air travel for a surcharge.
"Using SAF is currently one of the most effective ways to reduce CO2 emissions in the airline industry," said KLM President & CEO Pieter Elbers, in a statement.
According to KLM, the airline is only interested in sourcing SAF derived from waste and residue feedstocks that significantly reduce carbon emissions and do not have a negative impact on food production or the environment. The sustainable fuel Neste will provide is made from used cooking oil and will reduce CO2 emissions by up to 80 percent compared to fossil kerosene. Much of the SAF supplied to KLM will be from World Energy's Paramount Refinery in the United States until the 2022 opening of the SAF production plant in Delfzijl, Netherlands. That plant, commissioned by SkyNRG, will supply 75,000 tonnes of sustainable aviation fuel a year to KLM. Neste's current renewable jet fuel capacity is 100,000 tonnes, annually, but the company plans to expand its capacity to 1 million tonnes by 2022.
Neste President and CEO Peter Vanacker, who expressed pride in the partnership with KLM, asserted the company's dedication to "contribute to a more sustainable future by collaborating with the forerunners in aviation and offering our customers growing volumes of renewable jet fuel." Earlier this year, Neste also joined forces with Air BP to deliver sustainable aviation fuel to five airports in Sweden, including Stockholm Arlanda (ARN) and Malmö Airport (MMX), to further Swedavia's greenhouse gas reduction quest.