Need for no blame culture as logistics firms, Vivo banned after HKIA fire
As an increasing number of airlines announcing embargoes on Vivo and logistics companies involved in the fire at Hong Kong International Airport (HKIA), air cargo dangerous goods experts and consultants want to have a no-blame culture and called the ban on logistics companies as harsh.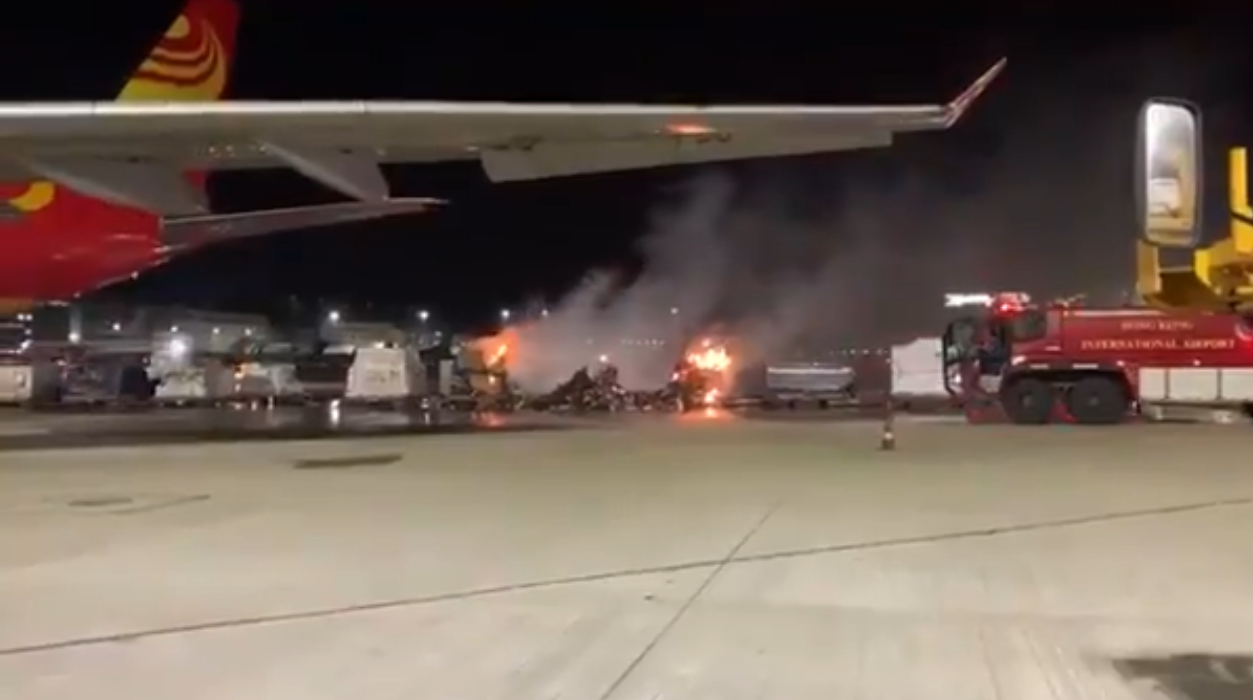 As an increasing number of airlines announcing embargoes on Vivo and logistics companies involved in the fire at Hong Kong International Airport (HKIA), air cargo dangerous goods experts and consultants want to have a no-blame culture and called the ban on logistics companies as harsh.
Paul Horner, managing director, Dangerous Goods Safety Group UK, said, "Placing embargoes on logistics companies each time we have an incident is maybe a bit harsh. Aviation safety should operate a "no blame culture" where we treat incidents as an opportunity to improve."
On Sunday, April 11, 2021, one of the three air cargo pallets with Vivo Y20 smartphones and related accessories due to be shipped to Bangkok caught fire on the tarmac of HKIA before loading to an Airbus A330-200F aircraft with flight number RH331 of Hong Kong Airlines' subsidiary Hong Kong Air Cargo. The fire was later spread to the other two pallets as well.
Hong Kong Air Cargo immediately imposed an embargo on all shipments of Chinese smartphone manufacturer Vivo and the freight forwarders CargoLink Logistics HK and Sky Pacific Logistics HK. Carriers like SpiceJet, GoAir, Garuda, IAG Cargo, Cathay Pacific and Lufthansa Cargo also announced a ban on shipments of Vivo.
Read also: Airfreight stepping up safety, security for an uncertain future
Reason for fire unclear
In a response to The STAT Trade Times, International Air Transport Association (IATA) spokesperson said, "We are concerned at the fire that occurred on the ramp at HKIA on Sunday as this represents a very serious incident that could have affected flight safety."
For instance, in July 2020, Ethiopian Cargo's B777-200F on a regular scheduled cargo service from Shanghai to Sao Paulo - Santiago via Addis Ababa caught fire at the Shanghai Pudong International Airport, while loading cargo. The fire started in the main cargo deck burnt through the upper fuselage.
IATA informed that it is not involved in the investigation. "We understand that the Hong Kong Civil Aviation Department (HK CAD) has commenced an investigation to identify the cause of the fire and that the manufacturer of the phones has reached out to the HK CAD. We look forward to any information that the HK CAD makes available resulting from their investigation," the spokesperson said.
"At this stage, the cause of the fire is not known. From the information available there were only boxes of mobile phones loaded onto the pallet. However, there may have been other commodities that were loaded onto the pallet. We would expect that to be part of the HK CAD investigation to determine the exact contents of the pallet. IATA remains focussed on the safe transport of dangerous goods by air, including the transport of lithium batteries, the IATA spokesperson informed.
Horner also informed us that we can only make assumptions on the cause of such incidents without specific information. However, he said, "What is clear is that some event occurred between offloading the vehicle at the airport and the fire starting.
Read also: Industry rises against dangers of rogue lithium shipments
Lithium batteries
Lithium batteries are the most efficient form of batteries available right now that can store the maximum amount of energy within minimum material mass compared to other options like Nickel-metal hydride battery or Lead-acid battery. As the world favourite source of energy, Lithium batteries are now used in almost all electronic devices from smartphones to electric cars. With new research and discoveries to increase its efficiency reported, the use of lithium batteries is expected to significantly rise soon.
According to the November 2020 research report of Valuates Reports, "The global lithium-ion battery market was valued at $36.7 billion in 2019 and is projected to hit $129.3 billion by 2027, at a CAGR of 18 percent from 2020 to 2027.
However, logistics regulations around the world have categorised lithium batteries among dangerous goods due to their extreme sensitivity to high temperature and inherent flammability which poses a serious threat to the supply chain safety including flights and vehicles used.
Although it is quite shocking to see such incidents involving lithium battery-powered equipment, Horner noted that it is no surprise given the volume of cargo transported globally. "It is important to note that this not just an issue in aviation as we have seen an increase in fire incidents in shipping over the past few years," he said.
Potential causes of fire
Under the assumption that all the boxes containing the mobile phones were loaded on pallets on arrival at the airport, Horner said, "This would have required handling with a forklift truck or similar piece of equipment to offload the vehicle, transport through the warehouse and load on the aircraft pallet. This is an activity that can lead to the crushing of packages and/or damage if any boxes are pierced by the forks on the mechanical handling device. Crushing would be an event that could lead to damage of a phone without any visible damage to those involved in the ULD build-up."
After reemphasising that "Again, this is a potential cause, but we need evidence to support this theory," he said, "Thermal events rarely happen when a device is new and not in use or being charged, and particularly when in the original retail packaging without other external factors occurring."
"In addition, another area that may be a factor is the securing of the cargo on the aircraft pallet. If straps were used and over tightened, this could cause packages to be crushed potentially causing a thermal event," he added.
Persisting concerns on carrying dangerous cargo
While noting that batteries that meet all the tests specified in the UN Manual of Tests and Criteria (Part III, sub-section 38.3, paragraph 38.3.5), are packed, marked, labelled and handled under the regulations are perfectly safe for carriage by air, Horner said, "What is a significant concern is an increase in counterfeit, poor quality and undeclared lithium batteries which poses a significant risk to flight safety. This includes the sale of electrical goods, including power banks and second-hand batteries sold on third party reseller websites and shipped with total disregards to the regulations, including by post (which in turn may be carried as air cargo).
Introduced in 2016, air cargo saw the prohibition of lithium-ion batteries on passenger aircraft and with the restriction on the cell/battery state of charge to not exceed 30 percent of the rated capacity.
However, Horner points out that carriage prohibition on passenger aircraft was intended to be a temporary measure until a new packaging standard was developed. "We are now 5 years down the line and still waiting for the final standard to be adopted," he said.
"We now see the introduction of the requirement for the operator to conduct a safety risk assessment for the carriage of cargo, including lithium batteries. Guidance on the conduct of a specific safety risk assessment on the transport of items in the cargo compartment is contained in the ICAO Cargo Compartment Operational Safety Manual (Doc 10102)," he added.
"Placing these expectations on the operator potentially undermines the reliance on "trust" alone. With such complex supply chains now commonplace, additional verification and traceability are required to enable these acceptance checks to be more evidence-based," Horner said.