Nallian arms freight forwarders with app for real-time information
Nov 28, 2019: Nallian's Acceptance & Delivery app for freight forwarders has been launched at Brussels Airports' cargo community, as an addition to the existing BRUcloud apps. The Acceptance & Delivery app gives forwarders and their drivers immediate access to all information regarding booked slots for freight pick up and delivery. The availability of relevant […]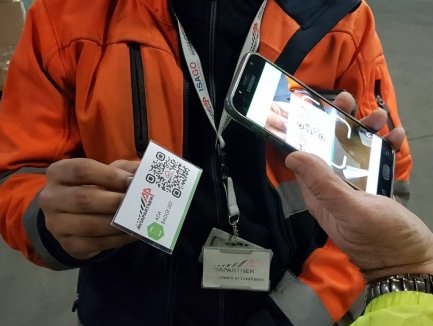 Nov 28, 2019: Nallian's Acceptance & Delivery app for freight forwarders has been launched at Brussels Airports' cargo community, as an addition to the existing BRUcloud apps.
The Acceptance & Delivery app gives forwarders and their drivers immediate access to all information regarding booked slots for freight pick up and delivery. The availability of relevant information regarding freight handover in real-time throughout the process allows them to save time, reduce administrative work, eliminate fraud-sensitive handover of paper documents and improve process visibility.
With the app, which integrates seamlessly with the Slot Booking app, drivers can easily consult all slot details, linked freight and documents on their mobile device. They can register timestamps during the hand over process at the Ground Handling Agent (from arrival through to departure) and register damages (and related pictures) or shortages when handling freight. All information is stored digitally in the platform, providing visibility for the parties involved. This reduces disputes between handlers and forwarders and empowers the airport with reliable insights in performance.
Jean Verheyen, CEO, Nallian said, "This application is yet another step towards efficient, paper-less cross-company processes at the connected cargo hub. It complements our powerful suite of landside management apps, which already include apps such the Slot Booking App, Freight Management App, Check-it for Air Cargo, and many more. Together with our users, such as Brussels Airport's cargo community, we keep on developing new apps to further enrich the open ecosystem of collaborative apps."
The Acceptance & Delivery app is the latest add-on to the suite of landside management applications, designed to streamline operations between ground handlers, freight forwarders and trucking companies.
"The go live has been smooth and user feedback is very positive. Drivers typically appreciate the fact that they have easy access to information, are more involved in the process and no longer need to lose time going back and forth between warehouse and reception. This application is yet another powerful add-on to BRUcloud, our cargo community platform that drives efficient collaboration and integration within our cargo community, said Sara Van Gelder, cargo business development manager, Brussels Airport Company.