Mumbai International Airport joins Pharma.Aero initiative
Feb 02, 2017: Brussels Airport (BRU) and Mumbai International Airport (MIAL) proudly announce their partnership in the recently launched Pharma.Aero initiative focused on improving pharma handling and quality in the air cargo industry. The Memorandum of Understanding (MoU) was formally inked during the first edition of Pharma Logistics Summit, organised by Indian Transport & Logistics […]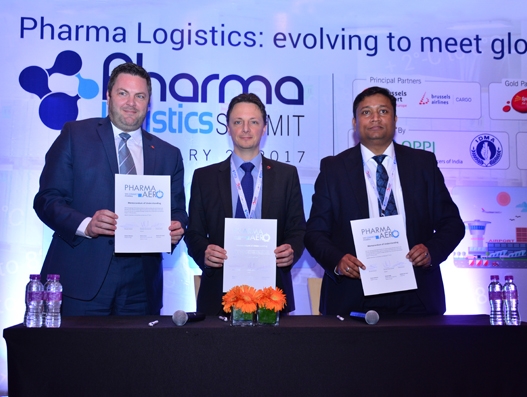 Feb 02, 2017: Brussels Airport (BRU) and Mumbai International Airport (MIAL) proudly announce their partnership in the recently launched Pharma.Aero initiative focused on improving pharma handling and quality in the air cargo industry. The Memorandum of Understanding (MoU) was formally inked during the first edition of Pharma Logistics Summit, organised by Indian Transport & Logistics News (ITLN) held in Mumbai on Thursday.
With the signing of this deal, MIAL is the first airport in India to embark on a community approach for the IATA CEIV (Centre of Excellence for Independent Validators) Pharma certification, thereby raising the local community's handling standards and capability for temperature-sensitive pharma cargo.
Speaking on the partnership, Nathan De Valck, Chairman, Pharma.Aero, "We are thrilled that Mumbai Airport has confirmed their keen interest on becoming the first Indian airport to join the Pharma.Aero initiative as a strategic member. So they will take the co-ordinating role within the Indian subcontinent in bringing the shippers together and creating end-to-end pharma lanes together with us. So the benefit for all participating airports and shippers is that we will collaborate on creating end-to-end certified pharma lanes, sharing best practices in improving the overall handling quality of pharmaceutical shipments."
Steven Polmans, Head of Cargo, Brussels Airport Company, said, "In the not too far distance, selective gateways will handle more pharmaceuticals in a better way. Brussels Airport wants to be one of these selective gateways. And I am sure Mumbai Airport shares that desire. For that reason, Brussels Airport took the initiative together with some other important airports to create a new organisation: Pharma.Aero. This organisation was created to offer you, the shipper, dedicated pharma lanes around the globe."
On joining the Pharma.Aero initiative, Manoj Singh, Senior Vice President and Head of Cargo, Mumbai International Airport said, "We are very pleased to sign the MoU with the Pharma.Aero team. It is something very different from any other associations, which is more focused on the airports and shippers connecting. We believe this will really add value, quality and safety standards in the entire pharma industry. This focused product management will grow leaps and bounds and the airports are going to be informed through shippers what exactly the quality they demand. This will open communication channels among stakeholders of pharma supply chain."
Pharma Aero, the new umbrella organisation initiated by Brussels Airport and Miami International Airport, was officially kicked off at the TIACA Air Cargo Forum in Paris. One of the prerequisites for Pharma.Aero membership is a certification and full endorsement of the standards set out in the IATA Pharma CEIV scheme.
PHARMA.AERO is a collaboration of pharmaceutical shippers and airport community stakeholders that embrace the IATA CEIV Pharma program and that are focused on further building on the expertise gained in the program. Members of this organization will share a common goal of strengthening pharma certified trade lanes and extending pharma cold supply chains to reach new international markets.
While Brussels Airport and Miami International Airport led the foundation of Pharma.Aero, other stakeholders of the air cargo supply chain soon joined the initiative to give it global identity. Singapore Changi Airport (SIN) is the first airport in Asia to join Pharma.Aero as a strategic member. Sharjah International Airport (SHJ) became the first airport in the Middle East to join the initiative. Other members include Brussels Airlines, Singapore Airlines, Brinks Life Sciences and Johnson & Johnson.
Photo Caption: (L-R) Steven Polmans, Head of Cargo, Brussels Airport Company; Nathan De Valck, Chairman, Pharma.Aero; Manoj Singh, Senior Vice President and Head of Cargo, Mumbai International Airport