FROM MAGAZINE: MIAL sets the right tone for temperature-controlled solutions
After becoming the first in India and third in Asia to obtain IATA CEIV Pharma certification, MIAL is well on its way to implement the largest temperature-controlled solution on the tarmac region. With the demanding perishable and pharma sectors, MIAL has been constantly ensuring that customers' cargoes advance through a smooth journey till its final […]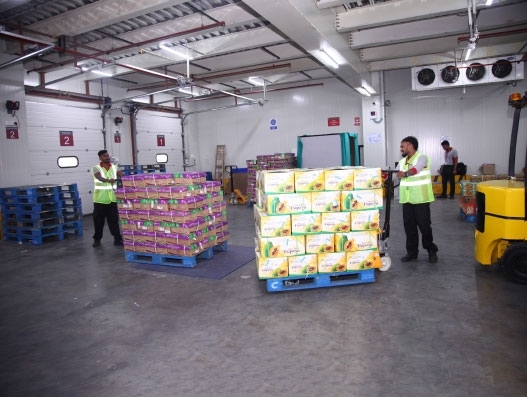 After becoming the first in India and third in Asia to obtain IATA CEIV Pharma certification, MIAL is well on its way to implement the largest temperature-controlled solution on the tarmac region. With the demanding perishable and pharma sectors, MIAL has been constantly ensuring that customers' cargoes advance through a smooth journey till its final destination.
GVK-led Mumbai International Airport Ltd (MIAL) has been aggressively expanding its cargo handling capacities to maintain its position as the key gateway for India's growing agro and pharmaceutical export cargo. The current expansion of new temperature-controlled pharma terminal will facilitate 3,50,000 tonnes per year with 127 unit load devices (ULDs), which is expected to be completed by September this year. In April 2019, MIAL commissioned 1,75,000 tonnes for the agro terminal with 32 ULD storage positions. Thus, the overall capacity of both the terminals now accounts to 5,25,000 tonnes per annum.
MIAL became the first airport in India and third in Asia to obtain the International Air Transport Association (IATA) Center of Excellence for Independent Validators (CEIV) pharma certification recently. After the pharma facility expansion, MIAL will be India's largest airport-based facility for export temperature-controlled products which will be managed and operated by the Cargo Service Center during the concession period of 18 years.

MIAL's new agro facility commissioned in April 2019
Manoj Singh, senior vice president & head cargo, MIAL said, "MIAL has identified the need for an expansion of export temperature-controlled capacity at Mumbai airport to cater to the increasing growth in pharma and agro volumes. Hence, we have accordingly designed and conceptualised construction of the new state-of-the-art terminals. The recently commissioned export agro facility at MIAL encompasses features like dedicated truck docks with dock levellers, x-ray machines, automated insulated doors, weighing scales, and the ball matt system. The facility also has loading bays, data loggers, alarm system and backup for power and cooling systems. Furthermore, the facility comprises of office spaces for customs, plant quarantine and documentation cell for agents."
By August 2019, the airport will launch India's largest temperature-controlled solution for the transport of pharmaceuticals on the tarmac region, for which it has undertaken the lead for 'Airside Transport Benchmark'. To further enhance the level of competency in pharma handling and support business, MIAL has become an active member of Pharma.Aero.
Singh further observed, "Temperature-controlled logistics is imperative for pharma products as these are sensitive to atmospheric conditions. Variability in temperature can impact the chemical stability of the drug and cause serious consequences on the health and wellbeing. Thus, considering the safety aspect due to failures in temperature-controlled cold-chain, we are focusing on providing an offering that is reliable and safe. The temperature-controlled transport solution at MIAL aims to eliminate the temperature excursion of pharma cargo by offering seamless handling from warehouse till aircraft loading. MIAL has designed a highly efficient and secured cool transport for the transportation of pharma on tarmac area. The equipment also extends safety and security of the cargo after warehouse functions and is known as COOLTAINER at the Mumbai Airport."

MIAL's new agro facility commissioned in April 2019
Once the expansion projects are complete, MIAL will have an overall capacity to handle more than 1.5 million tonnes of cargo annually.
With more than half a million tonnes capacity for pharma and perishables cargo, MIAL is positioning itself as the advanced and the most reliable gateway for pharma and agro products. Meanwhile, the pharma and perishable throughput have been growing consistently since 2015 and in FY19 MIAL handled around 200,000 tonnes of pharma and perishable cargo, which is 31 percent of the overall cargo handled at the airport.
This story was originally published in STAT Trade Times' August 2019 issue