Menzies Aviation achieves IATA pharmaceuticals handling accreditation
This accreditation formally endorses Menzies' ability to safely handle high-value, time-sensitive and temperature-controlled pharmaceuticals transported into and out of LHR and BUD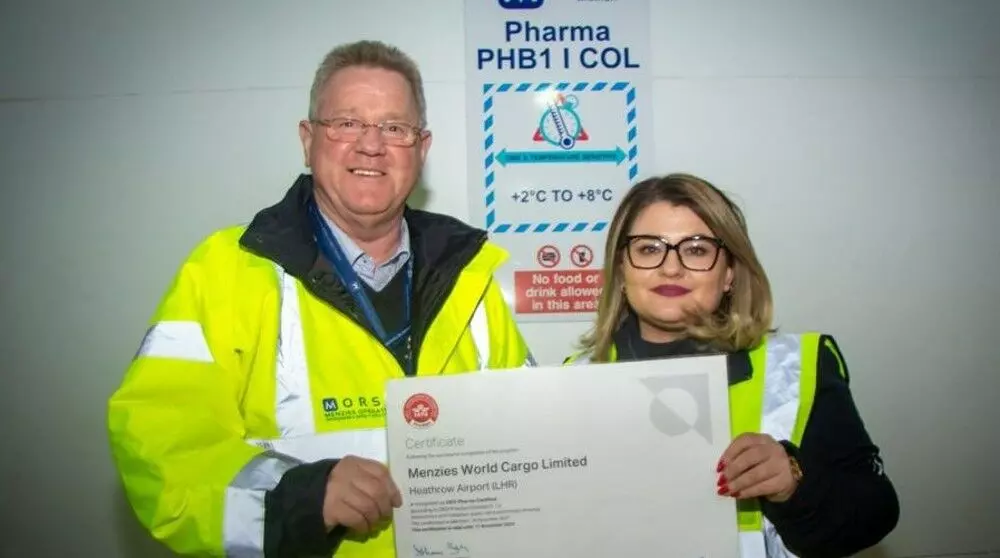 Menzies Aviation's Sydney and Melbourne bases are recognised by IATA with the Center of Excellence of Independent Validators for Pharmaceutical Logistics accreditation (CEIV Pharma) accreditations.
The CEIV Pharma programme is a multi-stage process of independent audits, validation and training, which upskills employees and ensures that handlers upgrade their procedures, processes, risk assessment methodology and infrastructure for the delicate handling of time and temperature-sensitive pharma products.
This accreditation formally endorses Menzies' ability to safely handle high-value, time-sensitive and temperature-controlled pharmaceuticals transported into and out of LHR (London Heathrow Airport) and BUD (Budapest Airport), in line with shipper requirements and with the speed and consistency required.
Robert Fordree, executive vice president Global Cargo Services, Menzies Aviation said, "The CEIV Pharma accreditation is recognised by all of our customers and the latest certifications represent the strengthening of our supply chain in Europe, providing confidence to manufacturers, freight forwarders and carriers that products handled by our teams at Heathrow and Budapest will be appropriately handled in line with the regulations.
"At Menzies, we pride ourselves on having the highest standards of safety and security, and these accreditations demonstrate our commitment to constantly enhancing and adapting our operations based on industry requirements. We are looking forward to putting our experience from this process into practice at Heathrow and Budapest and sharing it with our cargo teams around the world."
Menzies' cargo team at Heathrow Airport, operating with over 230 employees, provides cargo services to airlines including Qatar Airways, Air India, Egyptair, MEA, Kuwait Airways and TAP Air Portugal, handling on average 100,000 to 120,000 tonnes per annum. Now that the LHR station has been certified for excellence in safeguarding pharma product integrity, it expects to see a significant increase in pharma volumes through its 10,000 square metre warehouse facility, which features brand new temperature-controlled rooms built for the purpose of handling these products.
In Budapest, Menzies serves customers including Emirates, Aeroflot, Cargolux, LOT Polish Airlines and Finnair at its new warehouse facility, which opened in 2020. Currently a team of over 70 employees handle 35,000 tonnes per annum at the 4,100 square metre warehouse, which has capacity for 45,000-50,000 tonnes per annum. With its state-of-the-art cooling facility, the station is already well equipped for pharma product handling.