Maskargo flies frozen whole durians to China
June 20, 2019: Durian exporter BEHO Fresh Sdn Bhd MASkargo appointed Malaysian Airlines' cargo subsidiary Maskargo to deliver 4 tonnes of frozen whole durian fruits to Shanghai. The freighter aircraft departed KLIA at 0600hrs and touched down at the Shanghai Pudong International Airport at 1735hrs after a scheduled stop in Kota Kinabalu. "Previously, Malaysian durians […]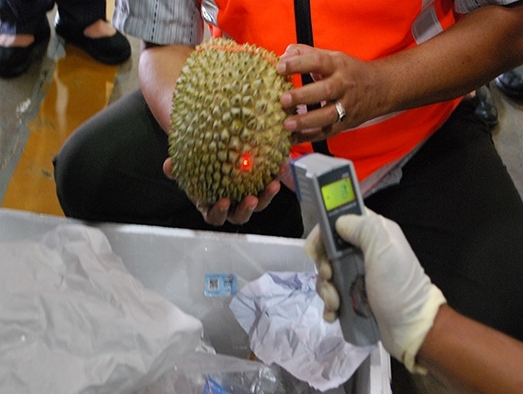 June 20, 2019: Durian exporter BEHO Fresh Sdn Bhd MASkargo appointed Malaysian Airlines' cargo subsidiary Maskargo to deliver 4 tonnes of frozen whole durian fruits to Shanghai.
The freighter aircraft departed KLIA at 0600hrs and touched down at the Shanghai Pudong International Airport at 1735hrs after a scheduled stop in Kota Kinabalu.
"Previously, Malaysian durians could only be shipped into China in pulp or paste form. The regulation is no longer applicable and now frozen whole Malaysian durians can be flown into China. This is a great development for us in terms of expanding our business. The boom in durian export follows the deregulation by China which now allows whole durians from Malaysia to be imported. The fruits are a big hit in China and we are happy to be part of this demand. From the acceptance at our Perishable centre, these fruits are kept fresh in our cold rooms before being shipped in the temperature-controlled Envirotainers," explains Jason Thomas, MASkargo's chief commercial officer.
"We are working very closely with the Malaysian Quarantine & Special Services Department (MAQIS) to ensure that all the stringent export requirements are met and will be putting in more efforts to the smooth operations of these shipments, as we are expecting more durians coming through our flights to China. At the same time, strong collaborations are in place with the ground handlers in China for seamless operations there too," he continued.
"We would like to thank the exporter and the durian processing factory, PHG Ever Fresh Food Sdn Bhd, for choosing MASkargo for this inaugural delivery. We would also like to congratulate both companies and those who have passed China's stringent import protocol for frozen whole fruit durians into the country," he ended.