FROM MAGAZINE : Market heavy with cargo charters
Tight capacity concerns during the peak season and sustained confidence in the air cargo market are keeping charter operators busy. As carriers report robust numbers and forwarders ink long-term charter contracts, the upsurge bodes well for cargo charter operators.

Surya Kannoth

In the first six months of 2018, leading aircraft charter specialist Air Charter Service (ACS) reported double digit growth in both charter numbers and revenue - a record for the company – that too, when February to April is usually the quietest quarter for much of the industry, with cargo charters often half their autumn and winter peaks.
And this is not the first time that the charter specialist has had such a good run. In fact, 2017 was a record year for the company across all divisions. This is a testament of the significant growth that the charter services market has been achieving over the last couple of years.
The global air charter services market is expected to post a CAGR of nearly 5 percent during the period 2018-2022, according to the latest market research report Technavio. A key factor driving the growth of the market is the increasing demand for cargo charters. Some of the large charter operators across the globe have reported robust demand for cargo charter. The upsurge in the air cargo market is a positive prospect for air cargo providers and cargo charter operators. This also leads to renewal of long-term charter contracts.
Reviewing the company's performance, ACS' CEO, Justin Bowman, commented, "We have had a stunning first six months of the financial year, with record numbers across the board. Especially when you take into consideration that last year's figures were beyond our most optimistic projections and they were boosted by a number of one off events."
"Our involvement in the FIFA World Cup has particularly helped with the commercial jet figures, but all divisions won contracts in relation to the tournament. In total, we arranged more than 300 contracts for the World Cup. We flew everything from team kits, to tens of thousands of football fans, plus many of the teams themselves. Our Russian offices played a huge part in enabling us to win so much business over June and July," he added.
Bowman stated that their cargo contract numbers increased by a staggering 21 percent so far in 2018 and when that is compared to IATA's half year figures, it shows that the airfreight industry grew by just 4 per cent in the first six months of the year.
Bowman added, "As of the turn of the year accounts, we have been able to say that ACS is now the largest charter brokerage in the world and we are delighted that we are building solidly on that."
However, Chapman Freeborn, an important player who has been in the cargo charter business for the last 45 years, is ambivalent about the current scenario. Russi Batliwala, CEO, Chapman Freeborn states, "The cargo charter division has continued to grow over many years. I wouldn't like to say we have stagnated now but we have come to a point where we will not necessarily continue to grow the way that we have grown in the past. Markets have changed – forwarders have different ways of procuring, airlines welcome the freight forwarders whereas we see ourselves as a niche business. A freight forwarder doesn't need us to charter a plane from Frankfurt to New York but he may need us to charter to some place in Africa where he has no ground support or he needs help in arranging permits etc. where he can see a value in us."
Having said that, Batliwala affirmed that the industry is now better prepared this year to handle the demand. "We are in the second year of good growth levels. Since last July until now, we have seen high levels all the way. All of us were expecting a big boom in the last quarter of this year. Although the boom continues, after what happened last year, we are better prepared. We are not hearing the horror stories of last year of freight lying unattended everywhere. We have learnt our lesson, and growth is here to stay."
Ecommerce a major growth driver
Just like ACS and Chapman Freeborn, other players in the cargo charters market are making significant investments and are happy with the way things are shaping especially in the peak season. At the moment, for the cargo charters market, e-commerce and changing long-term capacity management strategies of freight forwarders are two other influences connecting shippers to charter capacity.
Recently, Cainiao Smart Logistics Network, a logistics firm majority-owned by Chinese e-commerce giant Alibaba announced its plans to charter 51 flights in its preparations for the upcoming 'Singles Day' global shopping spree. The logistics unit confirmed that the chartered freighters will take goods to West Europe, Russia and Southeast Asia for AliExpress and Tmall World customers.
"It was only five years ago that parcel orders surpassed 100m for the first time. Back then it took nine days to deliver the first 100 million parcels," Cainiao vice president Ben Wang said in a press statement. "Last year, it took less than three days (2.8 days) to deliver the same number of parcels. Consumers increasingly want faster, better delivery, so that's what we're doing. This year, we're striving to achieve a new high, leveraging the beauty of scale and technology." Last year, the e-commerce-enabled event, which originated in China, generated worldwide sales of $25.3 billion, dwarfing Black Friday/Cyber Monday combined sales of $14.48 billion.
Meanwhile, a major flyer of parcels for Amazon.com Inc, ATSG announced its plans to expand its e-commerce business more rapidly after acquiring an air charter services company Omni Air.  Omni Air's fleet, which includes seven 767-300ER, airplanes, three 767-200ER and three 777-200ER aircraft, complements ATSG's fleet of Boeing 737, 757 and 767 aircraft, ATSG said. In total, the ATSG companies will have a combined fleet of more than 90 aircraft in service by the end of 2018.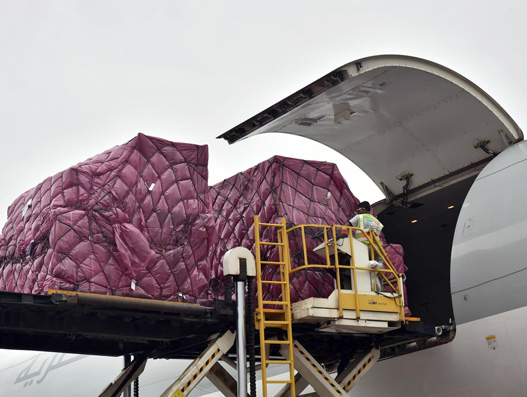 "Combining ATSG and Omni Air's operating expertise and array of aircraft options fulfills several of our principal goals – to broaden ATSG's ACMI (Aircraft, Crew, Maintenance and Insurance) capabilities; grow and diversify our revenue streams with government and commercial customers; and reach new global markets with our full range of leasing, operating, and aircraft maintenance capabilities," Joe Hete, ATSG president and chief executive, said in the company's release.
Another important area for cargo charter players is in humanitarian relief. When the 7.5-magnitude earthquake and resulting tsunami on Sept 28 hit Indonesia's Sulawesi coast, airborne relief efforts from the likes of ACS and Volga Dnepr were appreciated. ACS said that, so far, it has delivered more than 600 tonnes of relief products to Indonesia, such as shelter kits and water purifying tablets, utilizing its fleet of Antonov AN-12s, and Boeing 757s and 777s. "Our US, Asian and European offices have all been heavily involved in the humanitarian effort since [the earthquake], on behalf of our clients," said Dan Morgan-Evans, group cargo director for ACS in a press statement.
Volga-Dnepr Airlines delivered generators and a water purification system to Indonesia to support the international humanitarian mission dealing with the cataclysmic aftermath of the recent twin disasters. The flight was performed by one of Volga-Dnepr Airlines' modernised IL-76TD-90VD freighters from Châlon Vatry Airport in France to the Indonesian city of Balikpapan on request of the Crisis Centre of the French Ministry of Foreign Affairs.
Konstantin Vekshin, executive president cargo charter operations, Volga-Dnepr said, "Our unique fleet of 12 giant An-124-100 freighters and five modernized Il-76TD-90VD give us numerous possibilities while organizing charters for humanitarian missions." With its expertise and experience in operating charter flights, Volga-Dnepr is always among the first responders to support victims of natural disasters, allowing emergency relief management agencies and governmental organisations all over the world to deliver critically-needed cargo and supplies in what is always a significant race against time.
Recently, Qatar Airways Cargo transported more than 100 tonnes of medications from Mumbai to Brasilia for its customer Hermes Travel and Cargo. The airline said the Boeing 777F charter flight was one of the largest shipments of medicines that is has transported on a single flight.
"Through integrated planning and excellent co-ordination between all stakeholders involved, the life-saving Pre-Exposure Prophylaxis (PrEP) medications were dispatched to support Brazil's Ministry of Health's innovative response to the HIV epidemic," Qatar Cargo said.
The government of Brazil initiated the implementation of PrEP to prevent new cases of HIV among key higher-risk population groups through 35 sites across the country. Rohan Thakkar, joint managing director at Hermes Travel & Cargo, said: "The B777 charter freighter that was deployed on the Mumbai-Brasilia route to move such a huge volume of pharmaceuticals saw seamless, timely and very well co-ordinated deliverables from Qatar Airways Cargo, which paves the way for a growing cooperation with the carrier in the near future."
When energy prices begin to climb, chartering oversized equipments for the oil & gas sector will again be in focus for cargo charter players. Recently, MABKargo, the air cargo arm of Malaysia Airlines, and subsidiary of the Malaysia Aviation Group, delivered an outsize consignment of oil well parts on an A330-200 freighter from Kuala Lumpur to Bandar Seri Begawan, Brunei Darussalam.
"The oil & gas industry's charters have always been very challenging and more often than not present logistical intricacies. Charter flights are ideal for the oil & gas industry as they allow our customers to work on their own schedule utilizing the most convenient airports," said Amiroel Shazrie Yussof, MABkargo general manager - sales and marketing. Over the years, MABkargo has gained immense experience from coordinating and successfully delivering oil and gas equipment to a number of destinations worldwide. Our experience in handling charters created a niche strength for us [and are] are a key revenue generator."