FROM MAGAZINE : Market dynamics reshaping MRO logistics
With increased globalization come bigger challenges like immature logistic networks, inexperienced workforce and regulatory oversight hurdles. Such roadblocks within the aircraft maintenance supply chain can equate to millions of dollars in losses thus the stakes are high for aircraft operators to transform their MRO supply chains. Airlines are now recognizing the potential of digital technologies […]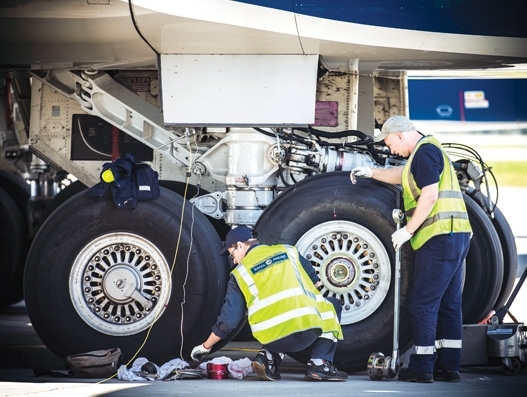 With increased globalization come bigger challenges like immature logistic networks, inexperienced workforce and regulatory oversight hurdles. Such roadblocks within the aircraft maintenance supply chain can equate to millions of dollars in losses thus the stakes are high for aircraft operators to transform their MRO supply chains. Airlines are now recognizing the potential of digital technologies within the MRO space and the benefits it can bring to the table.
Surya Kannoth
These are exciting times for the aerospace sector. According to Boeing, demand in the commercial market is forecast to more than double over the next two decades, with the number of jet airplanes approaching 47,000 units, at an average annual growth rate of 3.3 percent. With the growing size of aircraft fleet for passenger and cargo airlines, as well as demand for upgrades, modifications and enhancement of older planes, the MRO industry seems ripe for further growth.
For the MRO market, this translates to a major churn as aftermarket providers ramp up capabilities to service next-generation aircraft even while deciding when to phase out MRO services for some of the older models. The impact of these decisions will be far-reaching - from spare parts planning and management to technician training and technology infrastructure.
Considering that the MRO market for the aerospace industry is expected to grow exponentially, providers stand to win big or fail strikingly, based on how they execute their strategies in the coming years.
"Speed is everything in MRO supply chains and in order to achieve it MRO providers should optimize their relations with suppliers and partners, build necessary facilities and infrastructure to support their customers worldwide," said a spokesperson from Volga Dnepr Technics (VDT). VDT is an independent business unit within Volga-Dnepr Group for the purpose of coordination of MRO activities within the group. Established in 2008 and formed from existing VDT business units and new MRO organizations, Volga-Dnepr Technics provides a wide range of MRO services for aircraft produced by Russian and international manufacturers.
Even as the aviation industry is positioned at the forefront of high-tech engineering, what is surprising is the rate at which the aircraft maintenance sector has evolved. While new smart inspection techniques have helped improve damage detection, and new repair processes have been developed to fix the latest composite materials, the adoption of technology within the MRO industry has been fairly gradual.
However, over the last few years, the MRO market is experiencing fundamental changes with adoption of the latest IT technologies, reshaping the MRO ecosystem.
Banking on technology
The MRO industry is steadily implementing disruptive technologies (digital twins, AI, mobile apps, drones), which is aimed at enhancement of maintenance performance, eliminating human mistake factor, increasing accuracy of works, cutting down the time spent for routine maintenance work (visual checks), and increasing flight safety. Apart from that, it facilitates maintenance cost savings, which amount to the lion's share of airlines operating costs.
"Creation of digital twins (or virtual replica of physical assets) will bring the level of predictive analysis to the next level, as it allows to receive early warnings, predictions, and even tackle 'what-if' case scenarios and testing aircraft parts under various conditions to get a better understanding of what might happen in real life. It goes without saying that such information will minimize aircraft accident," explains Volga Dnepr Technics' spokesperson.
Some of the most vital trends taking the industry by storm include deployment of e-enabled and sophisticated aircraft, which are equipped with aircraft health monitoring and management systems, will improve utilization and analysis of big maintenance data and, as a result, improve reliability and safety of the aircraft.
In fact, a major player in the MRO space, Lufthansa Technik is quadrupling its investment in innovation – from 50 million euros over the past five years to 200 million euros for the period up to 2018.
Another important player AAR has been expanding its services in data-driven support. Last October, AAR rolled out a new version of its PAARTS Store, which stocks over one million new and used parts. It also introduced AARLive, a portal tailored for its component-support customers. Among its features: access to required paperwork ahead of part shipment and tracking of orders in real time.
"Our PAARTS Store 2.0 provides customers 24/7 visibility of more than 1 million new and used parts in our inventory. In addition to the 100,000 OEM factory-new parts previously listed, visitors have real-time access to our inventory of overhauled, serviceable, and repairable airframe and engine parts for almost every commercial aircraft platform," informed Brian Sartain, SVP, Repair and Engineering Services, AAR.
Recently, GE Digital launched a new asset service management software solution aimed at maximizing uptime and improving maintenance outcomes. Predix ServiceMax Asset Service Management (ASM) is catered to planners, dispatchers and technicians with a host of functionality for keeping track of and understanding the service requirements of assets ranging from components and spares to engines and aircraft. In addition to maximizing uptime and minimizing cost, the software solution helps develop better documentation and records of service activities that are actually taken versus recommendations and protocol from service manuals.
Moving towards paperless documentation, players in the MRO space are taking the right steps in the transition. In a recent development, Dubai-based airline flydubai and Swiss Aviation Software (Swiss-AS) have integrated the flydubai Engineering Maintenance System (AMOS) with FedEx Web Services, which are designed to enhance air waybill generation and the transition towards paperless documentation. The integration of the FedEx air waybill automation in the AMOS system gives flydubai the ability to manage their entire processes from their desktop, reducing processing time by up to one minute per shipment, and saving approximately 340 employee hours per month.
Another important trend is the active implementation of Internet of Things (IoT) with installation of special sensors to constantly measure aircraft performance. This would consider all the factors (speed, vibration, etc) and report about any discrepancies beforehand to take all predictive actions, if needed. This will reduce cancellations and Aircraft On Ground (AOG) and influence overall maintenance performance.
"To grow, MRO customers increasingly need innovation and flexibility and that's our strong suit. AAR is able to lower costs while fully maximizing aircraft availability for our customers. We're reducing AOG time with our enhanced AOG desk. For example, as of October 1, we serve as the single point of contact for all of Eaton Aeronautics' commercial customers after office hours. It's this kind of commitment to our customers that makes AAR the go-to MRO in North America and beyond," explained Sartain.
Implementation of augmented reality (AR) in everday operations is another major trend that is catching up. Boeing predicts that the aviation industry will need over 600,000 new maintenance technicians globally in the next 20 years as current personnel retire, with much of this demand coming from Asia-Pacific region. With the average training period lasting at least 5 years to become certified and qualified engineer/technical specialist, the industry is embracing AR to speed up the training and adaptation process.
Predictive maintenance is mostly based on AI, with major MRO players investing significantly in this area to optimize maintenance planning and avoid 'last-minute' repairs to rectify malfunctions. However, given huge amounts of data, generated through AI, MRO providers need IT cloud solutions for storage of all information.
Apart from all the emerging technologies, drones are now being perceived not only as ways of last-mile or fast delivery option, the aviation industry has gone further with adoption of drones for visual checks of aircraft with the possibility to send the info to MRO team who can start simultaneous preparation and order necessary parts or equipment. The time, which was previously been spent for lengthy visual checks could be devoted to more qualified jobs.
Leading the way is ST Aerospace, which has come up with some imaginative innovations for the future, such as the networking of a fleet of UAVs, and a possible unmanned commercial airfreighter. ST Aero has been demonstrating what it terms 'Smart MRO' with the use of additive manufacturing, augmented reality, data analytics, and robotics to speed turnround times and help maintain competitiveness. ST Aero has also introduced robotic arms to polish engine blades. This has resulted in more consistency, as well as a 50 percent reduction in time. As for additive manufacturing (AM), the company has already used it to demonstrate VIP aircraft completions to potential customers.
Silver lining on the horizon in Asia Pacific
Today, the Asia-Pacific region accounts for more than 20 of the worldwide MRO market. Asia-Pacific's airliner fleet is expected to nearly triple by 2036 and this regional growth will translate into a booming market for the MRO industry of its operational aircraft. With the forecast for growing demand of MRO services from Asia-Pacific and Middle East regions, it is of paramount importance to guarantee efficient logistics throughout these regions, increasing spare parts replenishment activities and logistics management.
Airbus predicts the Asia-Pacific MRO business alone will grow by 4.5 percent annually (compared with 3.7 percent worldwide) through 2036, representing more than $660 billion spent during that time on components, line maintenance, airframe base maintenance and engine maintenance.
In parallel to the area's increased MRO needs, Airbus foresees a global Asia-Pacific demand for 220,000 new trained pilots (for aircraft sized above 100 passengers), and more than 200,000 new technicians – a market representing some 40 percent of the flight and maintenance crews being trained worldwide.
In fact, Airbus' Hangar of the Future – a high-technology project to digitise and automate many maintenance operations for increased overall efficiency – has made significant progress since being launched two years ago with the Singapore Economic Development Board's support.
With all the innovation and growth driving the MRO space, it is carving out new opportunities in for aerospace companies in the MRO supply chain. These companies are now turning to logistics partners to help manage the storage and movement of spare parts and tools throughout their networks; provide monitoring and visibility into inventory and location of parts; and establish operations in new regions to meet customer demand for increased levels of responsiveness.