FROM MAGAZINE: Making the impossible possible
As the Covid-19 pandemic continues to disrupt trade flows and supply chains, air cargo capacity has significantly dropped due to government travel restrictions and grounding of commercial passenger flights. However, air cargo carriers in the Middle East have been ramping up emergency response operations and scaled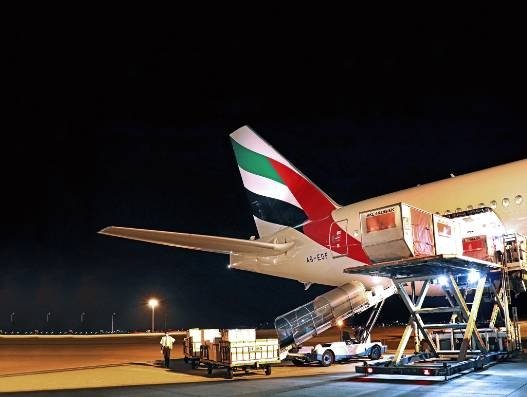 As the Covid-19 pandemic continues to disrupt trade flows and supply chains, air cargo capacity has significantly dropped due to government travel restrictions and grounding of commercial passenger flights. However, air cargo carriers in the Middle East have been ramping up emergency response operations and scaled up their cargo services to connect to an increasing number of global destinations.
The Covid-19 pandemic has hit faster and harder than any other previous sector crisis, such as the 9/11 attacks, the 2003 SARS outbreak, or the 2008 global recession. According to recent data released by International Air Transport Association (IATA), Middle Eastern carriers reported a decline in air cargo demand of 14.1 percent year-on-year following growth of 4.3 percent in February. Among all routes to/from the Middle East, the sizeable Europe and Asia trade lanes recorded falls in the order of 20 percent in March, while the Africa market saw a decline of around 30 percent. International capacity decreased 20.4 percent.
Late March, falling in line with government directives from other countries to contain the spread of the pandemic, the governments of most countries in the Middle Eastern region ordered the suspension of inbound, outbound and transit flights, with the exception of repatriation trips for stranded tourists and returning expatriate workers. When the passenger arm of airlines grounded its flights, the cargo side had to intensify its operations to ensure the flow of essential goods and life-saving medical supplies.

National's Boeing 757 passenger plane carrying 3M products from Seoul lands in Pittsburgh airport on April 25.
"Pre-Covid 19, we were operating to 150 destinations worldwide with almost 270 wide-bodied aircraft across the globe operating in multiple frequencies to main cities. With that whole network disappearing, for us, to identify the potential production market and deploy substantial capacity in some of those markets like Hong Kong, China, Vietnam, India, Bangladesh where a lot of production happens in the form of food, pharmaceuticals, pharma supplies, PPEs, it was essential to ramp up the capacity very quickly," informed Nabil Sultan, senior divisional vice president, Emirates SkyCargo.

Emirates SkyCargo begins loading cargo in the seats and overhead bins of the Boeing 777-300ER aircraft
Today, Emirates SkyCargo, the cargo division of Emirates, operates in a market like Hong Kong with 42 wide-bodied, all-freighter flights per week. Pre-Covid 19, the airline was hardly operating about 20 such flights to the same destination. Now, the airline has more than doubled its capacity into Hong Kong, Shanghai and Guangzhou. The air cargo carrier is currently operating 11 Boeing 777 freighter aircraft, each with a capacity to transport about 100 tonnes of cargo per flight and around 60 of its Boeing 777-300ER passenger aircraft as dedicated cargo aircraft, with a 40-50 tonne belly hold cargo capacity per flight. Emirates SkyCargo has also started loading cargo in the overhead bins and seats of its Boeing 777-300ER passenger aircraft. This move has been made in response to growing customer demand out of key markets.
"We have operated flights from stations such as Tokyo and New Delhi with cargo in the overhead bins and seats and are now in a position to be able to safely and optimally respond to customer demands for additional cargo capacity from main global production markets. We will be operating more flights over the coming weeks with cargo in both the belly as well as inside the main cabin. In addition, we are also looking at other measures including the removal of seats from select aircraft to deploy on high demand trade lanes," commented Sultan.

Etihad Cargo, the cargo arm of Etihad Aviation, partners with the Australian Government to provide critical international airfreight assistance to Australia.
The cargo carrier has commenced dedicated cargo flights on a scheduled basis every week to 67 global destinations across six continents. This includes 11 destinations in the Middle East, seven in Africa, 22 in Asia, six in Australasia, 15 in Europe and six cities in the Americas. It has operated over 2,500 dedicated cargo flights in the month of April transporting essential supplies including protective equipment, medical devices, pharmaceuticals and food. The air cargo carrier flew more than 1650 flights on its Boeing 777-300ER passenger freighters and over 850 flights on its Boeing 777 freighters to over 80 destinations on scheduled and special charter services. Since January 2020, the air cargo carrier has transported more than 375,000 tonnes of cargo on its flights. In addition to medical supplies, Emirates SkyCargo is also facilitating the transport of other items including perishables and fresh produce. Between January and April 2020, it has flown more than 85,000 tonnes of food around the world, continuing to support local agriculture and produce exports while ensuring that consumers can still access fruits, vegetables and other fresh produce in local stores.
The carrier has also been breaking its own records during this period. On April 23, Emirates SkyCargo operated a Boeing 777-300ER passenger aircraft from Mumbai carrying over 66 tonnes of general cargo, perishables and sanitisers in the lower deck of the aircraft. The cargo was loaded on 12 pallets and six containers. Emirates SkyCargo set a new world record for maximum cargo loaded in the lower deck of a Boeing 777-300ER passenger aircraft for the first time. On its flight from Karachi (Pakistan) to Dubai it loaded just over 62 tonnes. On the same route, the carrier operated two more flights on 10 April and 15 April breaking its own record created on the same route by carrying 63 tonnes and 62.7 tonnes respectively.

Qatar Airways transports medical aid and supplies to impacted regions around the globe.
Like Emirates, Qatar Airways has been also been working to ensure that importers and exporters can maintain supply and demand of fresh produce and pharmaceuticals around the world through its cargo operations. Qatar Airways Cargo continues to utilise its full freighter fleet as per schedule and operates bellyhold cargo flights to destinations wherever possible. The carrier has flown essential cargo such as humanitarian aid, medical shipments, and food to more than 100 countries globally over the past few months operating more than 300 freight charters carrying over 33,000 tonnes of cargo to support global trade.
Recently, the airline operated 136 cargo flights in one day to 51 destinations worldwide. "We have increased services around the world, operating freighters and freight-only passenger aircraft to ensure the continuity of global trade and transportation of essential supplies to where they are needed during this critical time. Today's record included 75 freighter flights and 61 freight-only passenger flights. We also continue to carry cargo in the belly of Qatar Airways more than 55 passenger flights still operating to almost 40 destinations across the globe," the carrier mentioned in a social media post.
Meanwhile, Oman Air, the national carrier of the Sultanate of Oman, has been operating cargo-only flights to support the needs of the Sultanate by bringing food and essential goods to the country. These flights, which began on April 3, offer 20 to 25 tonnes of cargo capacity on the belly. Each flight carries 11 airline lower deck pallet positions with cargo. An Oman Air official said in a media statement, "During these unprecedented times, Oman Air is at the forefront to support the basic needs of the Sultanate. We are utilising our passenger aircraft for transportation of cargo on specific routes, which will deliver essential supplies to the nation. In addition to scheduled charters between China and Oman for the Ministry of Health, a series of flights have been planned this month between Muscat and Mumbai, along with flights between Muscat and Kochi."
Saudia Cargo has also expanded its freighter capacity with more than 35 weekly flights operated as cargo only passenger aircrafts, enabling the air cargo carrier to serve the Kingdom's needs for essential food, medical and other supplies during this time of global health crisis. Recently, Saudia Cargo made a record payload carrying essential food supplies from Lahore, Pakistan to Riyadh, using a passenger aircraft turned into an all-cargo flight. The record 65.3 tonnes of perishables such as meat and vegetables were loaded into the lower deck of a Boeing-777 passenger plane and safely arrived in the Kingdom on April 25.
Commenting on Saudia Cargo's record payload and commitment to serve communities amid the pandemic CEO Omar Hariri said, "With reduced cargo capacity, it is more important than ever to maximize available cargo space to be able to serve the need for essential food, personal protective equipment (PPE), medical and pharmaceutical supplies."
Another important player National Air Cargo, the cargo arm of National Airlines, has been involved in the Project Airbridge, a joint effort between the Federal Emergency Management Agency and the US Department of Health and Human Services, to link private sector suppliers with health-care providers involved in testing and patient care related to the pandemic. The carrier has deployed its fleet of cargo Boeing 747s for several missions and is contracted to perform numerous more from India, Europe, and China into the US carrying pharmaceuticals and other medical supplies. With the current high demand, they also dispatched their passenger Boeing 757s to carry critical cargo to the United States. On April 25, the National Airlines plane arrived at Pittsburgh Airport from South Korea after a brief stop in Anchorage, Alaska. The repurposed passenger Boeing 757 jet carried nearly 150,000 N95 masks, to be distributed through the federal government nationally to hospitals, nursing homes and other high-risk facilities.
This feature was originally published in May 2020 issue of The STAT Trade Times.