Maintaining stability in 2019
With lower oil prices and solid, albeit slower, economic growth, there is a sense of cautious optimism among the air cargo industry stakeholders for 2019. Trade war tensions between the US and China, could weaken wider momentum in world trade.
Shreya Bhattacharya
They say one man's loss is another man's gain and that is what Germany's Frankfurt Airport experienced earlier this year. The German airport found a sudden spike in its transshipment cargo volumes in the month of May in 2018, which is usually a low demand season. At the Auto SCM Summit 2018, organised by STAT Media Group publication Indian Transport and Logistics News, Frankfurt Airport's Roland Weil linked the sudden unusual surge in volumes to the trade war between the US and China.
However, exceptions are just exceptions. The outcome is certainly not the same for all other stakeholders in the air cargo industry. The ongoing trade war is clouding the air freight outlook for 2018 despite a solid start to the year for volume and cargo yield. The year 2018 has had its own share of ups and downs affected by several factors including the fuel prices, higher labor costs, increased infrastructure costs, Brexit and the US-China trade war.
While air cargo's strong performance in 2017 was sealed by a solid result in December, the above mentioned indicators suggest that demand may have passed the growth peak in 2018. The International Air Transport Association (IATA) predicts that 2019 will mark the tenth year of profit and the fifth consecutive year where airlines deliver a return on capital that exceeds the industry's cost of capital. However, IATA cut its profit target for the global aviation market in 2018, for a second time. The industry's main trade body has said that net income for 2018 will likely total $32.3 billion, revised down from $33.8 billion in June and a $38.4 billion forecast back in December 2017.
The latest data of the three months ending October released by IATA, indicates that the cargo business is slowing but is still in a good shape. According to its latest report, "Annual growth in air freight tonne kilometres (FTKs) dropped to 2.8 percent in the three months ended October. While seasonally adjusted (SA) FTKs continue to rise, the growth rate still lags behind that seen during most of 2017. The moderation is consistent with slowdowns in FTK growth seen at the end of the global inventory restocking cycles in the past. Trade war tensions between the US and China continue to weaken wider momentum in world trade. Cargo yields grew at a solid pace in the third quarter despite the downward heading load factor. Oil prices, accounting for 25 percent of airlines' operating costs, moved substantially lower in October, ending the long-term upward trend."
With lower oil prices and solid, albeit slower, economic growth (+3.1 percent), there is a sense of cautious optimism among the industry stakeholders for 2019. According to IATA, all regions, except Africa, are expected to report profits in 2018 and 2019. Financial performance is expected to improve compared to 2018 in all regions except for Europe, where improvement has been delayed by the high degree of fuel hedging. Carriers in North America, however, continue to lead on financial performance, accounting for nearly half of the industry's total profits.
Speaking about their business in the first three quarters of 2018, in terms of cargo volumes, Shawn Cole, vice president, Delta Cargo says, "In 2018, Delta Cargo has seen double digit growth and we have seen solid demand in 2018. During our third quarter earnings call, we highlighted a revenue increase of 18.5 percent year-on-year during the quarter driven by higher volumes in freight and mail. The demand environment is being fueled by general business confidence leading to growth in exports, particularly capital equipment and pharmaceuticals. Cross border e-commerce is also growing. Delta's investment in new A350 aircraft, with large cargo capacity, will ensure we can support our customers in this strong demand environment. Looking ahead to 2019, there is general optimism in the industry and we expect this to continue based on economist reports and public information."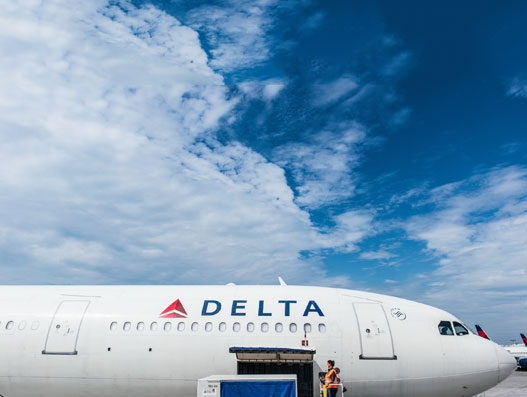 However, this positive outlook could face strong headwinds, in wake of the tariff war between the US and China. It is important to note that currently, for the most part, the US import tariffs implemented to date have excluded many of the consumer goods that typically get transported by air, particularly smartphones. Tariffs on products like steel and aluminium, for example, will have little or no effect on air freight demand, suggest experts. However, in the face of a full-blown trade war, there could be a global spillover.
"I truly believe that within the US business community they will have awoken to the negative consequences for them of this ridiculous war. A lot of good points have been raised on both sides however, such as unfair UPU (Universal Postal Union) rules not just for the USA, but for all. China and the USA need each other, it will be solved in 2019," believes Stan Wraight, a veteran who has been part of the aviation industry for almost two decades and is currently the president and CEO of aviation consultancy Strategic Aviation Solutions International.
Speaking in the same breath, Wraight also stated that Brexit and the uncertainty it has created can only be negative. The US air cargo industry stakeholders are, meanwhile, resolute on maintaining a harmonious relationship with their Chinese and European counterparts.
Cole says, "We are currently seeing solid demand for shipping in 2018 in China and the United Kingdom. China continues to be an important market for Delta's long-term growth and we work closely with our SkyTeam Cargo partners in the market, including China Eastern and China Southern.  In the UK, we are working closely with our joint venture partner, Virgin Atlantic Cargo to build an aligned customer offering.  The trans-Atlantic is a very key part of our network and we continue to see strong demand for cargo between the US and UK, especially for pharma."
On the other hand, Asia-Pacific airlines carry close to 37 percent of global air freight with much of that flying on the busy trans-Pacific routes to and from the United States, which means any risks from protectionist measures impacting the region would be disproportionately high. The regional players are moving ahead cautiously.
"We don't see negative impact of US-China trade war so far, but will watch carefully especially on high-tech cargo logistics. If the current situation lasts in 2019, it may affect not only cargo between US and China but also demand between Japan and China," says Taku Shimizu, director, global sales strategy, ANA Cargo.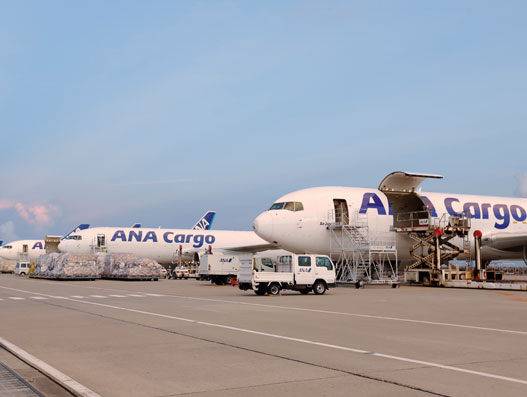 Shimizu rather reveals that the airline is quite optimistic about the way trading is going to shape in 2019. "Although cargo tonnage was less than last year, cargo revenue improved by rate level recovery all over the world. We believe that strong export demand from Japan to the US and Europe will continue in 2019. China market is still unpredictable because of political uncertainties."
Shimizu further informs that export from Japan was extremely strong due to high demand of automotive related cargo. "We believe that air cargo demand from China/Asia to North America will keep growing in the next few years. We plan to operate B777F next year to meet various kinds of demand, including special cargo," he says.
Even though China is considered to be one of the biggest economies in Asia and an emerging superpower, the current broil as well as cost arbitrage opportunities has all of a sudden opened the door of opportunities for other competitors on the block. Reaping the windfall gain could be the ASEAN region. With strategic locations, pro-business governments, low land prices, minimum wages, and positive economic growth, some of these countries like Vietnam, Malaysia, Singapore, Indonesia, are emerging as apt supplementary manufacturing bases to China. One of the vital aspect of this is ASEAN is non-threatening to the major powers.
China's stature as one of the biggest importer and an important market in the future is undisputed, however, the economic giant is also well aware of the changing preferences. Hence, the integration of the Chinese and ASEAN economies is well underway. In the backdrop of the ongoing trade war, China could instead supply components to countries exporting to the US. The trade tariffs are set to be levied on $200 billion of Chinese made goods, increasing the tariffs from 10 percent to 25 percent from January 1. The geopolitical instability has already accelerated the process of relocating lower value-added manufacturing activities from China to Southeast and South Asia, and increasingly also to Africa.
Speaking on the same lines, Wraight says, "2019 performance geographically will remain status quo versus 2018, but there will definitely be a shift in production from China to South East Asia, and the trains will continue to impact China Europe flows in air cargo, which will show negative to airline load factors for commodity traffic such as PCs and other low value electronics."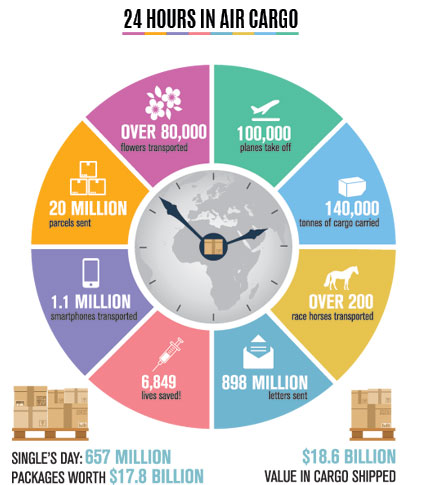 SOURCE:  IATA
A latest release from IATA says European airlines experienced a 1.4 percent increase in freight demand in October 2018 compared to the same period a year earlier. Capacity increased by 1.9 percent year-on-year. Weaker manufacturing conditions for exporters and longer supplier delivery times particularly in Germany, Europe's largest freight flying country, impacted demand.
Seasonally-adjusted international air cargo demand remained deflated in October, which could indicate the start of a broader weakening in demand.
Giving an account of its business in 2018, Andreas Pauker, head of communications, Lufthansa Cargo AG says, "Without being able yet to fully evaluate the current fourth quarter, we are generally satisfied with this year's business development. We assume that the market situation will continue for the time being. Thus, we are very pleased to offer our customers three additional Boeing 777F capacities in the coming year, two will be operated by Lufthansa Cargo and one by our joint venture AeroLogic. So far, our business regions have developed positively, with North Asia and North America continuing to be our main destinations for freighters."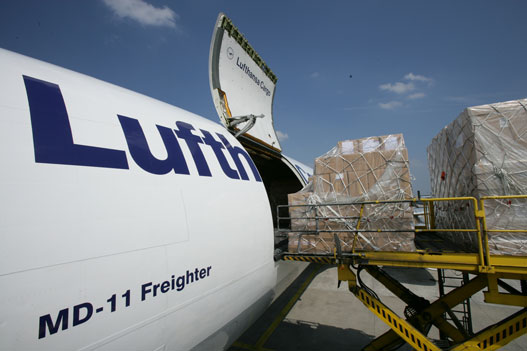 Pauker further adds, "We'll also keep monitoring global political developments. However, we have not yet perceived any significant impairments to our international business over the current year."
IATA doesn't see much change in the financial performance of Europe in 2019. However, not much can be said about the region at this time when it is about to witness a major rearrangement with the UK's exit from EU in March 2019. IATA has also called for urgent action by the UK and the EU to put in place contingency planning for the continuation of vital air services in the event of a 'no-deal Brexit'.
Another concern for the region is slot-constrains at the airports. Europe is home to more than half of the world's slot-constrained airports. Industry stakeholders are now questioning whether the airports have the necessary infrastructure to handle a no-deal outcome. Several concerns surrounding aircraft take off and landing, security clearances and pilot licenses are yet to be finalised to maintain vital links.
Recently, the European Regions Airlines Association (ERA) urged the Brussels-based EU legislative arm, to take "necessary measures" in advance of Brexit. In a letter to the European Commission, it highlighted the need "to prevent serious harm" to European connectivity. Even if there is a deal, there is a lack of clarity about EU ownership rules that could potentially ground big and small airlines alike, unless there is some form of moratorium, pointed Andrew Kelly, president of ERA.
Meanwhile, Middle East continues to leverage its position at the point that connects Asia, Europe, and Africa. The region overall had a positive year in terms of business, despite the worrisome Gulf blockade. Qatar Airways, which was at the receiving end of this, reported a loss of more than $69 million amid the embargo, in the 12 months to the end of March 2018. The airline termed it as the "most challenging year in its 20-year history" and is now learning to live with it eventually.
Nevertheless, the overall Middle East air freight demand, measured in FTKs, grew in October as the region's trade with Europe and Asia increased. The region's cargo volumes grew five percent in October compared against 2017. Global air freight demand rose 3.1 percent year-on-year in October, up from a 29-month low of 2.5 percent in September, and spurred by investments and growing e-commerce business.
Even in September, Middle Eastern carriers' posted the fastest growth of any region, with an increase in demand of 6.6 percent compared to the same period a year earlier. This was more than double the pace of growth of other regions.
It is important to note that the fuel price is a major deciding factor in the air cargo performance, so much so that a dip in it has come as a sigh of relief for many countries. However, this has not really eased the situation for regional players of the African continent. According to reports, Africa's jet fuel costs here are 35 percent higher than rest of the world.
Africa still is expected to retain its position as the weakest airline region in the world in 2019. According to IATA, African carriers are expected to report a $300 million net loss in 2019, slightly improved from the $400 million net loss in 2018. The slowdown in the continent can be attributed to the slow pace of wider economic improvement in Africa, say experts. Countries like Nigeria and South Africa are constantly going in and out of recession. Moreover, the fragmented skies restrict the continent's aviation potential. IATA says Africa's governments need to make a concerted effort to free up intra-African access to their markets as the increased connectivity will stimulate wider economic growth.
"Performance is improving, but only slowly. Losses are expected to be cut in 2019 as fuel prices decrease. The region benefits from higher-than-average yields and lower operating costs in some categories. However, few airlines in the region are able to achieve adequate load factors to generate profits," says IATA about Africa.
One exception to this story has been Ethiopian Airlines, the state-owned carrier. Its net profit in the 2017/18 financial year rose almost two percent to $233 million. In 2019, the continent as a whole, stands a chance to benefit from the dip in the oil prices, advent of e-commerce and even the US-China trade war.
Latin American carriers are expected to report a $700 million net profit in 2019, up from $400 million in 2018, reports IATA. Economic conditions in local markets are only recovering slowly, as Brazil's economy emerges from recession, but Argentina faces renewed difficulties. The strength of the US dollar has added to airlines' challenges in the region by raising the local currency cost of key US$-denominated inputs such as oil and aircraft, but significant restructuring and joint ventures are improving performance.
In general, the air cargo industry needs to take a bigger leap towards technology and digitalisation. This especially becomes important in the coming year due to certain factors such as the e-AWB, e-commerce glut, security filings, new mail requirements etc.
Speaking on what all is expected in 2019, on the technology front, Scott Sangster, vice president, Global Logistics Network at Descartes says, "The Electronic Air Waybill will go into effect January 1, 2019, meaning more air cargo shipments will move towards digital processes to complete shipments and deliveries. With this in mind, supply chain stakeholders will need to have access to accurate and timely information so they can effectively communicate with their employees electronically -- meaning the quality and timeliness of the data will become increasingly important."
He also adds, "In 2019, more nations will ask for advanced information from air carriers on incoming shipments as with ACAS (Air Cargo Advance Screening) or PLACI (Pre-Loading Advance Cargo Information), putting pressure on nations to have higher quality information ready earlier.
Supply chain partners and their providers will also be tasked with knowing which information customs agencies internationally will require from one month to the next, or risk scrambling at the last minute to fulfill new mandates."
"Since the SAFE Framework of Standards and ICS-2 eliminated the exempt status for mail shipments, in 2019 air express carriers and postal organisations will be required to report information on all mail shipments to custom agents. As of 2023 (and the expectation is that this will move forward), air carriers will also need to report postal shipments. As a result, these entities must now determine how to get the required information from their mail system into an environment that can be used to complete security filings. Further, filing for both cargo and mail shipments needs to be provided to customs in a consolidated manner, requiring even closer cooperation between air carriers' cargo and mail systems," Sangster informs.
The global air freight industry is thus cautiously optimistic of imbibing these technologies. Other factors such as the insatiable demand for e-commerce, increasing capability of General Handling Agents and airports to handle next gen logistics, sharp dip in oil prices also goes in its favour. At this stage, the industry trajectory appears modest, but it goes without saying that this may change as the US-China and Brexit scenarios take turns.