Maersk opens 11k sq.m logistics centre in Vietnam to meet growing demand
December 18, 2019: Maersk has opened an 11,000 square metres logistics centre in Bac Ninh province to address the growing demand in North Vietnam market. The warehouse is strategically located at the Vietnam Singapore Industrial Park (VSIP), within 25 kilometres from Hanoi centre and 120 kilometres to Hai Phong port. Approximately 40 percent of the […]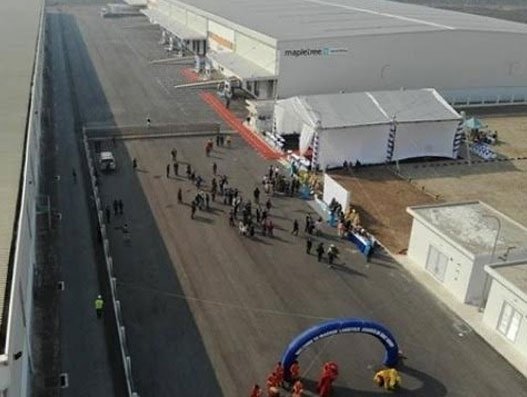 December 18, 2019: Maersk has opened an 11,000 square metres logistics centre in Bac Ninh province to address the growing demand in North Vietnam market. The warehouse is strategically located at the Vietnam Singapore Industrial Park (VSIP), within 25 kilometres from Hanoi centre and 120 kilometres to Hai Phong port.
Approximately 40 percent of the warehouse is occupied by Turkish home appliance company Vietbeko, while the remaining capacity is filled by customers from various segments, including automotive and FMCG, Maersk said.
"Maersk has a longstanding commitment to Vietnam and we are continuously reviewing our value proposition to ensure we offer competitive end-to-end solutions to fuel our Vietnamese customers' business ambitions," said Marco Civardi, Maersk Vietnam MD. "With our investment in this new logistics centre, we are proud to provide agile capacity and thus help facilitate the continuous trade growth and development of North Vietnam."
Over the past five years, Vietnam has been in the fastest growing range compared to other Asian countries. In 2018, the country was ranked the 8th biggest export/import country in Asia. Based on this growth rate, Vietnam is expected to be ranked the 4th biggest export/import country by 2023. North Vietnam is seeing continuous growth in electronics, automotive and retail segments.
"We see strong demand growth toward the US market," said Civardi. "North Vietnam is continuously attracting FDI as a result of China plus one and the increased sourcing will act as a further constructive push toward improving the competitiveness of the logistics hardware, including physical connectivity of roads/rail and ports/airports, as well as software in terms of effective customs clearance processes."
He further added, "Such as weak rail integration for cargo connecting industrial zones with port ecosystems, as well as a current port system that is based on dated ship sizes, where building longer consecutive berths with modern equipment would be one step to improve throughput per terminal and deliver cost improvements.