Lufthansa Cargo saw 21.1% increase in cargo traffic in 2017
March 24, 2018: Recovery in the global air cargo market, and successful cost management has helped Lufthansa Cargo post strong results in 2017. The cargo sales volume of Lufthansa Cargo surged by 21.1 percent, compared to last year, to EUR 2.5 billion, with 8,886 million revenue freight tonne-kilometres (FTKT) sold. Average revenues in its express […]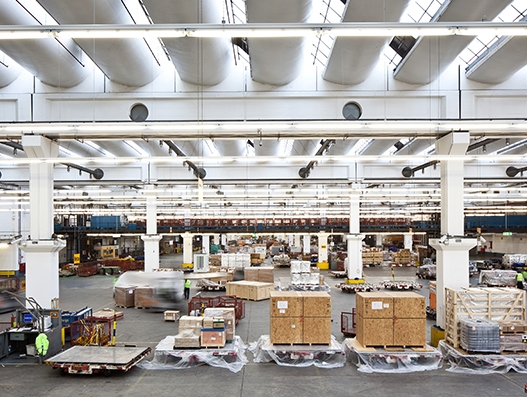 March 24, 2018: Recovery in the global air cargo market, and successful cost management has helped Lufthansa Cargo post strong results in 2017.
The cargo sales volume of Lufthansa Cargo surged by 21.1 percent, compared to last year, to EUR 2.5 billion, with 8,886 million revenue freight tonne-kilometres (FTKT) sold. Average revenues in its express business also grew up considerably. Similarly, its overall operating income increased by 21.2 percent, to EUR 2.6 billion.
In 2017, Lufthansa Cargo's adjusted EBIT improved by EUR 292 million, to EUR 242 million, despite slump in the overall global air cargo market. Its EBIT also improved by EUR 304 million, to EUR 240 million.
"2017 was one of the most successful years in the history of Lufthansa Cargo," said Peter Gerber, CEO and chairman of the executive board, Lufthansa Cargo AG.
"Lufthansa Cargo achieved impressive earnings during 2017. Despite the volatility in the logistics business, our team demonstrated high professionalism and commitment. In the current year, we are aiming to remain focused and pursue our efficiency programme, and invest in the future. Currently, investments will be largely made to build the ground infrastructure, which is a highly profitable business, and digitisation," said Gerber.
Despite challenging market environments in 2017, Lufthansa Cargo posted excellent growth in sales, thanks to its sharp focus on cost optimisation, high-performance products, and flexible capacity management.
The strategic efficiency programme, which was adopted in 2016, has helped Lufthansa Cargo to propel the growth in its sales volume, and reduce the headcount. The programme also helped the cargo airline save EUR 80 million.
"Air freight will remain a growth market for us. For certain goods, air freight is the only choice. Above all, strong export regions, such as Germany will help us grow our air freight business the future," Gerber.
OPTIMISATION OF FREIGHTER FLEET
Lufthansa Cargo has reduced the size of its MD-11F fleet to twelve aircraft as it sold two aircraft. A MD-11F was reactivated in November 2017, because of the sharp rise in demand during the end of the year.
During 2017, Lufthansa Cargo operated 17 cargo aircraft, including five B777F freighters. Similarly, it added capacity of approximately two 777 from Aerologic, a joint-venture between DHL Express and Lufthansa Cargo.
USHERING DIGITALISATION
In the future, the Lufthansa Cargo is planning to digitalise its booking and delivery process. This will benefit its customers with greater transparency, higher speeds, better quality, flexibility, and greater efficiency.
In 2017, Lufthansa Cargo modernised its revenue management system to enable greater differentiation. The response time in sales further improved by a significant reduction in the number of manual processes.
Currently, Lufthansa Cargo is working closely with various start-ups as part of its strategic cargo evolution programme. It will make its entire transport chain business more customer-friendly. In 2017, Lufthansa Cargo invested in the start-up, Fleet Logistics.
Founded in 2014, Fleet Logistics is as a neutral online marketplace, which offers international seafreight and airfreight brokering services, and manages the overall payment process.
MODERNISATION OF GROUND INFRASTRUCTURE
Lufthansa Cargo's freight centre in Frankfurt is currently undergoing modernisation. Improvements are being carried out in the entire infrastructure of its Cool Center. Road Feeder Service Cool was recently launched. A special thermal foil, which was included in the service portfolio, and the range of container services, was further augmented.