Lufthansa Cargo, DB Schenker mark partnership with an award
Lufthansa Cargo honours cooperation with DB Schenker. With this award, the cargo airline honoured the outstanding achievements of its worldwide cooperation in the past year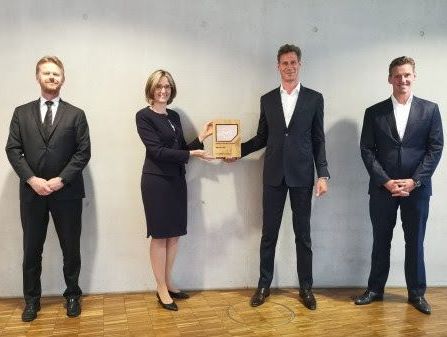 Lufthansa Cargo honours cooperation with DB Schenker. With this award, the cargo airline honoured the outstanding achievements of its worldwide cooperation in the past year, which manifested itself above all in joint growth in Europe and other important markets.
Peter Gerber, chairman of the executive board of Lufthansa Cargo AG, emphasised the special connection between the two companies: "Not only the economic development of Lufthansa Cargo and DB Schenker is pleasing, but also the fact that both companies managed to jointly push ahead with digitalisation in the industry last year".
"The cooperation between DB Schenker and Lufthansa Cargo in 2019 was marked by an outstanding partnership. We are proud that a large share of DB Schenker's air freight was flown with Lufthansa Cargo last year," said Dorothea von Boxberg, chief commercial officer at Lufthansa Cargo. Both in the area of standard freight as well as special products, the cooperation was particularly close.
Peter Gerber presented the award together with Dorothea von Boxberg to Jochen Thewes, chief executive officer of Schenker AG, and Thorsten Meincke, Schenker AG Board Member for Air and Ocean Freight.
"For our global logistics network, we are building on the long and trusting partnership with Lufthansa Cargo, which, like us, has made excellence its benchmark," said Thewes. "We would like to thank Lufthansa Cargo for this award and for what we achieved together last year."
"We look forward to continuing to work constructively with Lufthansa Cargo on innovative solutions for airfreight," said Meincke. "The Excellence Award is a recognition of the employees of both companies who give their best for their customers every day."
Lufthansa Cargo's Global Partnership Programme is a central platform for sustainable growth for Lufthansa Cargo and its largest customers. The eleven Global Partners, which in addition to DB Schenker also include Kuehne+Nagel, CEVA, Dachser, DHL Express, DHL Global Forwarding, DSV, Expeditors, Hellmann, Nippon Express and UPS, account for a good third of Lufthansa Cargo's revenue. The "Excellence Award" has been presented since 2002.