Lufthansa Cargo Cool Center expansion begins
<p style="text-align: justify;">Mar 22, 2017: Lufthansa Cargo has kicked off the development of the Cool Center at the Frankfurt hub. With the opening of this new cool center, there will be more capacity for temperature-sensitive cargo in Frankfurt imminent.</p> <p style="text-align: justify;">Following completion, as of late summer of this year, 8,000 square metres will be […]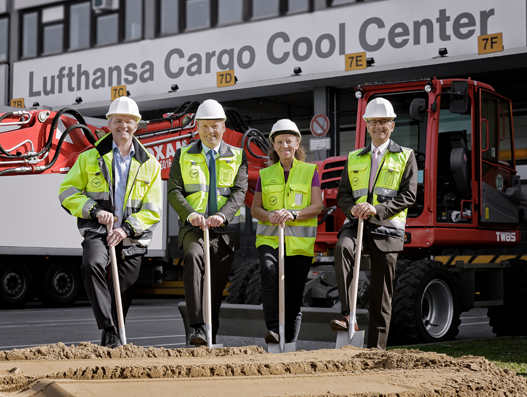 Mar 22, 2017: Lufthansa Cargo has kicked off the development of the Cool Center at the Frankfurt hub. With the opening of this new cool center, there will be more capacity for temperature-sensitive cargo in Frankfurt imminent.
Following completion, as of late summer of this year, 8,000 square metres will be available for cool chain cargo. After the extension, the entire infrastructure of the Lufthansa Cargo Cool Center will be further improved. It was opened in December 2011 and currently offers 4,500 square metres in four different temperature-controlled chiller rooms (2 to 8°C, 15 to 25°C, -12 to -20°C and 5 to 15°C) as well as a deep-freeze room and direct access to the apron. As a result, it is currently the largest hub for temperature-sensitive freight in Europe.
"We've gained a great deal of experience in the worldwide transport of sensitive medications. CEIV certification from IATA has recently highlighted this. The excellent collaboration with numerous shippers from the pharmaceutical and chemical industries has prompted demand for our service to grow consistently. We're delighted to be able to offer our customers even more capacity and flexibility in our Cool Center as early as late summer", said Board Member Operations Sören Stark, in the course of the ground-breaking ceremony.
In late 2016, the IATA airline association awarded the CEIV seal of approval for pharmaceutical transport to Lufthansa Cargo and the Cool Center.
Photo: L to R: Jörg Bodenröder, Senior-Director of Handling Specials Products; Sören Stark, Lufthansa Cargo Board Member Operations; Karin Krestan, Head of Process & Operations Team and Mohammad Ali Seiraffi, Vice President of Handling Frankfurt.