Lufthansa adds 14 weekly cargo flights to/from Shenzhen
Lufthansa Cargo announced that it has scheduled fourteen additional cargo flights a week from Shenzhen to Frankfurt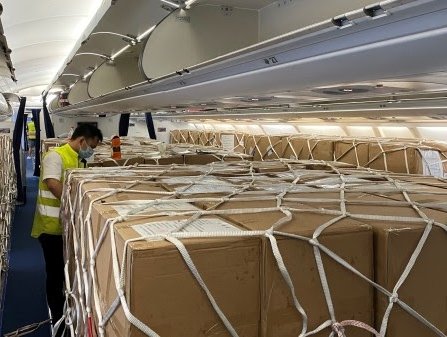 Lufthansa Cargo announced that it has scheduled fourteen additional cargo flights a week from Shenzhen to Frankfurt, responding to the high demand in airfreight capacities due to the Covid-19 crisis. The first aircraft, an Airbus A330-300 from Lufthansa, took off from Shenzhen on May 18. Around three million respiratory masks and other medical protective equipment are on board, which will be flown to Frankfurt on behalf of the logistics company Fiege.
Currently, all 17 Lufthansa Cargo freighters are in continuous operation, for example to fly medical supplies all over the world. From and to mainland China alone, 16 flights a week are currently operated with Boeing 777F wide-body freighters with a standard load capacity of around 103 tonnes. With the newly opened route to Shenzhen, a total of up to 49 additional weekly flights with Lufthansa passenger aircraft for the transportation of goods are offered in China. Since the cabin space of these aircraft can also be loaded with cargo, the average cargo capacity in practice is about 30 tonnes each. Parts of the cabin equipment were removed from ten A330-300s to accommodate a larger cargo volume.
"As a reliable partner, Lufthansa Cargo has played an important role in the stable supply chain from Asia to Germany in recent weeks. The new cargo flights from Shenzhen ensure that we can make this supply chain even more flexible, so that urgently needed goods arrive quickly in Germany", says Michael Völlnagel, CEO Fiege International Freight Forwarding.
"For Shenzhen Airport and the International Cargo Center Shenzhen, the launch of the Lufthansa connection is a further step in the internationalization of Shenzhen Bao'an Airport. We are very pleased to be able to participate in supplying Germany with urgently needed medical goods such as masks. It was an energetic effort on the part of everyone involved, especially the airport, to launch this new connection in just fourteen days," said Achim Plücker, managing director International Cargo Center Shenzhen.
"Lufthansa Cargo is doing its utmost to strengthen security of supplies by air and maintain supply chains. We are continuing to expand our services to ensure the fast transport of large quantities of urgently needed goods," explains Dorothea von Boxberg, chief commercial officer, Lufthansa Cargo.