LOT Polish Airlines commences services on Budapest-Seoul route
Sep 25, 2019: On September 23, LOT Polish Airlines, European airline, commenced services from Budapest to Seoul with its Boeing 787 Dreamliner jet. It is the first long-haul service to be launched by LOT to Asia from outside Poland, and the third non-stop long-haul flight from Hungary operated by LOT worldwide. The launch of new […]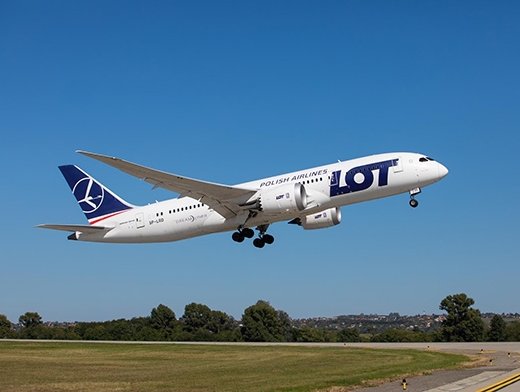 Sep 25, 2019: On September 23, LOT Polish Airlines, European airline, commenced services from Budapest to Seoul with its Boeing 787 Dreamliner jet.
It is the first long-haul service to be launched by LOT to Asia from outside Poland, and the third non-stop long-haul flight from Hungary operated by LOT worldwide. The launch of new flights from Hungary marks another stage of market consolidation in Central and Eastern Europe, of which LOT is currently becoming an undisputed leader.
The service will be operated three times weekly between the Hungarian and the South Korean capitals.
The new service will offer transfer opportunities to other LOT flights out of Budapest: Brussels, Prague, Stuttgart and Warsaw.
"The tourism and business potential between Budapest and Seoul is huge - the annual passenger traffic on that route reaches 75,000, and the number of passengers travelling annually between the CEE region and Seoul exceeds 580,000. As a leader in Central and Eastern Europe, LOT responds to passengers' needs, offering flights not to one, but already to two European capitals, Warsaw and Budapest, from Seoul, said Rafa? Milczarski, the CEO of LOT Polish Airlines.
Dr. Rolf Schnitzler, CEO of Budapest Airport said: "The new flight to Seoul by LOT Polish Airlines shortens the journey for Hungarian travelers to East Asia to 11 hours, which is a great opportunity for business, study or leisure travelers."
Passengers on board LOT's Dreamliner will have three travel classes at their disposal – LOT Business Class, with flat-bed seats and cuisine resembling that of the best restaurants, LOT Premium Economy Class, with larger, individual space and comfortable seats with footrests and thigh support, cocktail tables and an extensive menu, as well as LOT Economy Class, with modern seats, individual on-board entertainment screens and USB ports.
The launch of the flight between Budapest and Seoul is another step in building LOT's hub in Budapest.
Starting from March 30, 2020, i.e. in less than two years from the launch of non-stop long-haul flights to the US, the number of flights operated by LOT from the capital of Hungary will total 12; passengers will fly directly to Warsaw, Krakow, London City, Bucharest, Brussels, Stuttgart, Prague, Belgrade, Sofia, as well as New York City, Chicago and now Seoul.
To operate its newly announced European flights, three of LOT's Embraer 195s will be permanently stationed in Budapest.
Starting from the next summer season, the carrier's fleet in Budapest will amount to four short-distance aircraft and one Boeing 787 Dreamliner.
The Budapest-Seoul route is part of the profitable growth strategy, which LOT Polish Airlines has been implementing since early 2016.
As result over three years, LOT has become the fastest growing airline in Europe, doubled its fleet size and launched over 70 new routes worldwide. By the end of 2019, additional B787 Dreamliners will join the fleet, increasing the total number of LOT wide-body aircraft to 15.
In 2018, LOT carried more than 8.9 million passengers aboard its flights, an increase of 2 million versus 2017. For 2019, it plans to welcome 10 million guests. LOT Polish Airlines is a fully integrated member of the Miles & More frequent flyer programme and a member of Star Alliance since 2003.