LOT Cargo to use SkyCell containers to transport pharma shipments
LOT Polish Airlines and SkyCell, a Swiss provider of hybrid containers, signed an agreement that extends LOT Cargo's capabilities in the transport of medicines and pharmaceutical products (PIL).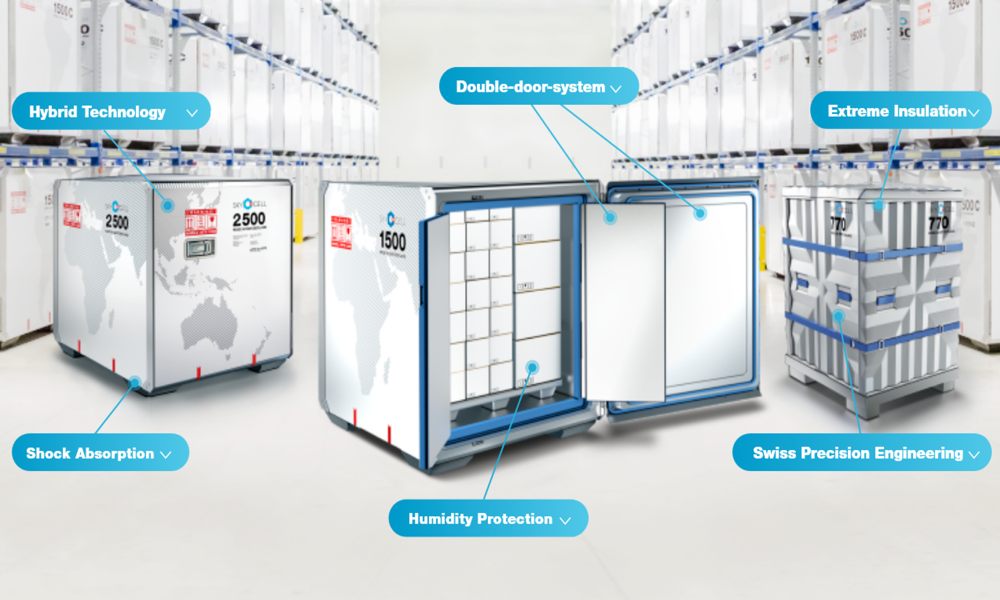 LOT Polish Airlines and SkyCell, a Swiss provider of hybrid containers, signed an agreement that extends LOT Cargo's capabilities in the transport of medicines and pharmaceutical products (PIL).
Thanks to advanced technology, SkyCell's hybrid containers guarantee to maintain a constant transport temperature necessary for transporting demanding shipments even to distant regions of the world.
The transport of pharmaceutical products requires the airlines to apply specialist solutions and meet demanding standards guaranteeing safety and the highest quality of provided services. Pharma and Life-Science is a critical sector of global cargo transport for LOT; therefore, the company is constantly increasing its competencies and improving its offer addressed to companies operating in this industry.
In July 2020, LOT Cargo obtained the IATA CEIV Pharma certificate, which gave the Polish carrier a place in the prestigious group of 25 airlines with a documented and approved PIL QMS Quality Management System for pharmaceutical shipment management.
The agreement signed with SkyCell is the next step distinguishing LOT Cargo's offer on the market. Modern hybrid containers allow for securing temperatures between +15°C/+25°C, +2°C/+8°C, -30°C/-15°C and -60°C/-80°C, required among others for transporting vaccines.
"We are constantly developing LOT Cargo's offer in transport for the pharmaceutical sector, which is estimated, only in Poland, to be worth at least PLN 100 million annually. A few months ago, we announced obtaining the prestigious CEIV Pharma certificate of the International Air Transport Association (IATA), which gives us the position of leader in PIL shipments in the CEE region. The signing of an agreement with SkyCell, which allows us to use the hybrid containers for transport, is the next stage in the development of LOT Cargo's offer and a step towards building a hub in Warsaw for pharmaceutical shipments distributed worldwide. The pharmaceutical industry is a market with unique requirements, for which safe, direct, and fast transport is crucial. Thanks to the appropriate technological facilities and a well-developed network of long-haul connections made with a modern fleet, we are able to meet these requirements immediately," says Michał Grochowski, Director of Cargo and Mail Bureau at LOT Polish Airlines.
LOT Cargo transports medicines and pharmaceutical goods in the Boeing 787 Dreamliner. The front cargo compartment is equipped with a temperature control system, which effectively combines two essential elements of transporting PIL shipments - temperature control by installation onboard the aircraft as well as through a container.
Hybrid containers offered by SkyCell are one of the most modern solutions in this area, used in transport by leading pharma companies and the largest airlines in the world. The Swiss company has developed a technology that reduces risks with an audited performance of less than 0.1 percent temperature excursions during the transport of sensitive products.
"Our partnership will leverage safe and tailor-made solutions with dedicated pharma lanes to increase the safety of pharmaceutical shipments and thus give our joint clients peace of mind over their supply chain." comments Nicola Caristo, Airline Partner Manager at SkyCell.
SkyCell's hybrid containers, secured through an IoT monitoring service, track temperature conditions to ensure sensitive medicine is protected even under extreme conditions. With efficient insulation and cutting-edge cooling technology, the containers maintain steady temperatures for an average of 202 hours (8.4 days) and with the possibility to prolong the runtime through automatic self-recharging in a cooling chamber or reefer truck.
The reusable container solution is easy to handle and self-charges with no need for plugs or dry ice, which reduces the potential for human error. SkyCell's efficient and lightweight design reduces carbon dioxide emissions by up to 50 percent. All SkyCell containers are recyclable, which also allows maintaining the standards of sustainable development policy implemented by LOT.