FROM MAGAZINE: Logistics opportunity for UAE as Dubai readies to host Expo 2020
With the country's $23.16 billion investment in the aviation industry in anticipation of EXPO 2020 in Dubai, UAE carriers and logistics service providers are working in tandem to uplift the region's air cargo sector. Shalini Nair The United Arab Emirates (UAE) aviation sector has contributed 15 percent to the country's gross domestic product (GDP) in […]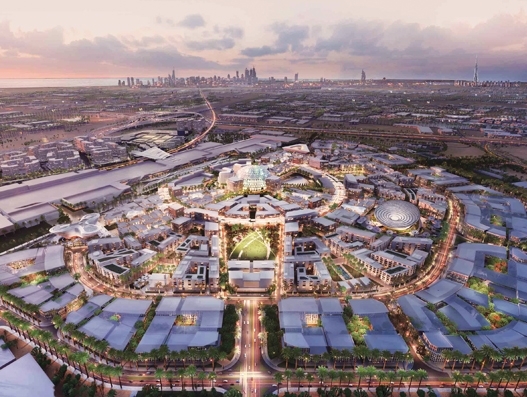 With the country's $23.16 billion investment in the aviation industry in anticipation of EXPO 2020 in Dubai, UAE carriers and logistics service providers are working in tandem to uplift the region's air cargo sector.

Shalini Nair

The United Arab Emirates (UAE) aviation sector has contributed 15 percent to the country's gross domestic product (GDP) in 2018, according to Saif Mohammed Al Suwaidi, director general of the general civil aviation authority (GCAA). The aviation sector is a vital contributor to the country's growth and is set to expand in 2019 as the nation's gateway airports stay on track to lure increased passenger and cargo traffic.
According to Boeing, airlines in the Middle East, led by the four UAE carriers (Emirates, Etihad Airways, Air Arabia and flydubai) will require 2,990 new commercial airplanes worth $754 billion till 2037; to meet rising demand. In accordance with the International Air Transport Association (IATA) projections, Boeing forecasts 5.2 percent annual growth rate in traffic over the next 20 years, supported by a 4.9 percent increase in total regional fleet size annually. The size of the Middle East market is expected to be worth $660 billion in two decades, with the four UAE carriers expected to account for a large part of it.
While the four national carriers are busily foraying into foreign markets, governments are spending billions on the development of airports infrastructure in anticipation of a major upswing in visitor traffic to the UAE during EXPO 2020 in Dubai, a once in five-year event starting from October 20, 2020 till April 10, 2021. The official logistics partner for the EXPO is UPS, who has an expertise delivering Olympics Games in 2008 and 2012. UPS plans to spread its wings in the region by establishing capacity, technology and staff capabilities to serve customers shipping to and through Dubai, even after the Expo concludes. To establish Dubai as a transportation hub for global commerce, UPS will connect trade from the Middle East to China, Africa, Europe and the U.S.
On the other hand, dnata is well prepared to meet the increased demand that the EXPO will generate and upgrade the facilities and services at DWC airport to cater to the needs. Kevin Ennis, VP, commercial and business development cargo, dnata, stated, "The outlook for air cargo is optimistic in 2019, with demand expected to grow generically for the start of the year and again picking up towards the end of the fiscal year March 2020, due to the commencement of EXPO 2020. We are meeting with the organisers, government officials and authorities to ensure we have a seamless movement of freight between our facilities and the EXPO site. In addition, we are also in touch with airlines and forwarders to assist them in any special services they would require from us during the period of the EXPO."
Meanwhile, Dubai South is developing airline and aviation-related industries and institutions, which will help the region, develop new technologies and research capabilities that will help the global aviation industry. It is the world's largest aerotropolis hosting DWC - the world's largest greenfield airport development and the future home of Emirates airline.
Commenting on the potential of air cargo industry in the UAE, Emirates VP cargo commercial - UAE, Gulf Cooperation Council (GCC) and Middle East, Khalid Bardan, said, "Traditionally, UAE and Dubai have been a gateway and distribution hub for the rest of the world because of their geographic location, extensive infrastructure, and facilities available for logistics. Dubai offers outstanding logistical connections not only just by air but also through sea supporting the entire logistics industry. The overall business environment in the UAE is very dynamic which plays a large role in sustaining air cargo trade."
On the other hand, 2019 is going to be a significant year for Bolloré Logistics UAE as it planning new initiatives to reinforce its presence within the UAE air cargo market. Philippe Lortal, CEO, Bolloré Logistics Middle East – South Asia, said, "We will present our latest custom-made solutions to our clients to keep developing business opportunities with existing customers and new clients at the Dubai Air show from November 17-21, 2019. Another agenda in 2019 is the opening of our Abu Dhabi branch on April 1, 2019. The deployment of an additional local set up in Abu Dhabi will allow us to get closer to our clients and offer them extended local and transport and logistics services." Along with these initiatives, Bolloré UAE will continue to develop its local logistics warehousing network to strengthen dedicated solutions to clients exporting to Africa.
Speaking on the introduction of technology at Bollore's Dubai facility, Lortal said, "We have recently introduced our data management platform (DMT) in UAE. This new application deployed on a global scale within the Bolloré Logistics network, allows our operation team to offer the most adapted solutions to each client's need. Our people can now access in one click an innovative dashboard providing them with real-time information in terms of transit time, service reliability and costs."
Emirates SkyCargo has reinforced its service standards using the Cargo iQ framework and has monitored nearly 823,000 shipments in the first six months since it received certification. Mentioning on the same lines on gaining this achievement last November, Bardan said, "We are using Cargo iQ to deliver better value to our customers by delivering their shipments at the committed time. We use live Cargo iQ data to follow the progress of a shipment through our cargo operations command centre (COCC) in Dubai which is operational 24×7."
DXB is constantly looking at new technology and process enhancements to stay abreast of new developments. Faisal Al Mulla, director of cargo business management, Dubai Airports, commented, "We have launched the Dubai Airports Information Gateway project which is a system that sources and makes available all the cargo data from different entities such as Emirates, dnata (which collates data for all other airlines) through a data warehouse platform." Dubai's e-sealing process between its two airports has enhanced the security level while significantly reducing process time by eliminating rescreening of cargo at both the airports.
Focusing on the expansion front, Emirates is expanding its European footprint by commencing four times weekly service to Porto, Portugal from July 2, 2019. Through this new service, it can offer up to 18,000 tonnes of cargo capacity per flight. This will help local businesses in Porto and the surrounding regions export products including garments, shoes and automotive parts.
Logistics provider Kuehne + Nagel UAE has opened phase 3 of the warehouse in the Logistics District of Dubai South. The new 10,000 square metre warehouse is intended to serve consumer, high-tech, aviation and pharma; further, boosting Dubai's state-of-the-art infrastructure and facilities in the logistics sector. The new building is also equipped with the latest warehousing technology and has 10 docking stations and one drive in door with a ramp for the aerospace materials and large engines.
In another move, Bolloré Logistics UAE stated that in early 2019, its local partner dnata acquired Kanoo's shares, making the former a single local shareholder in the UAE. The credibility and strength of their joint venture are based on the combination of Bolloré Logistics' global expertise, and dnata's robust local know-how. dnata has handled over 730,000 tonnes of cargo in 2018 at both the Dubai airports. In the same period, Bolloré Logistics UAE has handled 9,569 tonnes of air cargo, which is 8 percent more than what it handled in 2017. Most of these cargoes are imports from Asia and Europe or exports to Africa.
Despite the fact that major cargo operators been moved to DWC, DXB has handled a total of 2.64 million tonnes of cargo in 2018 - a bulk of which was belly-hold, as per Al Mulla.
In an attempt to open UAE skies, the UAE GCAA has signed final agreements in Dubai to boost bilateral air relationships with the Republic of Kiribati, Republic of Vanuatu and the cabinet of Bosnia and Herzegovina. It aims to expand commercial and tourism relationships with countries, and support the development opportunities of all national carriers in the UAE.
Considering the expansion of cargo hubs, Bahrain International Airport's (BIA) $58.5 million cargo hub will commence its operation in Q3 2019. In another move, Abu Dhabi International Airport's new Dh10 billion midfield terminal is expected to be ready by Q4 of 2019. The 742,000 square metres terminal along with the existing terminals at the airport will serve the increasing number of passengers flying through Abu Dhabi.
Currently, the country is investing Dh85 billion ($23.16 billion) in various airport development and expansion projects, which will see a combined capacity of airports to handle more than 300 million passengers a year. The airport investments underway include Dh30 billion ($8 billion) in developing Al Maktoum International Airport (DWC), Dh28 billion ($7.6 billion) expansion of phase four of Dubai International Airport (DXB) and Dh25 billion ($6.8 billion) for the redevelopment and expansion of Abu Dhabi International Airport. Furthermore, Sharjah International Airport is also undergoing a terminal expansion of Dh1.5 billion investment.