Bolloré Logistics delivers school supplies to 5,415 schools in Malawi
<p style="text-align: justify;">May 25, 2017: Bolloré Logistics Malawi has delivered school equipment to 5,415 schools in Malawi between February 5 and May 5 in 2017.</p> <p style="text-align: justify;">The teams from <a title="Bolloré Logistics" href="http://www.bollore-logistics.com/en" target="_blank" rel="noopener noreferrer">Bolloré Logistics</a> Germany coordinated the end-to-end logistics operations for the project led by Burda Druck and funded by the […]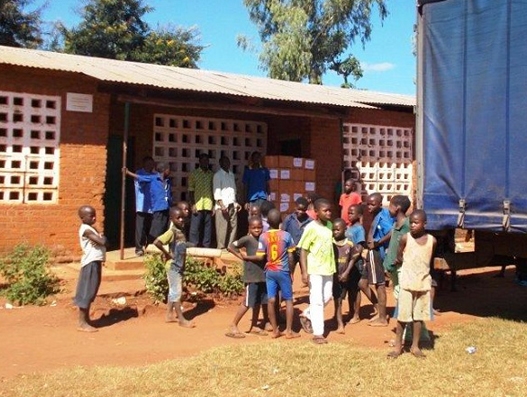 May 25, 2017: Bolloré Logistics Malawi has delivered school equipment to 5,415 schools in Malawi between February 5 and May 5 in 2017.
The teams from Bolloré Logistics Germany coordinated the end-to-end logistics operations for the project led by Burda Druck and funded by the German bank KFW.
1,370 tonnes of school books (school textbooks, atlases and textbooks for teachers) were printed by Burda Druck, a printing company belonging to the German Hubert Burda Media group. These school books, printed by Burda Druck's Indian printers, were delivered directly to 5,415 recipient schools, using multi-modal transportation solutions designed by the Bolloré Logistics global agencies network.
Fifty-one 40-foot containers were thus shipped from the Indian ports of Nhava Sheva and Mundra to the Mozambican port of Beira, Malawi's main gateway for sea importation. These containers were then transported by lorry, via the road between Beira and Malawi, and were then unloaded and stored in 3 Malawian hubs in Blantyre, Lilongwe and Mzuzu. The 75,546 boxes of school materials, i.e. 2,100 m3, were then packed for the delivery rounds.
The main difficulty of this project was delivering to 5,415 Malawian schools without accurate delivery addresses. Through mapping and geolocation work, Bolloré Logistics Malawi made it possible to identify the network of schools for delivery over the whole country. A round optimisation system was then used to streamline the delivery plans, ensuring that the time (three months) and budget restrictions of the customer were met despite the inclement weather conditions due to the rainy season.
The deliveries were monitored using the centralised LINK tracking solutions via a coordination center. The drivers were therefore able to receive the delivery instructions via the LINK application, enabling the delivery of school books to be monitored from Burda Druck's Indian printers to the Malawian schools, with real-time production of a record of delivery.