Logistics Cluster handles about 43k MT of humanitarian cargo in 2018
Apr 02, 2019: The Logistics Cluster, a community of partners actively working to overcome logistics constraints during humanitarian crises, has handled the delivery of 43,134 MT of relief supplies, distributed 1.5 million litres of fuel, and facilitated the common storage of 353,108 cubic metres of humanitarian cargo in 2018. The community was supported by 606 […]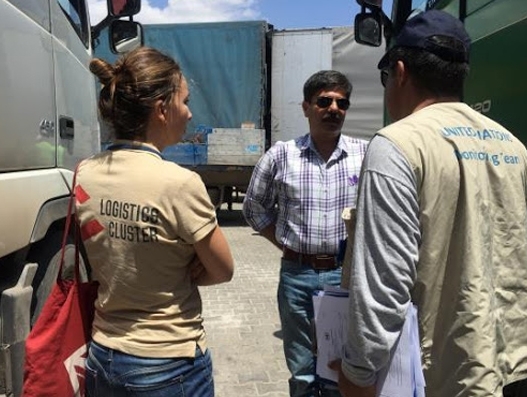 Apr 02, 2019: The Logistics Cluster, a community of partners actively working to overcome logistics constraints during humanitarian crises, has handled the delivery of 43,134 MT of relief supplies, distributed 1.5 million litres of fuel, and facilitated the common storage of 353,108 cubic metres of humanitarian cargo in 2018. The community was supported by 606 organisations, which include government agencies, the United Nations (UN) agencies, national non-governmental organisations (NNGOs), international non-governmental organisations (INGOs), and others.
Logistics Cluster logisticians design and manage logistics cluster activities, offering logistics solutions and technical support to responding organisations. It enables global, regional and local actors to meet humanitarian needs. Before crises, they work with stakeholders in high-risk countries and regions to strengthen local logistics capacities.
"We are witnessing extremely high levels of humanitarian needs. Thanks to the digital transformation of our work, to cutting-edge solutions and their application to supply chain and to satellite communication, we are better at identifying target groups, their specific needs, and we are quick to respond when crises strike," said Stephen Cahill, global Logistics Cluster coordinator.
Globally, the Logistics Cluster is a community of partners actively working to overcome logistics constraints and to develop and share best practices and solutions.
The cluster approach was adopted in 2005 as a result of the Humanitarian Reform process launched by the UN Emergency Relief Coordinator, through the Inter-Agency Standing Committee (IASC). The reform process focused on strengthening coordination and accountability and enhancing partnerships in key sectors, including logistics. Due to its expertise in humanitarian logistics and its field capacity, the UN World Food Programme (WFP) was chosen by the IASC to be the lead agency of the Logistics Cluster. In this role, when necessary, WFP acts as a provider of last resort, offering common logistics services to all humanitarian responders.
The Logistics Cluster leverages its network active partners to best fill critical logistics gaps. When local infrastructure is severely damaged or inaccessible and local capacities have been exceeded, WFP acts as a provider of last resort, offering assets and services to humanitarian responders to enable them to reach the affected population. The Logistics Cluster coordinates access to common transport services such as road, river, sea, and air; storage facilities and fuel provided by WFP or any organisation with relevant, available capacity.
In 2018, the community has supported 13 operations in countries like Bangladesh, Cameroon, Central African Republic, the Democratic Republic of the Congo, Indonesia, Iraq, Libya, Nigeria, Somalia, South Sudan, Syria, Ukraine, and Yemen.