FROM MAGAZINE: Lifting Heathrow Cargo post Brexit
London's Heathrow Airport will continue to be an important airfreight gateway of Europe and North America even as the UK exists the European Union. Nick Platts, Cargo Head, Heathrow Airport, speaks to Reji John, on the sidelines of IATA World Cargo Symposium in Singapore, about the contingency plans immediately following Brexit, the importance of the […]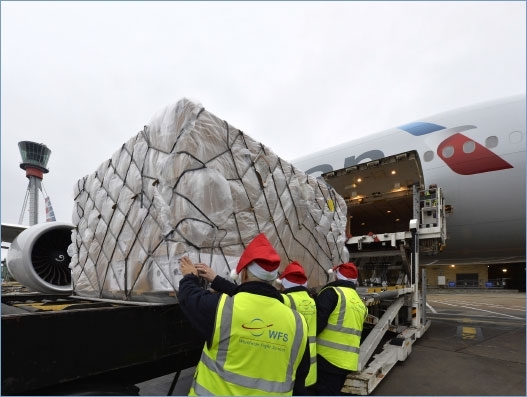 London's Heathrow Airport will continue to be an important airfreight gateway of Europe and North America even as the UK exists the European Union. Nick Platts, Cargo Head, Heathrow Airport, speaks to Reji John, on the sidelines of IATA World Cargo Symposium in Singapore, about the contingency plans immediately following Brexit, the importance of the third runway, digitisation and a host of other trending airfreight topics. Edited excerpts.
In the event of a no-deal Brexit, what are the cargo contingency plans at Heathrow?
This is something we have been working on now for eight to nine months. We started a no-deal planning middle of last year. We started thinking about what sort of things we need to do. We have been working with central government on some of the policy options that are available through them. So, we are working with the department of transport and other government agencies including customs and border force. Just working out what is possible; how we could make sure that the border remains open.
Now we are moving into the contingency planning and we have those drawn out. But essentially, we are looking to deploy our peak plan which we have been using since the peak of 2017 when significant volume came through the airport. Since then, we have traffic management plans; we work with state landlords and how we manage the flow of vehicles into the airport. That seems to have worked quite well. We are now formalizing some of those plans and putting those in place. The operational colleagues back at the airport have those plans ready to go; so, if we do see congestion building, we will deploy those plans. Essentially, it's around traffic management to minimise the congestion on the landside footprint.
Airside, we think we are in a pretty good place. I think, it just comes down to what are the customs rules that apply as to how much of cargo needs to be inspected. Seven percent of our cargo flies to and from 27 European countries. So, it is not a huge amount that's currently flying. We think that is probably a little bit more than that on-road feeder services. Little bit blind on the volume coming through the trucks and the government is not able to tell us how many items, how many additional trucks that need to be screened when they arrive at the airport; but we think we are ready.
What's the update on infrastructure development and how crucial is getting the third runway completed?
Expansion at Heathrow and that third runway are vital for us to grow. We already see some of the air routes are constrained in terms of capacity and airlines just can't get enough slots on those routes. We need the third runway that will give us some additional slots to free up congestion on existing routes, for example to the Far East. We also need to grow the networks. Having more destinations on our network will allow us to then connect more of the world.
We are very focused on growing exports for the UK but also as a hub, playing our role in the global distribution system. We are working very hard on the masterplan and there will be some further consultation coming up shortly on what that masterplan might look like. We hope to have a preferred masterplan later this year that we can then submit to the government for planning permission. The great news is that cargo is being well protected. It's been long that I have been working with the expansion team and we have safeguarded cargo. We have got some additional aircraft stands, land and truck parks, so cargo is very clearly part of the conversation.
I am very pleased that the master planning team has listened to the needs of cargo and that is built into the programme and it has been there from the first consultation. But it is essential that we get that additional runway capacity so that we can get some extra flights to those constrained destinations and some new destinations on the network.
What's your take on the volumes handled in 2018 and what is your outlook for 2019?
Heathrow, as a global hub, is impacted by the global trade performance so we can see the correlation between global GDP, the global manufacturing PMI and our volumes. So in 2018, we exceeded 1.7 million tonnes for the first time. We are slightly up from 2017, just under a percent growth year on year which was surprising for me because all the feedback we had was that 2017 was an exceptional year for the industry but in 2018 we were slightly ahead of that and broke through 1.7 million tonnes for the first time.
We are very focused on the forward projections. We do see continued growth; obviously the expansion of the third runway is part of that growth. I think that ahead of the third runway, we might get 2 million tonnes of cargo per year. But it is only once we get that third runway that we will really push through that barrier and will get into much higher numbers.
I think in 2019, I am looking very carefully at IATA's predictions. I am looking at what we are seeing coming through in the first quarter. The first quarter is down year on year. But I do think across the year, we may well see flat or near flat volume growth. So, I am thinking one or two percent at best.
What you think is the cargo opportunity for Heathrow on the India-UK trade lane?
I think the trade lane between the UK and India is hugely important and I think there is a great opportunity there to do more. And as the European gateway and as the transatlantic gateway for North America, we have got a huge amount of capacity to connect with North America out of Heathrow. So, the question is how do we connect India with Heathrow? What is the best way of doing that? How do we do that?
We need to work better together on simplifying the process, automating the process where we can and get those connection time right down as low as we possibly can. Take advantage of the spare capacity that we have on transatlantic. It's one of my focus areas. There is untapped potential with India and would be great to improve that flow from India through UK to North America.
Is Heathrow late to look at the cargo opportunity on the India-UK trade lane?
There is a missed opportunity for the Indian market. The flow of trucks from Europe to the UK is significant and therefore it is expensive. Going the other way is much cheaper. So, flying to Heathrow and then trucking back to Europe in terms of transportation cost is cheaper. Depending on the commodity, forwarder and shipper relationships, I think there is an opportunity to grow the volume from India to Europe via Heathrow because there is spare capacity on road feeder services.
I don't quite understand why more people aren't taking advantage of those lower transport costs. There is obviously a reason and I would love to understand a bit more about some of the requirements of the shippers in India about why they are not capitalising on those spare capacity.
Do you have any particular focus in terms of any cargo commodity?
We are not focused at the moment on any particular commodity. We are trying to fix the basics and improve the efficiency of the cargo at stake. Making sure that the airport system itself is operating as efficiently as it can. Once we are in that place then we start to look at how can we work more broadly to encourage more trade and whether we need to focus on anything in particular.
I note with interest what is happening in specialist handling fields like pharmaceuticals. Which accreditation or certification do you go with? IATA CEIV or the European GDP? I get mix signals from airlines and handlers as to which standard is appropriate for the UK. As an airport, at the moment, we are neutral on that. We are not planning to invest in either. Handling companies are doing that. They are creating the right capacity for their customers. We do see pharma suitable facilities are being installed at the airport. We haven't felt the need as an airport to provide those for the industry. And as long as that continues, I am quite content with that.
Digitalisation is the buzzword, do you have a digital strategy?
The Heathrow strategy is all about being timely predictable and easier. We want to be faster than today. We will never be the fastest airport. But to be faster than today and predictably faster than today, I think automation is central. And when you add the ease of doing business at Heathrow, then absolutely, automation is part of it.
We are looking at on the airside elements; how do we get the cargo to and from aircraft without manual process going through our control processes for example. We have done a huge amount of work at the airport in the automation of the passenger journey and now we are turning our attention to the cargo journey looking at how we can automate that.
I am a strong believer that digitisation is the only way forward. I think 23 pieces of paper for a consignment is way too much. I am already talking to the UK government about how we digitise what is required in that respect. I think the first step is that we need to speak the same language. Messaging standards need to be harmonized and there needs to be one format that we all work to and then we need to look at the customs controls and their use of information. And as we start to push through more information being made available to customs authorities through advanced information, we can also automate how we bring the cargo in and out of the airport.
It is the way of the future. I don't understand why it has not already been done. In a low margin business, high proficiency is key. I think there is a huge opportunity for the industry. Certainly, from an airport's perspective, I am doing all that I can to push that.