Liege Airport to host WeCargo event this November
Oct 22, 2019: WeCargo event, an air freight forum devoted to innovation in the sector, will be held from November 7 to 14, 2019. Organized by LeanSquare, a VC fund based in Liege, and Liege Airport, this programme aims to support the most promising international air freight start-ups. The partnership between Liege Airport and LeanSquare […]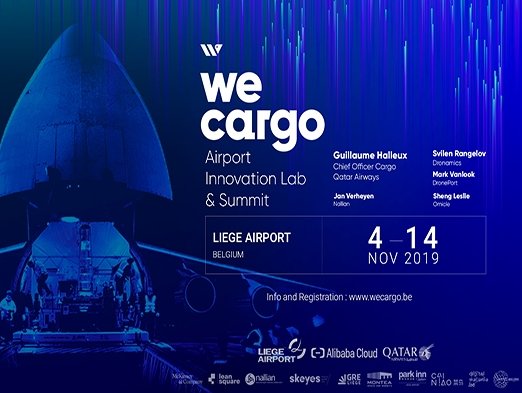 Oct 22, 2019: WeCargo event, an air freight forum devoted to innovation in the sector, will be held from November 7 to 14, 2019.
Organized by LeanSquare, a VC fund based in Liege, and Liege Airport, this programme aims to support the most promising international air freight start-ups.
The partnership between Liege Airport and LeanSquare to create an innovation laboratory (www.wecargo.be) will bring aviation logistics leaders, innovators and investment funds together at the airport to take stock of business needs and work on solutions.
The week of acceleration will consist of:
• Individual mentorships with experts
• Guidance developing financial proposals
• Complimentary access to the WeCargo Summit & networking events
• On-stage presentations at the WeCargo pitch competition
• One on one meetings with air cargo executives and VC's
Alibaba, Qatar Airways Cargo and Orange are participating in this acceleration.
On their participation, Luc Partoune, CEO of Liege Airport said: "The presence of Alibaba, Qatar Airways and Orange at our side will enable us to get directly to the core of the profession and give WeCargo an international dimension from the very outset. It's also a great opportunity for start-ups to be in touch with industry majors in the sector."
The world of air transport is obviously part and parcel of the digital revolution. Whether it is digitalisation of information systems, flow management thanks to big data analysis, drones and autonomous vehicles, connected objects etc., new technologies are moving faster than an aircraft!
Partoune adds: "The arrival of the e-commerce giant Alibaba with its first European air hub in Liege is an opportunity to capitalise on the know-how of the airport. If we want to stay at the forefront and continue to grow as an airport entirely dedicated to cargo, we must stimulate our ecosystem. This is the main goal of WeCargo: to stimulate and inspire the international cargo community. Secondly, start-ups will have the opportunity to move to Liege because they will benefit from a complete, dynamic environment at the heart of the action."