Leschaco breaks ground for new logistics facility in Malaysia
Nov 26, 2019: Leschaco (Malaysia) Sdn Bhd has signed a lease agreement with an industrial land developer for the construction of a new Built-to-Suit (BTS) logistics centre – specially designed for the storage and handling of chemicals including Dangerous Goods. The BBR Industrial Gateway is spread over a total of 39 hectares of prime land […]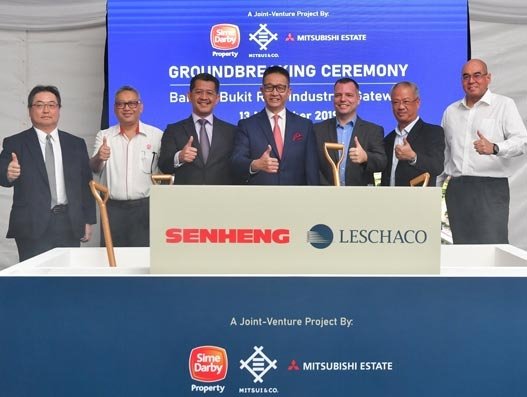 Nov 26, 2019: Leschaco (Malaysia) Sdn Bhd has signed a lease agreement with an industrial land developer for the construction of a new Built-to-Suit (BTS) logistics centre – specially designed for the storage and handling of chemicals including Dangerous Goods.
The BBR Industrial Gateway is spread over a total of 39 hectares of prime land in the middle of a busy industrial area within the township of Bandar Bukit Raja. Last week, the ground-breaking ceremony marked an important milestone in the project. Infrastructure works in the surrounding area are already underway and partially completed. The construction of the warehouse itself on the first of a total of 10 plots is scheduled to start this month and be completed by Q4 of 2020.
Lothar Lauszat, managing director of Leschaco (Malaysia) Sdn Bhd said that Leschaco's business requires very particular design features from a warehouse. "As these requirements are fully met, the new BTS facility will allow us to provide high quality logistics services to our customers and the chemical industry in Malaysia, therefore strengthening and expanding our market position in Malaysia".
He added, "This project is a major strategic milestone for our presence in Malaysia, where we have been operating warehouses since 2013. Our current facilities are running continuously at full capacity." Contract logistics particularly for chemicals is a growing market in Malaysia. This state-of-the-art facility will allow Leschaco to participate in this trend and consequently to grow and develop further its global contract logistics footprint.