Leipzig/Halle Airport receives IATA CEIV Pharma certification
Feb 12, 2020: Leipzig/Halle Airport, Europe's fifth-largest airfreight hub, has received CEIV Pharma certification, enabling it to process time-critical, temperature-sensitive pharmaceutical shipments around the clock. Following a one-year process, IATA, the trade association for the world's airlines, has certified PortGround GmbH. The company belongs to Mitteldeutsche Flughafen AG and is a ground handling and cargo […]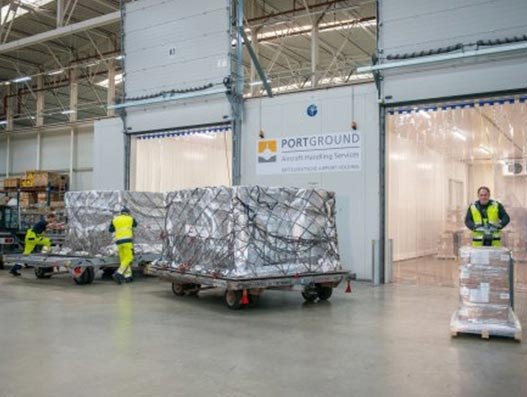 Feb 12, 2020: Leipzig/Halle Airport, Europe's fifth-largest airfreight hub, has received CEIV Pharma certification, enabling it to process time-critical, temperature-sensitive pharmaceutical shipments around the clock.
Following a one-year process, IATA, the trade association for the world's airlines, has certified PortGround GmbH. The company belongs to Mitteldeutsche Flughafen AG and is a ground handling and cargo specialist.
"Thanks to the CEIV Pharma accreditation, we are expanding our business area and now have a fully certified process for sensitive pharmaceuticals. That means we can provide a full range of handling services at Leipzig/Halle Airport from a single source – from receiving deliveries, preparing and storing freight to loading it on the aircraft", explained Alexander König, managing director of PortGround GmbH.
The CEIV certification requires appropriate quality management and regular training for all those involved in the process, along with a suitable infrastructure. Leipzig/Halle Airport laid the foundations for this back in 2017 with a new cold storage facility in the World Cargo Center.
The facility offers direct access to the apron, ensuring that goods only have to be transported a short distance to and from the aircraft and lorries. With a volume of around 1.24 million tonnes in 2019, Leipzig/Halle Airport is the fifth largest airfreight hub in Europe.
The airport has a 24-hour operating permit for cargo flights and a direct link to the trans-European motorway and rail network, giving Leipzig/Halle the ideal conditions for transporting goods by road and rail. The landing and take-off system comprises two parallel runways, each 3,600 metres long, which can be used independently of one another even in CAT IIIb conditions.